Legolas * 4. April 2011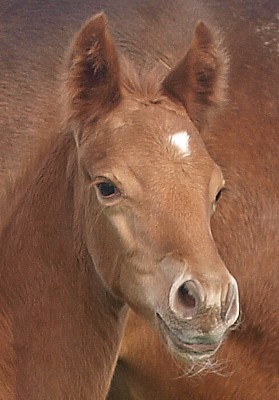 Lordanos Holst. *1993
Lissabon Oldbg. *1999
Reinette Oldbg *1994
Lissaro Hann. *2005
Matcho AA *1978
Marquesa Hann. * 1985
Gracia Hann. *1980

Surumu xx *1974
Acatenango xx *1982
Aggravate xx *1966
Ionia xx *2000
Pentathlon xx *1965
Ipenta xx *1986
Immer Toller xx *1980





Damline Information Ionia

Self performance:
Ionia xx was a race horse from 2003 - 2005, took part in 17 flat races, scored 4 times, won once.
10. May 2006 - hannoverian mare inspection in Ankum; Main Studbook registration:
scores amongst others: elasticity and swing in trott 8, backline 8, frame 8, frontlegs 8.
Damline:
Iwanowitsch xx *1978, licensed stallion Hannover/ Ldb Celle, by Illix xx/Orsini xx o/o Istanbul.
Intervall xx *1974, licensed stallion Rhld./Trak., by Perseus xx o/o Inka (via Immenkönigin o/o Immertreu)
Progeny:
2007 filly by Brentano II - Balahé
2008 filly by Brentano II - Brooklyn
2009 colt by Bundeschampion Benetton Dream - Bogart (sold as a stallion prospect)
2010 colt by triple Bundeschampion Lissaro - Lorbaß (England)


Stallion Choice: Why Lissaro ?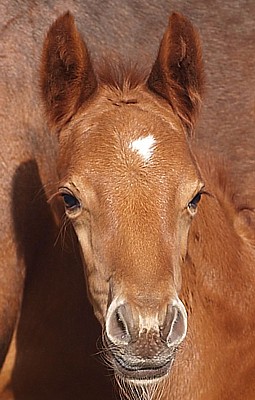 Today Ionia was due with her fifth foal (and I still can't believe it is already her fifth foal...) and she gave birth as expected - I guess I can count on my mare when she knows her due time is coming...
When I came to the stall I was completely surprised by the red bundle of foal that was still lying behind her, all wet in the straw:
A huge chestnut foal, a colt, and how big he was!
Immedialty reminded me of his full sibling Lorbaß from last year, same substance of bones and size, just that Lorbaß last year kind of "slid" out in no time while Legolas today took some twenty minutes to finally make it completely out of her - no surprise, mum was exhausted and sweat all over.
That, however, didn't prevent her from coming right up to me when she saw me sitting on the doorstep to her stall, realizing all those apples and bananas in my lap. She chewed and mumbled happily and made me smile big time - good girl! She really deserved her fruits!
At the same time I couldn't get enough looking at her beautiful red foal, the pretty head sticking out of the straw and the well shaped neck - not that I could have figured out any more of it at this point in time....
Meanwhile, the big red boy was trying to stand up, all confused and truly helpless with these terribly long legs. Of course it was my pleasure to help him up and Ionia welcomed my assistance with a friendly whinney. A true dejá vu to last year's situation when Lorbaß was born - so content...
The most beautiful moments in the life of a horsebreeder, I guess.
It took some time and some sweaty work on my part, too, to help Legolas sort out his legs and finally manage to stand up There he was, indeed all the size of his big brother Lorbaß last year - what a boy!
Ionia whinnied a warm welcome to her son finally up on his four legs... but wait:
it wasn't four... he stood on five legs as he had choosen me to serve as his fifth leg for balance.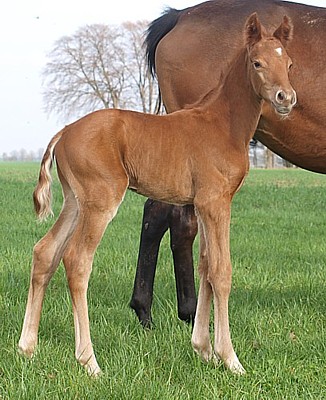 Ionia looked at us for a while and you could tell what she thought:
"You guys go and sort this out - I will be there when he is finally ready for my udder!"
As she was indeed a little annoyed about the pressure in her udder and it was so understandable.
She shook her head and made weird noises I only know from my mare Fabrice who really gets upset when her newborn foal keeps her waiting for too long.
Legolas bounced along and indeed made it near mum's udder - more out of coincidence rather than a distinct attemp to target his first naturally given goal tough...
Time to leave the two alone - I thought.
Swoop - the red man tumbled back into the straw again.
Not really efficient, I thought.
But this was his turn now to figure it out again and make it to mum's milk bar - after all, now he knew the way, didn't he? Five-legged balance aid doesn't come all the time...
So we watched them from inside on the video and it didn't take him too long to stand up again and find his way to Ionia's udder - we could see him swollow and this was the moment of deepest happiness for everybody involved in the party.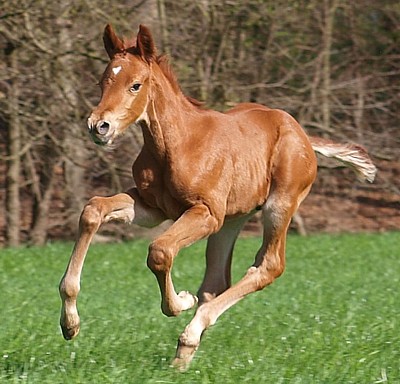 Two days later and finally sunny weather and time to take Legolas out to the big pasture to have him discover his hole new world. The boy seemed deeply impressed and jumped closely around his mum intially.Then he started bucking around and suddenly the bucking evolved to canter - Legolas had found his third gear! And how he enjoyed it!
He galopped round his mum in big and bigger circles and didn't seem to believe his legs truly carried him around in high speed - when he came to stop near Ionia from his frequent loops his face expression seemed all astonished about what he was already able to perform! Legolas was truly exploring his world and abilities.
What a pleasure to watch ...
We walked around the pasture and Legolas would squeeze his little red nose underneath my arm approaching me from behind every once in a while - what a joyful experience... And I guess it is fair to say that he reminded me deeply of his little chestnut sister Brooklyn, who died in young age. Brooklyn, with her little red nose, had made it to my heart in no time - so did Legolas at these very moments.
And even if it was a filly by Lissaro that I had been hoping for all those months of Ionia's pregancy - little Legolas truly made it straight into my heart with his charming behaviour. He might be sharing the size and substance of his big brother Lorbaß, who I love dearly. But he sure embodies the same red nosed charme of his little sister Brooklyn from a couple of years ago - precious, that is, as I never thought I would experience this ever again.
These are the moments I live for - and I appreciate them gratefully.
Thank you, Ionia, for this little red prince Legolas!


6.6.2011

Milkraider!
While Ionia never had problems with her milk and always feeds her foals sufficiently, Legolas found out that one udder simply isn't good enough...
When Balahé, his elder sister, stands next to her mother Ionia in the sun, kind of sleeping (obviously DEEP asleep and dreaming...) Legolas would drink from his mum's udder first, still licking his lips from the milk, only to creeping over to his big sister Balahé and docking on at her udder as well - testing out if there might be a different taste available within the familie's milkbar... hilarious!
A real family affair, after all, and probably the most precious thing a breeder will ever get to see - these are two healthy foals with two healthy mum's of their own. Yet, Legolas finds ways to make life even a little more exciting and worthwhile - milkraider, he is!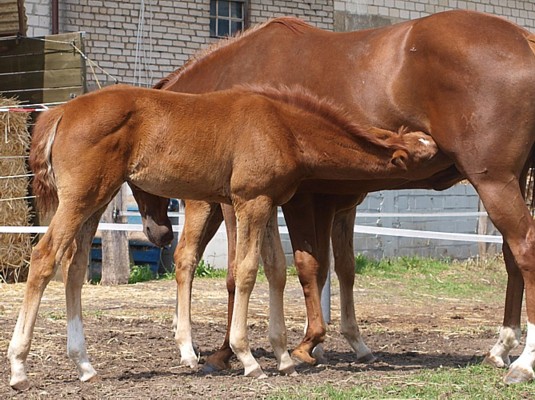 watch closely: in front Belle K is drinking from her mum's udder (Balahé), on the other side Legolas, the "Milkraider" has docked on - you can see his head underneath the udder :-)
27. Oktober 2011
Legolas
has left the Karsten's barn and moved to his new home. He already enjoys his new life in a group of stallion prospects in the
east of Germany
, eagerly fighting for the lead amongst his fellow colts. I truly hope to meet him again in 2013 at the hannoverian stallion selection trials.
Good luck, Legolas and the Schöning family!
31.
July
2012 visiting Legolas at the Wesermarsch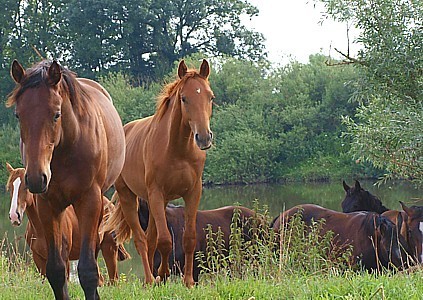 Ionia's son Legolas by Lissaro is a yearling now and spends his summer near the river Weser. On my wy to Verden I took a little detour visiting Legolas and the colt herd he is growing up with.
The boys were climbing up the river bench when I was apporaching and it was easy to recognize Legolas.
Legolas is a big yeaerling and now that he matures more and more you can tell the similarities he shares with his fill sibling Lorbaß, who I had visited last year in England. Ionia truly stamps her get!