Lorbaß * 17.March 2010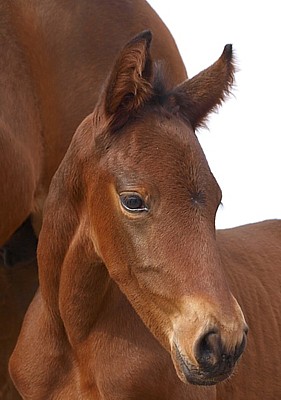 Lordanos Holst. *1993
Lissabon Oldbg. *1999
Reinette Oldbg *1994
Lissaro Hann. *2005
Matcho AA *1978
Marquesa Hann. * 1985
Gracia Hann. *1980

Surumu xx *1974
Acatenango xx *1982
Aggravate xx *1966
Ionia xx *2000
Pentathlon xx *1965
Ipenta xx *1986
Immer Toller xx *1980







Damline Information Ionia

Self performance:
Ionia xx was a race horse from 2003 - 2005, took part in 17 flat races, scored 4 times, won once.
10. May 2006 - hannoverian mare inspection in Ankum; Main Studbook registration:
scores amongst others: elasticity and swing in trott 8, backline 8, frame 8, frontlegs 8.
Damline:
Iwanowitsch xx *1978, licensed stallion Hannover/ Ldb Celle, by Illix xx/Orsini xx o/o Istanbul.
Intervall xx *1974, licensed stallion Rhld./Trak., by Perseus xx o/o Inka (via Immenkönigin o/o Immertreu)
Progeny:
Lorbass is half sibling to
Balahé *27.March 2007 filly by Brentano II
Brooklyn *3. April 2008 - 21. April 2008 filly by Brentano II
Bogart *31. March 2009 colt by Bundeschampion Benetton Dream - sold as a stallion prospect

Sireline Information - why Lissaro?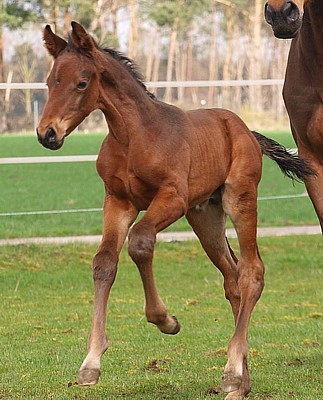 Lorbass was born five days after the expected date and my mare Ionia sure had a strong burden to carry the last couple of days - it was obvious, she was longing for a soon birth:
Yet again, she picked the early noon to deliver and by the time the call reached me at the office Lorbass was already born. I told my colleagues I had to take a "maternity leave" for the rest of the day and off I was...
Lorbass was still wet and Ionia would take dearest care of her new born son who soon made the first attemps to stand up. It was obvious that little Lorbass could need some help to get his legs sorted out so I moved behind him and helped him up carefully. Ionia would stand close to me, mumbling and whinniing at any move I made, closely watching if I did everything right ...
Caring mother - trustful horse - so wonderful!
Now Lorbass stood on his feet immediately and Ionia whinnied loud at him - precious moments!
I went back to my corner in her stall and sat down in the straw, watching the two silently, smiling.
Lorbass kind of scrambled around her, still little unsure on his feet but gaining confidence step by step - and it didn't take him long to finally find what he was searching for and Ionia appreciated her son's first drink - content mother.

Precious moments - moments I wouldn't want to miss anymore - priceless.

When my mare barn owner Ingrid asked about his name she made me smile:
my thoughts got lost, galloping back to my trip to East Prussia last September. I am sitting on the floor in our big travel bus, we are heading for Trakehnen, the remainders of the once famous Prussian State Stud, nowadays Russia. Ancient trees, who had a lot to tell, are flying by through the big windshield of our bus in front of me and I am listening to the stories one of our fellow travellers has to tell: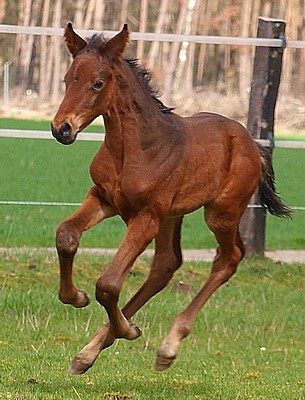 Klaus Hagen told us about his youth prior to the war. A youth he was grateful to have spent here in East Prussia, home of the Prussian State Stud Trakehnen.
And Klaus Hagen would speak of his childhood and the children playing on the farms, "Mariellchen" (little girl) and "Lorbass" (little boy), and I knew immediately:
Lorbass is his name.
East Prussian idiom for "little boy".
Not a Trakehner, though, but a half thouroughbred colt. Appropriate mixture.
And the name just suits him fine.

25. March 2011

Sometimes the unexpected happens:
with the completed sale of Brisant and Rialto Venice in 2010 I happily decided I could afford to keep and raise Lorbaß myself. My favourite colt out of my tb mare Ionia seemed the perfect prospect to mount and train myself in due cause, simply to explore and enjoy the development of my selfbred half tb foal, just as I did with La Jeanne last year. As nothing beats the pleasure and excitement to get to know your own selfrbed filly under saddle. That's what I learned from La Jeanne. Just that you can't do it with three at a time, you simply can't keep them all. So I was already looking forward to it and couldn't wait for Lorbaß to mature.
Than i received this wonderful email from Helen in England who had already fallen in love with Lorbaß virtually in the internet. Helen used to be an eventer rider who had participated in European Championships with her pony mare. And Helen was looking for her future eventing horse to eventually develop and continue her own carreer in eventing. It sounded exciting and I was delighted the more she told me - her plans and ideas sounded just right! A very close email connection began and than came March and so did Helen and her Mum, Anne. They came to visit and we spent some fantastic days together travelling horses, ponies, stallions and breeding farms here in Germany and Helen finally met Lorbaß playing with the herd out in his paddock.
I stood aside and watched them meet. Love at first sight, I guess, and it feeled like what belonged together had fallen into place.
Sometimes the unexpected simply happens.
So it was with only a little tear in my eye but greatest cheer and pleasure at the same time that I waved Lorbaß good-bye today after he had climbed up the ramp of the big transporter who had arrived from England to take him to his new home. As I couldn't think of any better place for Lorbaß than being the number one in Helen's barn and being home right there in the most natural environment and infrastructure you can think of for any future eventer - everything I had wished for him but far from being able to provide him with myself in the same way overhere. Eventing and training in Germany still is a difficult thing to do - very demanding, specially when you have a full time job to take care of and a lot of travel to do in order to take your young horse to appropriate training courses only to school. Helen has it all there - and she is by far the more experienced eventer rider than I am or ever will be.
But most importantly:
Helen has Lorbaß written all over her heart - in big capital letters! It couldn't be any better and I couldn't be any happier!
So my best wishes truly come from the bottom of my heart:
Good luck to the two of you, Helen and Lorbaß!


12. September 2011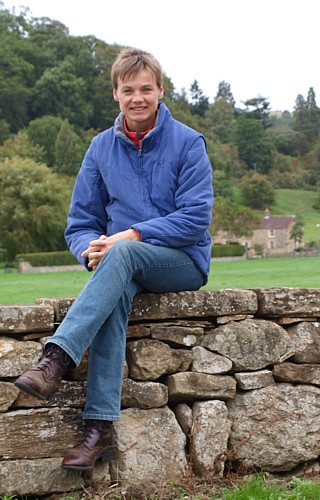 Six months had gone by since Lorbaß had left our barn and not a single week had passed without emails from Helen and Anne. Our relationship had grown stronger and stronger and both of them gave me the wonderful feeling of not just being the breeder of Lorbaß but being "part of the team" - it was delighting! Of course we had planned for a soon visit and I couldn't wait to get to know Lorbaß' new home and Helen's and Anne's horses and ponies. I had heard so much about Anne's breeding program and was excited to finally fly over and get to see it all ...
Anne picked me up from Leeds Airport and while I had been in London for business many times before I had never really fallen in love with "that" kind of England. Yorkshire however is different - totally different. This was the England I had heard and read about so often but never been able to explore myself. The drive from the airport to the little village of Flaxton already was an experience of it's own. Most beautiful landscape, "rolling hills", pastures and fields lined by hedges and the most typical stone walls wherever you drove - the most inviting treat to your eyes and I couldn't get enough of it. This was the England I had heard about but never thought I'ld eventually get there. It came clear immediately why this was the world's home of eventing and hunting and my heart was beating faster and faster - I was already thrilled, and we hadn't even gotten there!

Lorbaß' new home is Flaxton in Northern Yorkshire, the most pittoresque village you can think of, inviting and timeless at the same time. As a matter of fact:
time seems to have tood still in Flaxton since hundred of years ago. A single road leads through and you enter it via classic old kettle grids on both sides, framed by big white wooden gates and those traditional stone walls and hedges. Cows and sheep used to graze free at both sides of the street in the deep green grass in front of the houses. "Houses" however, doesn't describe it well. These are neat old cottages in the true sense of the word - cosy and inviting. Pittoresque. The old school house, the old pub, and out you were again. Beautiful Flaxton.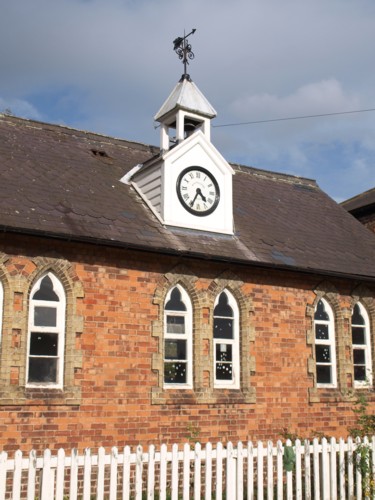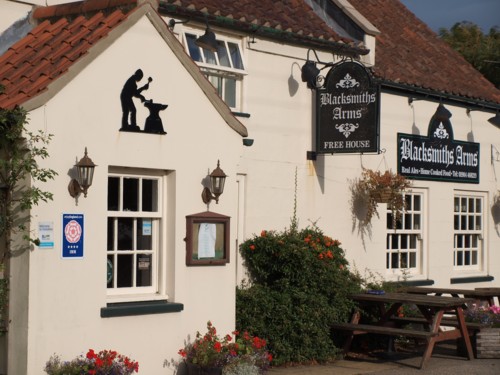 Here we were, in front of Mum's house where Helen lives with granny today. Helen used to tell me that "Mum's keeping the horses in the backyard!" and I was more than excited to finally get to know this very backyard ... I learned my first lesson about british understatement when we entered the backyard, the modest size of a football field, and the most beautiful traditional old stables to the right, neat and tidy, you could eat from the ground. A beautiful garden that grows everything you need and can think of, as "Granny serves three households from this garden!" Anne said, and yes, you ougt to believe it when you see it... A riding field, Helen's "school", is located right behind (or still within - ?) the garden and yet no end to the backyard in sight as the field for the horses was still to come. I couldn't believe it. What a horseman's luxury! A nice green trail crosses the backyard, all lined by typical hedges and trees to both sides, this is Helen's daily ride to the "gallop" prior or after the work in the school ground, and finally the pastures in sight.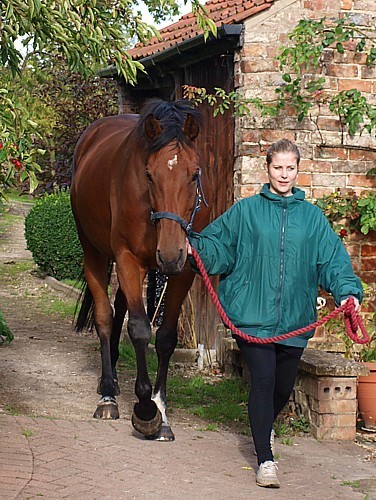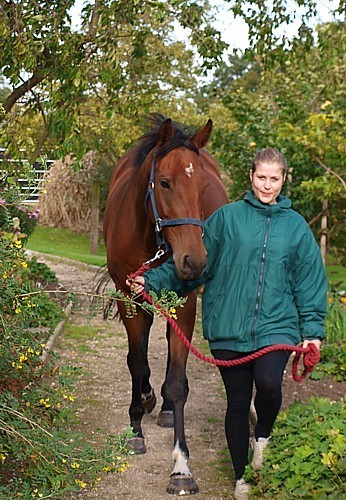 There he was, my Lorbaß. His silouhette unmistakenly shining wide, and he would look at us and stroll right up to us in his usual curious but oh so cool and calm manner - it made me smile all over. And as it was to be expected in paradise and the Garden Eden, of course there were apple trees growing in granny's backyard -and lot's of them! And I sure had picked lot's of apples on my way, as many as my many pockets could hold. And while Lorbaß was approaching and Helen politely stated "Look at him! He recognizes you!", I'ld rather assume he remembered the depth of my pockets and the very treats for him in them from all those days I used to come see him at home in our barn... But I did appreciate Helen's comment dearly. And who knows?
So here we were, cuddling Lorbaß and meeting his fellow young colts and geldings and I couldn't have been any happier:
Little Lorbaß has surely won the lottery with his new home!
"Little" however, doesn't suit him anymore. I took a while to realize that Lorbaß, other than one of his fellow companions, is not already two years of age but only an immature yearling still growing... What a horse he already had become in these six months!
His sire's Lissaro's bone and substance and a lot of frame - nothing left from the skinny yearling, his mother's son, he once used to be.
Little unsecure I asked Helen if this wasn't too much of a horse for her already as she had bought a half tb and my very german understanding of "half tb!" clearly differs from what Lorbaß had turned into. But Helen laughed at me and made it quiet clear to me that Lorbaß was just perfect the way he is.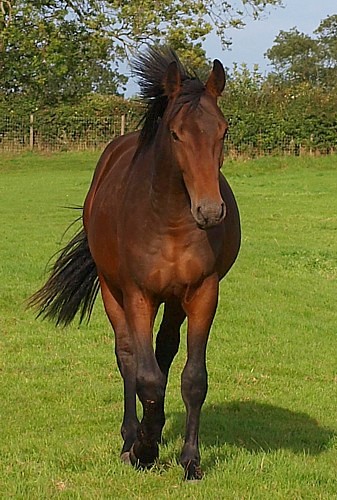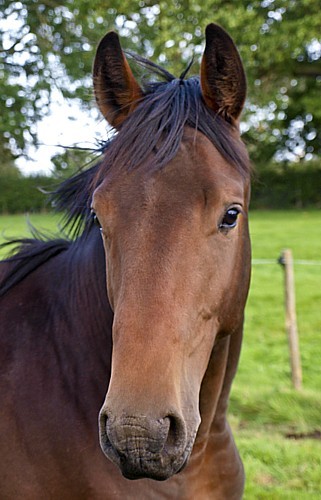 Later on I should meet Helen's further eventing prospects from Anne's breeding program and most impressive of all, her old pony mare that she used to compete so succesfully even in European Championships. And I learned. I learend that tb influence and tb influence is not the same. While the german understanding, specially when you com from warmblood breeding and dressage horse background, is greatly dominated by the fine and noble lineage and conformation of the Lauries Crusadors of this world, the british understanding of a well functioning blood horse in eventing is completely different. And Lorbaß indeed blends in perfectly. It made me think big time. It should indeed make me question our german concept of selecting thouroughbred for warmblood breeding, a concept truly demanding to obey since the german perfectionism of choosing the "right" tb for warmblood breeding sure is a true challenge. But this was food for thought yet a couple of days later to come.

I was accomodated in Anne's home a few miles further up the road. As the name suggests "Station House" is an old railway station, I figured that out all by myself but it turned out to be purest british understatement, yet again... Naming it a cultural heritage or museum most certainly suits it better. "Station House" today is the most beautiful well renovated home that embodies traditional british lifestyle and culture at it's very best - it couldn't become any more british to me! Travellers from all over the world nowadays come to spend their vacation in Station House as the old waiting room today streches into a brand new pretty holiday home aptly called "Platform One".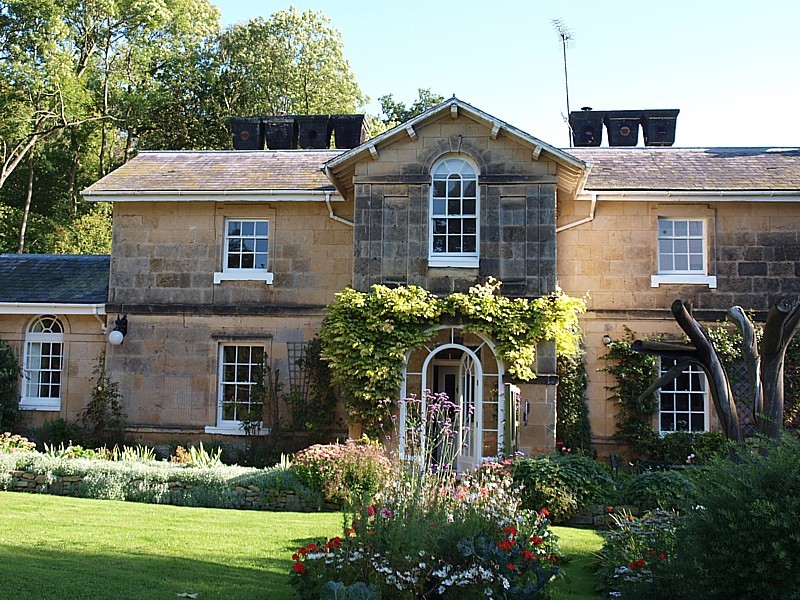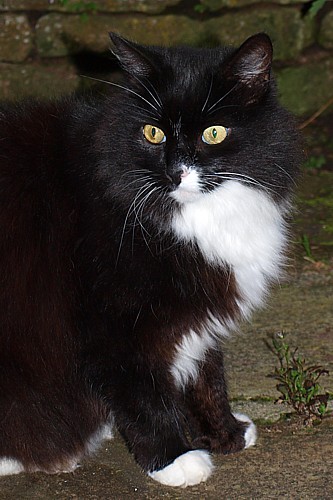 Nevertheless, I was delighted that my guest room was located within the wonderful family house itself where cat and dog belong to the household, of course!
And every time I walked upstairs to my room I discovered something new to look at:
genuine decoration, paintings and pictures on the wall - in my room they all covered the same theme:
Hunting, steeplechase and racehorses. Racehorses wherever you looked! I got all inspired - this was Newmarket, yet another part of equine british history and tradition I had heard and read so much about, something I longed to get to know dearly.
Fortune had it that Anne shared my excitement about Newmarket genuinely. The word stood inbetween us and off we went. I was all excited and grateful that Anne took up on my idea visiting Newmarket immediately, but even more important she seemed to love the idea of going there as much as I did. Grateful. Amazing. A wish coming true!
Only two years ago I had been on a journey to East Prussia to visit Trakehnen, ancient home and history of german (prussian) sport horse breeding and tradition hundreds of years ago. It had been a long time wish to me to make that journey and travel equine history. And if there has ever been a second desired destination beside Trakehnen to go and visit alive equine history it was Newmarket. Just that I had never thought that of all things it could ever be one of my selfbred foals that would take me there ... Evenmoreso since this very Lorbaß owes his name to this very recent trip to East Prussia and Trakehnen. Sometimes you can only wonder. Breeding bloodstock horses however, helps, too!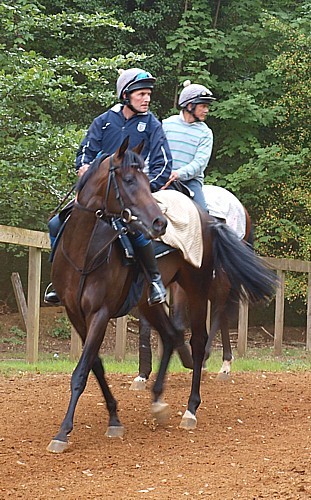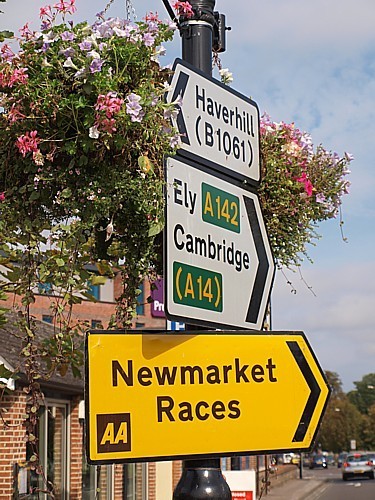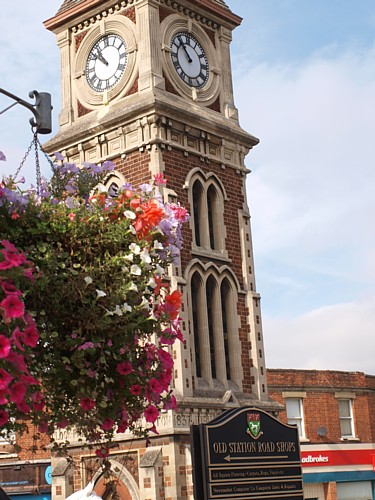 Newmarket truly is world of its own. Already approaching it via the long main road the landscape changes uniquely:
hegdes to both sides of the streets are growing higher, well cut in an angled shape, I felt like driving through an endless double rick and hadn't been surprised if a lot of steeplechasers had crossed the road jumping in and out over these hedges... You could well assume and sometimes peek the huge gallops behind in the rolling green. Venerable stud farms hidden behind bushes and trees and whenever you had a chance to catch a glimpse through the doorways you were caught by timeless impressions - precious. Main Street Newmarket offered the same old pubs and buildings, most of them horse related in any way. The Jockey Club, the Horse Race Museum, and while you follow Main Street you are being drawn by the victorian Newmarket Clock Tower. The set up reminds you of the Champs Elysee or the Berlin Column of Victory. And in some aspect the Clock Tower sure is a column of victory, too:
here is where timeless bloodstock breeding wins over any other kind of fast moving, trendy sport horse breeding anywhere else.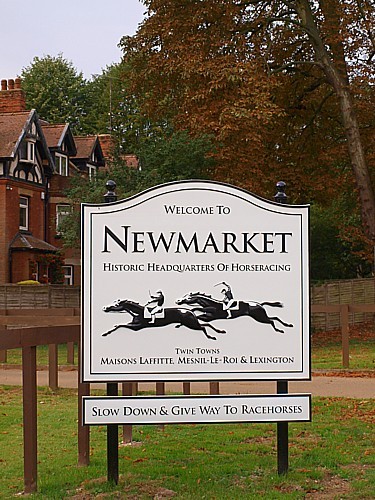 "Give way to Racehorses" is the standard all over the place. And while you are waiting on the road your eyes get caught be those rolling hills to the right: endless gallops wherever you look, all along white paddock fences and groups of racehorses under saddle everywhere. Catchy, inspiring and inviting. You want to mount one of these yourself and participate in a joyful canter up those hills... Yes, I got all inspired and knew immediately what would be on my wishlist should I ever have the chance to visit this grand old horse country again:
take part in a gallop!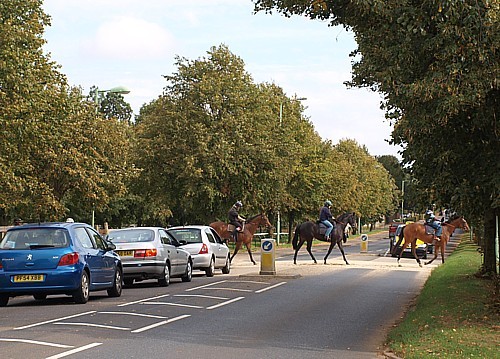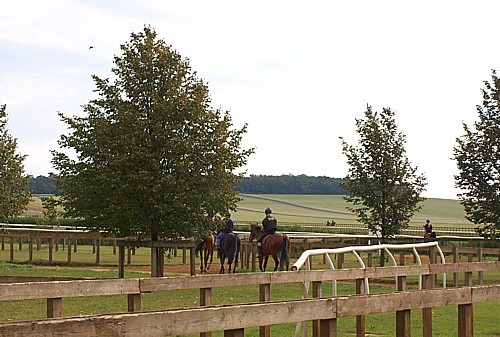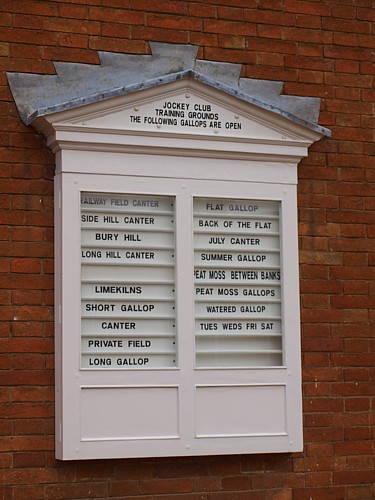 Anne and I walked up the road to to one of the gallop fields. Groups of racehorses crossed or way again and again and lead us where to go. Behind the woods we passed by a warm up circle, meeting a group of very busy men in accordingly impressive cars. You thought a Rolls Royce hood ornament is the best you can get? Here it is the prominent statue of a jockey on his horse that crowns the hood of a flashy Merceds limousine ... It sure is a different world!
We reached a huge green field that allowed for a view on the "rolling hills". "The hills and the downs", said Anne. "But mind you:
up h e r e, we are up on the d o w n s!" It made me laugh out loud.
British terms are hard to get by at times. But it did become my favoutrite play of words these days.
Approaching a well prepared gallop that crossed the big fiell we weren't by ourselves anymore. Small groups of eagerly busy men waiting for the horses to come, note books in their hands. Note books however, in the classic sense of the word, pieces of paper and a pen... "Bookies!" Anne said. They have their spys everywhere, even in the stalls to find out about the specific form and fitness of each and every horse to carefully "manage" their quotas. Dick Francis at it's best and it made me smile big time.
And there they were, the first group of race horses, galloping up the track, followed by many further small groups. Sometimes high, sometimes less speed, strictly obeying the trainer's word.
And after the turf a relaxing walkride back home through the woods and streets of Newmarket. Alive racehorse history and presence!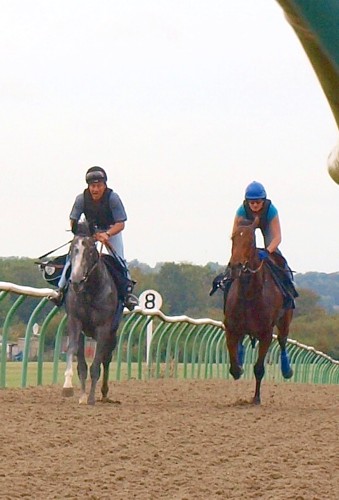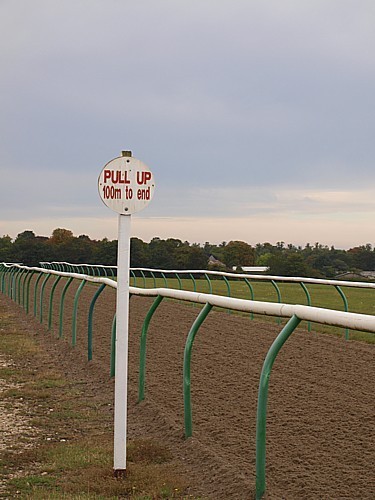 We continued our tour visiting the National Stud. Some prominent breeding stallions spend their days on wonderful green pastures, each of the size of yet another football field. Listening to these pastures being referred to as "paddocks" suggested yet another case of british understatement... Our german warmblood breeding stallions would envy any of their tb friends if only they could spend their days in such paddocks...
Not only do they graze here, some of them also also rest here in piece. Amongst them a well known sire the german dressage horse breed ows a lot to:
Tudor Melody, grandsire of the Celle State Stud stallion Lauries Crusador. What would the hannoverian breed be without Lauries? Where was the entire present german sport horse breed if it wasn't for Lauries, the one and only tb stallion these days everybody speaks of respectfully?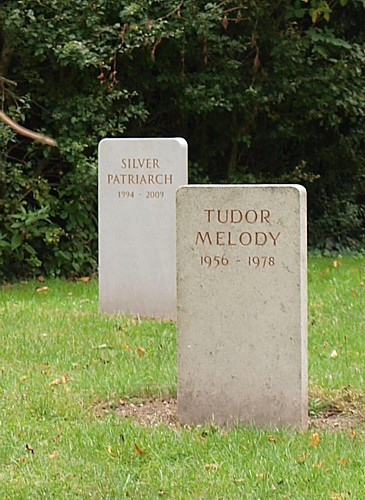 Having been to Newmarket truly left an impression on me. It met my expectations in any way and left me longing for more. And as if Anne had noticed there was more to come. Back in Yorkshire we visited a trainer the other day, well known to the family. Tim Walford had invited all his sponsoring parties and friends to come see the horses currently in training. Needless to say: I was excited to go! Wallford's farm is located in the hills of Yorkshire and after a brief walk across the stobble fields we reached the gallop - yet another well prepared track, reaching down to the next village for over a mile or two. Each of our german top star eventers would only dream of such a gallop nearby to train any kind of high or low speed or relaxing work uphill and downhill. Splendid! I had given a fortune if I had had my Silas with me and could only take him out on this gallop...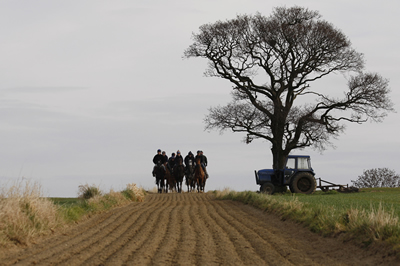 Tim's horses were shown in his yard and it reminded me of a german stallion licensing when each horse is shown on hard ground for conformation inspection. It sure was evenly exciting and informative. Most interesting were Tim's comments as they proved yet again that they run in all shapes. And if you think you can tell by their shape or pedigree what discipline truly suits them best in pratcice you are wrong again. Breeding by papers and pedigrees simply doesn't work. It was most refreshing to learn that the supposed to be speed horse didn't do any good even though his pedigree might have suggested so. An experienced trainer figures it out and the prove might come in longer distances when this horse all of a sudden turns into a winner - despite his pedigree suggesting otherwise. We learned about horses being better on the flat versus those who succeeded over the jumps and vice versa. And I learned yet another big deal about german understanding of a blodstock horse versus english reality of bloodstock horses. Time to reconsider.
Helen's and Anne's horses and ponies came to mind and all of a sudden it made so much sense. Lorbaß blends in perfectly! A half tb and a half tb can be world's apart - and they are. But they sure run and win in all shapes. And they might jump accordingly, too. Here is where potential eventers are spotted coincidentally since here is where practice is done, covering any race rlated discipline. And I had had no idea how many disciplines there were for a sporthorse to succeed in... The prove lies in the practice, not in academical breeding or any given conformation prepostition.
There were horses I had never assumed to be tb horses at all and yet they were and functioned.
Needles to say, I truly enjoyed this private little inspection of about 40 racehorses of any kind in training.
And who knows what Lorbaß might turn into eventually?
As Anne quoted so accurately:
"Fools breed horses for wise men to ride!"
I couldn't have choosen any better motto for this trip! And it sure became my favourite word these days!
And having said all this I can only hope that my enthusiasm and passion for sport horse breeding and bloodstock horses specifically continues to drive me in due course as it did all those years. As nothing beats such excitement and inspiration!
Thank you, Lorbaß!
Thank you, Helen and Anne!

more pictures from this trip worth watching on webshots: Newmarket and Visiting Lorbass


7. August 2012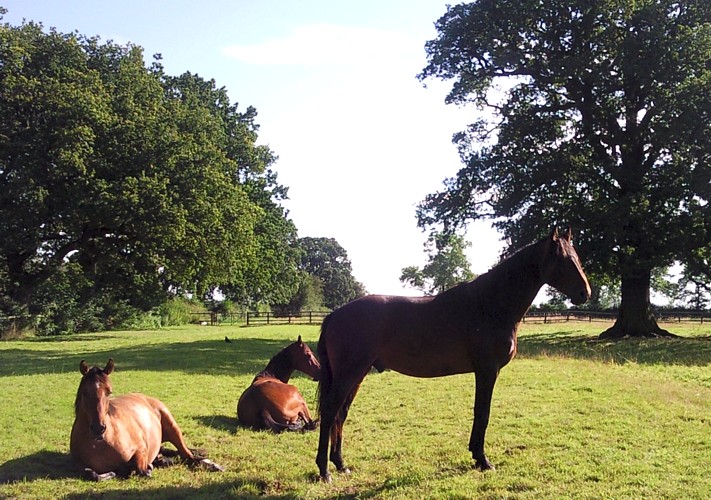 While England still celebrates the various equestrian gold medals at the Olympic Games, a small part of the empire simply ignores the party and remains in cosy silence:
a small village in the north of Yorkshire remains untouched by all the trouble and a yearling's herd enjoys the sun...
Thank you, Helen, for this picture of Lorbaß, who visibly enjoys his life!
Only a few weeks after I have been visiting Lorbaß' full sibling Legolas it is so nice to hear from Lorbaß, too, and have a comparison of the two...


Photoalbum Lorbass

Home