La Jeanne * 25.4.2007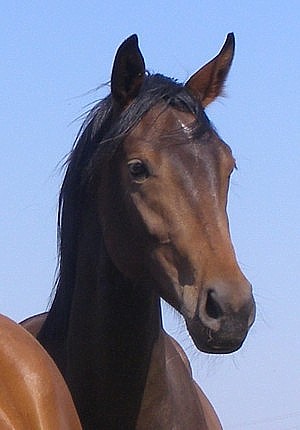 Welsh Pageant xx.*66
Lauries Crusador xx *85
Square Note xx *75
Laudabilis Hann. *2000
Warkant Hann. *83
Wassia Hann. * 90
Emma Hann. *84

Florestan Rheinl.. *86
Fidermark Westf. *92
Watonga Hann. *85
Fabrice Rheinl. *98
Frühlingsball Westf. *70
Feodora Rheinl. *92
Rebecca Rheinl.*80





La Jeanne age two

Damline:
Fabrice was nominated "Premium Foal" at the foal inspection Heinsberg, July 1998 - Silver Medal
MPT Telgte, June 13th, 2001 - ranked 1st out of 21 mares scoring 8,39
single scores: trott 8,5 canter 8,5 walk 8,0 ridability/judges 9,0 ridability/testrider 8,5 freejumping 8,0
Summer 2003: various show class successes in all disciplines (dressage, jumping, eventing), amongst them ranking first at the Telgte young horse combined dressage/jumping class scoring 8,2
full sister Fannie Mae is the 5th out of 5 full siblings by Fidermark, all of them were nominated "Pemium Foals" , amongst them auction foals.
single scores: trott 8,0 canter 8,5 walk 7,5 ridability/judges 8,0 ridability/testrider 8,5 freejumping 7,5
full brother Fair Play*2002 Champion of the Rhineland Ridinghorses 2005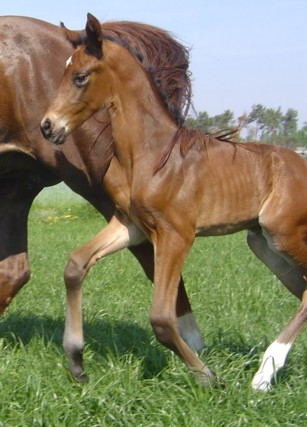 ... sometimes you just have to believe in fortune: just like last year, when I had to say good-bye to Shannon, Fabrice gave birth to a healthy foal that very night. And she did exactly the same tonight after I had to let Wallery go... One more time Fabrice has added a good end to such a sad day by giving birth to La Jeanne. And just like last year, when QRage III was born, I can't help but quote those words a good friend said to me last year at the same occasion:
If anywhere a door closes be sure, anotherone will somewhere open instead...

and Fabrice has just opened a door - and she opened it far!

La Jeanne had only been born a few minutes when I saw her first and I really remained speechless for some moments:
this foal already appears like an old-english portrait painting - you can barely model them any nicer or better textured - this shoulder simply stands out and so does the greatly angled croupe formation and those long legs and fetlocks - all of this crowned by a beautifully modelled face - I truly hadn't expeected anything like this!

La Jeanne certainly shares a lot with her half siblings ("Happy" and QRage", both by Quattro) and having had three quality foals by Quattro B the change of stallion to the favour of Laudabilis (who is blood identic to Londonderry, by the way) was not an easy go for me and my expectations were high. Today I look at a foal that on top of that amazingly shares those hindlegs and angles with Sansibar, her cousin by Sir Donnerhall o/o Fannie Mae. Should she ever move the way Sansibar already does - oh well - I guess she would surely be an extraordinary foal...
So far she is busy learning to control her super-long legs and does great - even though her favourite gaite still is canter- trott is later to come when balances are worked out better...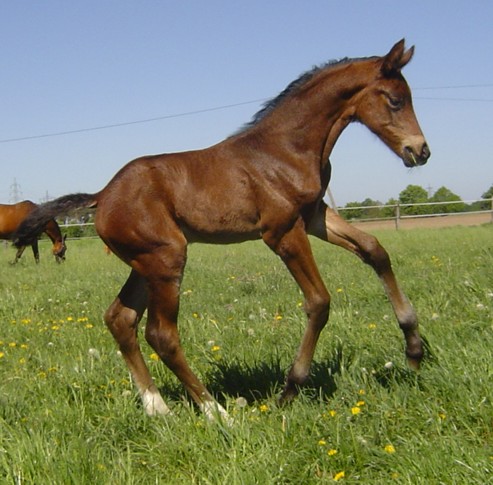 Today I am alreday amazed at the heritage power of both my Fidermark mares, Fannie Mae and Fabrice, so different they are, yet, they seem to be passing on their blood identic genetics at the same dominat way: shoulders, croupe formations, long legs and fetlocks, usually guarantees for dynamic and elastic movements - all this can't be blamed to coincident only, not after having had five different foals by three different sires...

Also, all these foals have been very big already at a newborn stage - and La Jeanne is not an exception to that rule! - we couldn't believe it when she stood up an unfolded in front of our eyes!
And it does make me cheer evenmoreso as all this is porven despite the often bespoken smallishness people call fidermarks for - obviously, this damline does produce size - and a pronounced portion of selfconsciousness, too... little-big La Jeanne whinnied and grumbled her way straight on to any human being in front of her asking for cuddling an she realy enjoys to be pet.
La Jeanne to me is a real bright spot and she appeared just at the right time!

... and again i owe gratefulness to my Fabrice:
she did everything right again - in any aspect I could think of...

... and La Jeanne already carries a little anecdote around with her:
her birth threatened to become complicated as her legs weren't in place were they were supposed to be:
one was bended under the belly, the other one wrapped behind the ear.
thanks to the vet who appeared quickly and did a great job in correcting her position Fabrice finally gave birth to her daughter in less than a minute... and this is why La Jeanne carries a little lop ear at her one side which looks extremely funny whenever she walks straight up in front of you prick-eared - she does remind me of a little easter-bunny then and it always makes me smile... :-)




19. June 2007: Hannoverian foal inspection in Meppen, Fabrice is being registered with the Hannoverian Main Studbook and La Jeanne is branded "Hannoverian"!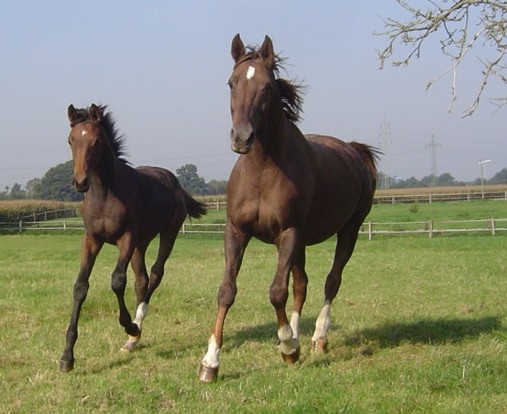 The presence and beauty of La Jeanne was breathtaking from the first moment on - I have never had a foal before of such strong personality and impression. La Jeanne will be growing up at our barn and my hopes are high for her to become my future broodmare to maintain and develop Fabrice's damline, a mare family that has proven its most exquisit quality to me in many respects after having had five foals by three different sires out of Fabrice and her full sister Fannie Mae. I do consider myself very lucky having picked Fabrice back than when she was a filly herself, just having followed my gutt-feelings ... The decision to buy her full sister Fannie Mae was another very spontaneous "go" and today - 4 years later - has proven to have been another very lucky decision, too:
by no means was I thinking of starting my own breed with the two of them - the idea was to ride them both in sports... but getting more and more involved in sport horse breeding things simply developed themselves and both my Fidermark-mares have proven to be some precious broodmares and I am more than grateful to consider these two "my own" - and it must have been purest luck as I doubt I already knew how to fully value the two of them in full respect when I bought them - it was the sheer idealism about Fidermark that drove me back than and the generous idea of keeping his heritage alive.
Today, I guess, I am really keeping his heritage alive in a way I never thought I could - and I owe it entirely to Fabrice and Fannie Mae and the luck I had listening to my gutt-feeling back than...
Today, however, I also hope I have learned more about horse breeding and bloodlines as I owe it to both my mares to replace sheer gutt feeling by careful thoughts and considerations when looking for the "right" stallion to breed them to. As I am fully aware of the fact that no matter how great both their quality to produce might be, they can only do that much, the perfect contribution to fulfil what these two provide for will always remain "stallion's business" - and I can only hope that I will be able to do no lesser than "good" in the future as I did before when choosing "the right" stallion for them - as there is a lot to loose given the exceptional quality Fabrice and Fannie Mae quite obviously provide and I simply owe it to them to do no lesser than good...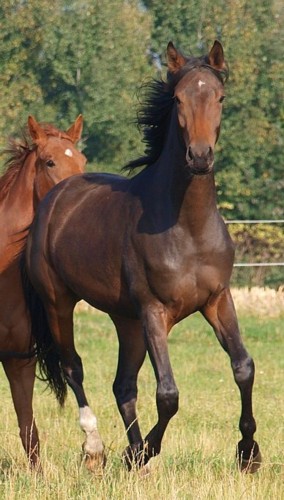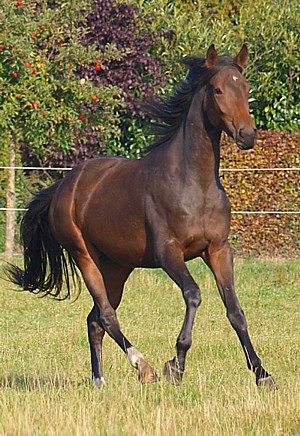 La Jeanne age two in September 2009 - an impressive filly of presence and beauty!

28.2.2010

Today La Jeanne has moved to Münster in a stall right next to Silas, my riding horse. I am looking forward to the next couple of weeks teaching her anything a future sport horse should now and deal with and Silas has already proven to be of great help:
he is the comforting lead horse while La Jeanne walks near him, exploring her new home and life. I am exited to see what the next few weeks will bring us!


1.4.2010

Even though this report is dated April first this is not an April-fool's-day story, even though it might sound that way...
Only one month ago La Jeanne has left the mare herd were she grew up. La Jeanne is supposed to move on to Seb and Helen Langehanenberg (short listed for the German Olympic Dressage Team at the Hong Kong Olympic Games with her amazing mare Responsible by Rohdiamant) for future training later this month, and Helen and Seb suggested, if I had the time and opportunity, I should take her over in my barn only for a couple of weeks prior to her final move to them, in order to simply teach her basic things like handling in a busy environment, and maybe take the chance and get her used to bridle and saddle so that Seb and Helen had a softer start with her and the young filly wouldn't be too confused when all of a sudden she'ld find herself in a professional horsebarn completely unexperienced... That sure sounded like a reasonable suggestion to me and I was happy to follow Seb and Helen's advice, evenmoreso since Seb and Helen stated clearly: "Sabine, you don't have to do anything else with her - no lounging, no training, nothing - that's our job and we will take care of that completely!"

So La Jeanne moved in and she behaved exactly how you would a greeny expect to behave:
Shy, confused, she didn't even enter her new stall but hammered her four feet in the ground after having left the trailor and stood there in complete stubborness.
So understandable.
A whole new world to her, a total shock.
So I did what I consider horsemanship, understanding what was going on in her young and overly confused mind:
I took my reliable and beloved sporthorse Silas out of his stall and guided him next to her - horses are herd animals - what better way to teach a greeny if not with the precious help of a lead horse?




La Jeanne understood and accepted Silas immediatley, she'ld follow him anywhere and from that moment on the two of them were inseperable.
Whenever I groomed Silas I would tie up La Jeanne rigth next to him so she'ld get used to daily grooming business and barn traffic, she would follow him on to the pasture, passing by noisy tractors, cars, trailors, other horses, she didn't care.
Wherever Silas walked, La Jeanne would walk, too. Completely unimpressed, closely watching her new environment but not a single shy moment at all since she had found the most reliably guide and guardian in Silas.
That way she explored her new surrounding in less than a day since I would ride Silas and take La Jeanne as a side horse on a halter nearby - she'ld follow us everywhere. No more hammering feet in the ground. La Jeanne was the easiest to deal with and most handable young horse you have ever seen...

However, in early March the weather was terrible, and on top of that, after work when I came to the barn, it had already turned dark outside.
What could I do with a green young horse?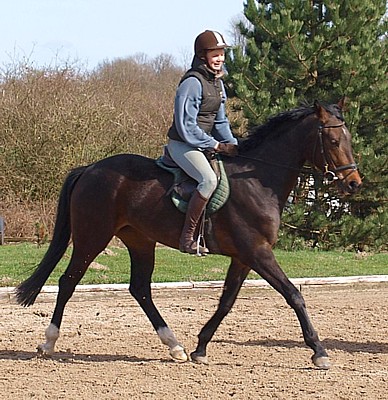 I saddled Silas for our usual ride in the indoor barn after work and took La Jeanne on a halter nearby - the arena would be packed with other horses and riders, of course, since most of my friends have to ride after work, just as I do. There would be jumps and cavalettis standing around, blankets being packed over the ring fence, horse being lounged... La Jeanne walked and trotted near Silas and me as if she had never done anything else - amazing. Horses trotting and cantering near us, taking us over from behind, she didn't care. Basically she learned barn traffic as a side horse in the most natural way and was never shy or impressed.
Silas was there. Her world was just fine.
I was thrilled how great it worked out, that way I could even work a little physical condition on her without having to longe her (something I don't favour anyway since it is an unappropriate way to move for a horse:
horses are built to move straight forward by nature, but not in tight circles).

I got brave and thus the second nigth I put a saddle blanket on her to see how she reacts, I put a belt around it and stripped it on her - she didn't react at all. I took an old saddle instead and put it on her back, carefully but propperly stripped. Again, no reaction at all.
My old friend Tönne (a horseman through and through) stood next to us, watching how she did.
I was so excited to see that she wasn't bothered at all that Tönne and I decided to give it a try:
next morning, six o'clock, when it was still quiet in the barn, we would meet and I would try to mount my filly first time ever.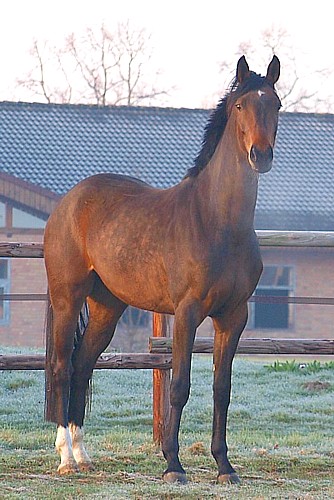 Couldn't sleep at all that nigth, I was so nervous...
Six o'clock that morning I had Silas and La Jeanne already groomed and had put a saddle on her - Silas would stand nearby and Tönne would take Jeannie's head and whisper to her (Tönne is a true "horse whisperer") and I carefully mounted her for the first time ever - no reaction at all.
Tönne would take her halter rope and walk her up and down the isle in the stall leaving Silas - she would follow Tönne with me on her back as if she had never done anything else.
Sheer excitement on my side, first time "riding" my own self bred filly - I couldn't believe it!
Needless to say, that day in the office my mind went anywhere but certainly not focusing on office work at all ...
Next day we did the same thing again at night and Tönne would even walk us out in the dark, over to the indoor arena where everybody else was riding their horses...
Imagine this:
A green filly, not even three years old, a halter and a rope, a saddle and a rider - and barn traffic.
Tönne would walk us up and down the barn, other horses trotting and cantering by, La Jeanne followed Tönne completely unimpressed.
I sat in the saddle and simply enjoyed my trusting young filly.
The greatest pleasure of all and yet another sleeplesss night, this time because I was so excited and happy given the way it had worked out...

Now it was time to find a bridle for her in the deep depth of the basement of my appartment...
I found her mum's Fabrice's old bridle and put it on La Jeanne - and this was the first time La Jeanne clearly showed signs of unwilligness.
She hated the bridle and the bid in her mouth and shook her head.
That was o.k. and I gave her all the time she needed to get used to the bid in her mouth.
It was the first week of March and she had already learned more than she was ever expected to do.
For about a week or so I would put the bridle over the halter for grooming and whenever one of the boys was around later at night I would put the saddle on and had one of the boys lead her up and down the isle on the halter rope (the bridle underneath) with me in the saddle.
Also, Tönne would walk us in the barn at night when the others were riding, still on the halter rope, but bridle underneath for her to get used to the bid.
No problems at all.

Now we faced the biggest challenge of all:
I needed to find someone to ride Silas and take La Jeanne as a side horse with me in the saddle so she could simply follow Silas trotting near him the way she was used to do. Not an easy task for people who are used to longing young horses and have them make first under saddle experiences longed, more or less excited and confused, tearing at the longe, having the rider squeeze and kick them to move forward or somewone raise the whip to chase them.
Not my understanding of teaching a young horse moving forward under saddle.
So I greatly appreciated when Olli, our barn owner, immediatley agreed to ride Silas and take La Jeanne and me on a halter rope nearby - bridle underneath, reins in my hands.
We were all mostly excited to see how it would go as none of us had ever done it that way before - and it worked out greatly:
Olli would hold La Jeanne while I mounted her, she would stand still with Silas at her side, and when Olli sat on Silas and started walking she would walk aside him just like she was used to do.
A few rounds and Olli would start trotting Silas - this was the moment I had waited for so eagerly:
would it work?
It did.
The moment Silas started to trott La Jeanne did the same thing and the four of us would trott around our indoor arena.
Olli was excited and so was I - and everybody else who was there.
First time ever experiment, none of us had ever done something like that before - yet another sleepless night for me...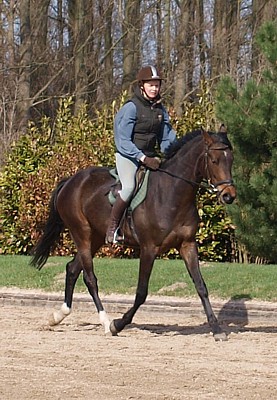 Olli and I repeated the whole thing the next day and it would work out fine yet again.
Time to get rid of the rope and ride La Jeanne "free" right next to Silas.
It was March 21st, exactly three weeks since La Jeanne had left the mare herd and this time my friend Assi would ride Silas and take La Jeanne at the halter rope with me in the saddle. A few rounds trotting and then it was time to take off the rope.
La Jeanne didn't care, she would continue walking and trotting next to Silas, another friend would join us riding another dark brown gelding, we would ride next to each other, the three of us and La Jeanne and me in the middle of the two geldings, talking, laughing, just chatting away - just the way it is supposed to be when working with (young) horses:
relaxing.

Eventually my friend on the other dark brown gelding would take a turn to pick up his trott work and La Jeanne followed the trotting horse. She hadn't even realized that this wasn't Silas while she was trotting free with me through the barn, following the other horse - I just cheered.
What an easy way of teaching a young horse to work under saddle, so selfunderstood, so naturally.

Couple of days later Assi and I repeated our training, just that finally the weather had turned sunny and I insisted on giving it a try outside.
Natural horse environment is outside in the fields, not in an artificial arena.
I would mount La Jeanne in front of our barn building, Assi and Silas standing right near her and we would take off immediatley "trail riding" to our galopp field that Jeannie meanwhile knew so well from being a halter horse near Silas.
When we arrived at the field Assi started trotting and La Jeanne followed - I had nothing to do but sit calmly in the saddly, not disturbing her at all, holding the reins in my hands and she would even search for a tender rein connection by herself, chewing on her bid, following Silas.
That day I had tears in my eyes when we came back to the stable - what an amazing development and learning curve for a young horse in such a short time!
Three weeks only and I could already trail ride her and trott her out in the field!

On March 27 we tried our first canter out in the gallop field behind Silas.
It was the third our fourth time I had ridden her at all "at liberty" since I wanted to make sure that she always had a two days break until I would ride her again, following the old military rule (as in "military", the old "cavallerie" standard - the historic basis of our classic riding school) that three year old horses must not be ridden more than three times a week, four year old horses four times a week, five year old horses five times a week - as they are immature animals and their sceletton is barely completed in a way it could deal with such physical (carrying) burden that age.
I had no idea how our first galopp would work since up until that point in time La Jeanne had never cantered next to Silas, she had never been longed and she knew no verbal commands, either.
However, sometimes it is a good idea to simply stop thinking and just let it go instead.
When Assi and Silas started galopping ahead of us in the field La Jeanne was surprised given the sudden distance between Sials and her - her ears would go round and round for a moment, I could tell she was "thinking" this thing over, but finally she started to galopp, too - amazed at herself, I felt, since she has had no idea so far that she was equipped with a third gaite even under saddle, too - it took her a few moments to realize what she was doing and then it was obvious she enjoyed her new found speed and rhythm as much as I did - the distance to Silas was soon bridged and Jeannie would even take over Silas and Assi in greatest confidence - what a pleasure!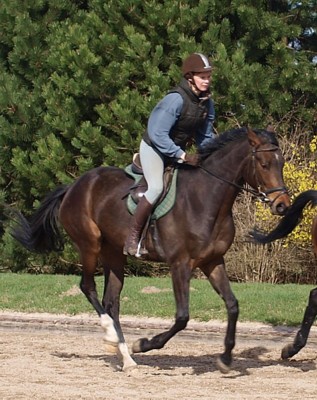 Now Silas was the problem since he is not used to being taken over by another horse when out in the field - so I padded Jeannie's neck and talked to her, calmed her down, slight rein connection, she would trott immediately, fell back behind Silas - perfect!

Not even four weeks and my little filly had learned more than I had ever expected - I just couldn't believe it!
Just like everybody else in the barn, people who had initally shaken their head at my "different way of mounting and training a young horse" meanwhile were full of praise for us - La Jeanne has truly stated an example in our barn and I couldn't be any happier.
Assi and I have continued our every-third-day-trail-ride since then and meanwhile Assi has already taken her own horse out to be a lead horse for La Jeanne in order for La Jeanne to get used to different horses and not being dependent on Silas alone.
Turned out, Assi's mare was a little scared and shy at certain moments and La Jeanne would simply take over and take the lead, even in canter - yet another way to define self confidence and trustful ridability in a young horse, I guess and it made my day, yet again.

Yesterday I received a mail from Helen and Seb that hopefully next week there will be a stall available in their barn for La Jeanne to move over.
And I found myself realizing that obviously, I don't want to see her leave anymore...
As I had never thought it would be such a lifetime experience and pleasure to teach her myself - things have taken off and developed themselves in a way, it simply blew me off. And Helen and Seb will find themselves in a completely new situation, training a young horse that can be ridden anywhere but has never been longed at all...


16.6.2010

New photos of La Jeanne!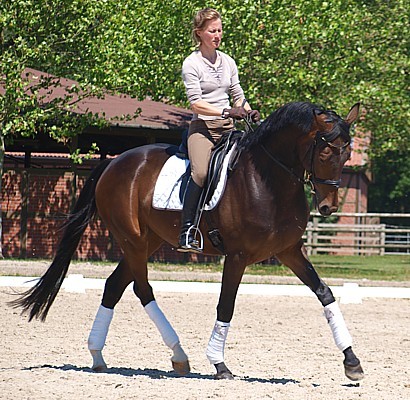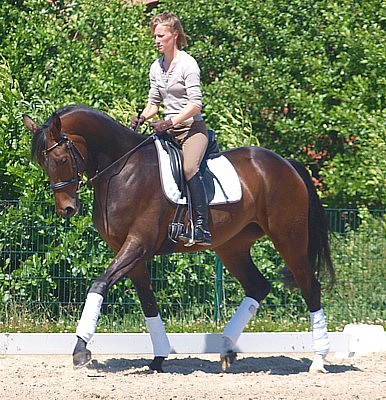 La Jeanne is for sale. Tel. 0174 331 8136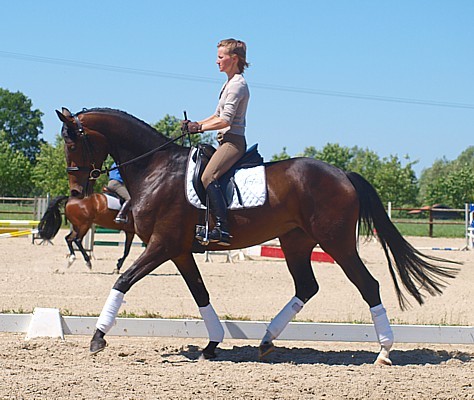 26.7.2010

The official Hannoverian monthly journal "Der Hannoveraner" explicitely names La Jeanne for her above average MPT result in Engter in June 2010:
check the article "Feldprüfungen, Durchschnitt Grundgangarten und Rittigkeit 7,5 und besser" (MPT, average basic gates and ridability 7,5 and better)
I am proud to see Jeannie officially recognized for her great perfomance under saddle!

21.9.2010

3-year old La Jeanne absolves her first ever cross country training and her first jumps under saddle!
The beautiful filly surely delivers an amazing performance and couldn't make me any happier!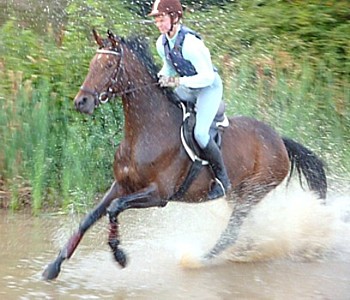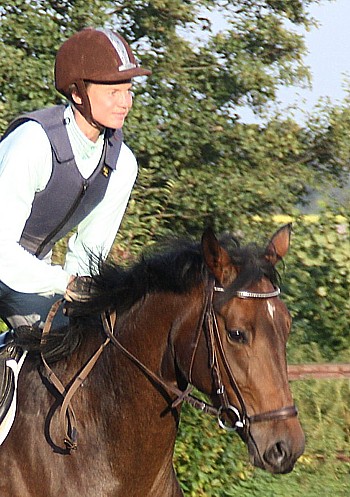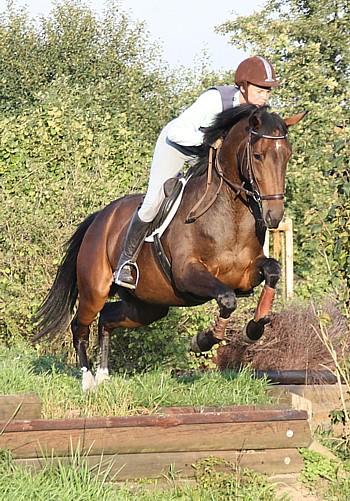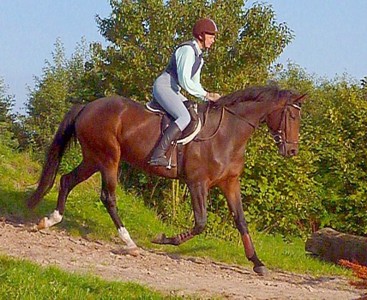 23. December 2010

A slightly different Christmas Story
(subtitled: Mare Performance Test of a different kind)

Today our CEO took his walk through the office to wish everybody a merry Christmas and hold some small talk. Small talk however is not my kind, so i chose to hide behind the PC. Of course they started talking about the weather, as always these days. He said:
"Oh well, if this is getting worse, traffic will die completely and none of us will be able to make it into the office at all... except for Frau Brandt, maybe."

Frau Brandt?
I heard my name and blinked over the PC:
"Pardon?"
"Yes", he said, "you might be the only one able to make your way to the office on horse back... maybe..."
I asked: "Maybe?!
what do you mean, maybe?"
He looked at me with a smile in his face and said, "oh well, I am not sure..."
Obviously, he was joking.
But I wasn't.
Our CEO joking about me just spurned me on:
"Of course I can make it on horseback to the office!"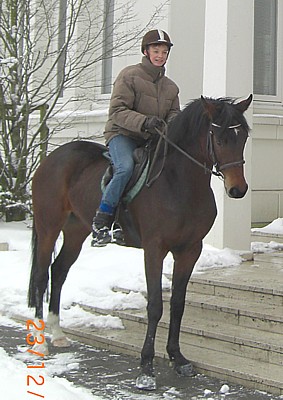 He said "O.k., if I can get hold of our PR manager and he happens to have a camera ready you have a date today at 12:30 on your horse in front of our office!"
We shook hands about it and I put my moonboots on immediatley. Off to the barn I was, Jeannie was quickly saddeld and out we were...
Crossing the street, climbing snowy walls from the snow cleaning machines along the road, heading for the big red traffic light. On the other side of the street the main office complex already starts and with it some greenland and sort of frontyards in deep snow - easy to ride through. We entered the main drive to the office, rode along the main buildings, crossed the big parking lot and entered the other street - there we were rigth in front of our office building. A big bus came by but Jeannie didn't care. She is used to all kind of stuff.
Of course she is.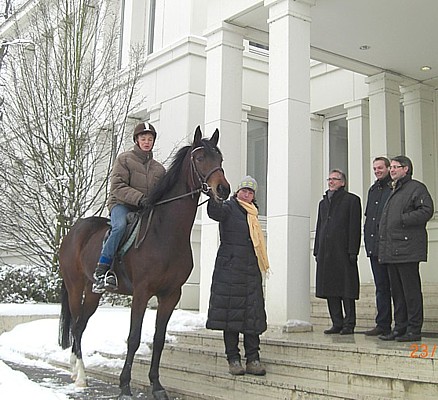 Both our CEOs were there and some collegues, too.
Our secretary had given a banana to the CEO on my request to feed the horse.
He held the banana in his hands, looked at me sceptically and asked:
"What am I supposed to do with this, anyway?"
I said "You peel it just the way you always do and then stick it in right there" (me pointing at the horse's mouth).
"Won't she bite me" (he meant the horse) he asked?
"No", I said, "she won't bite you."
He peeled the banana and held it straight up in front of Jeannie's face just like you would feed a monkey - the peel hanging off to the sides. Jeannie would carefully bite three times in the banana and licked the rest of it out of the peel with her lips - so cute.
A very relieved CEO and a happy horse and we were relieved in honour.
And Jeannie truly deserved her oat today and I feel so great about her.
It made me smile for the rest of day - what a horse!
Truly a mare perfomance test of the other kind:
Truly a horse you can use in any respect...!

Merry Christmas to all of you!
... and may it make you smile, too!



20.3.2011

La Jeanne at her first eventing clinic, not even 4 years old!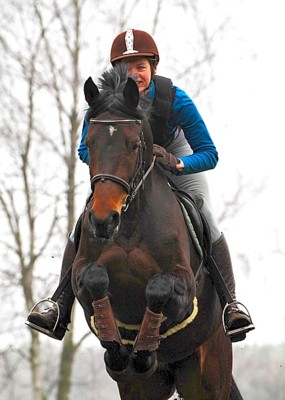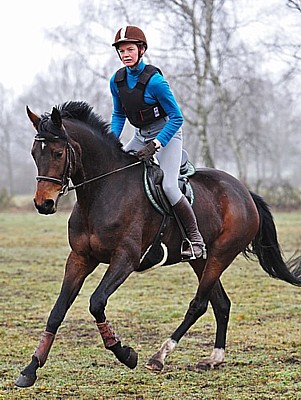 14.6.2011

I had a tear in my eye when I loaded La Jeanne on the trailor tonight to take her to her new home in Warendorf. Even though it was clear, that with the return of Silas, my riding horse, Jeannie couldn't stay here in Münster anymore (two horses after work in full training simply are too much) it does come with a grain of salt to see her go. And even though I know that she will be in the very best hands of a dressage rider of his own kind (a born "natural" in the saddle, so to speak), to proceed her training and development as a dressage horse, her departure does make me woeful. When Silas, my riding horse, left last summer to cure his injury on the pasture, it was selfunderstood that Jeannie would take over his place as my riding horse here in Münster. Only three years of age at that point in time it still amazes me what she has learned in those recent months and how much I have enjoyed training and developing her - as an eventer, in the first place, that is, something she hasn't even been bred for. And how well she did!
I took her to an eventing clinic in spring (pictures above) and she did great - even qualified as a lead horse for other, elder horses in the class right away. Noone could believe she hadn't even turned four at that point in time... So my very personal summer vacation highlight this year was a long planned eventing course in June held by Martin Plewa, former german world championship and olympic eventing rider and long time trainer of the german national eventing team. Even Martin Plewa was impressed by Jeannie's talent, working attitude and spirit in the cross and it wasn't for the first time I heard people ask:
"Is this really only a four year old horse?"
Incredible.
As a rider and evenmoreso as a breeder Jeannie truly provided me with the greatest gift of all:
outspoken joy and pleasure wherever I took her and the deepest statisfaction of all, since this is my selfbred and raised filly...
However, there are two sides to every coin and Silas is my "number one" riding horse and I hope he will stay sound in due course. Also, with two three yer old fillies coming up next year (Bunny and Riva) who need to be taken under saddle and trained (and I plan on doing it myself again, just as I did with La Jeanne) I simply can't keep them all. So Jeannie is moving to Warendorf to Martin Stamkötter, the most talented dressage rider at the Northrhine Westfalian State Stud, as Martin has offered to further train her as a dressage horse in order for Jeannie to be sold one day to the perfect home - hopefully a home where she will the "number one" just like Silas is mine...
Meanwhile I keep riding her once or twice a week since Martin's barn is located directly near the DOKR, the place where the Bundeschampionships take place every year in September. So Jeannie and I enjoy the luxury of exploring the prestigous eventing course in the Warendorf woods every sunday morning, "trailriding", galopping, climbing and splashing through the inviting waters of the Warendorf Bundeschampionship location and after all of Martin's well qualilfied dressage training Jeannie surely appreciates our very special sunday morning ride as much as I do.
As I said before:
there are two sides to every coin...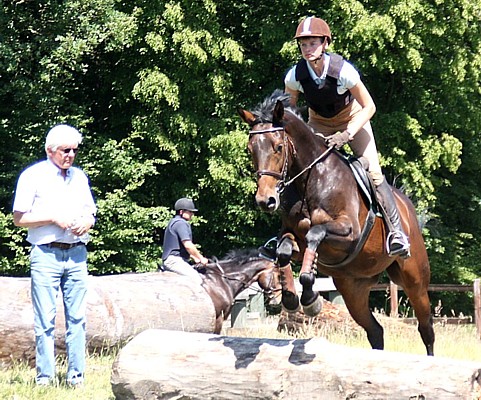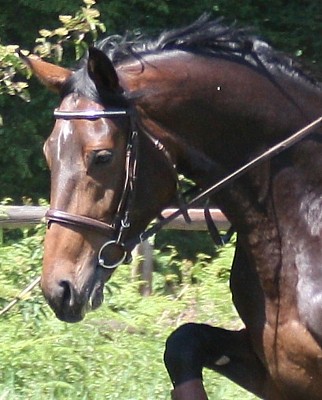 eventing clinic with Martin Plewa, former trainer of the german national eventing team beautiful La Jeanne at slightest rein connection in the cross


30.1.2012
La Jeanne has been sold and already moved to her new home in eastern Westfalia to become the future dressage prospect for a 14 year old girl who so far earned her merits on a little pony. Jeannie has conquered herself a new home with a close family connection, daily pasture aside of the pony and the status quo of the "number one" in the barn - a status quo I simply couldn't provide her with anymore ever since Silas returned form his convalescence last year. And she deserves it!
Good luck to this newly found young horse-and-rider combination and may Jeannie enjoy her new home!


30.5.2012

Great news from La Jeanne!
After her sale earlier this year, Jeannie sucessfully completed her first competition with her new rider!
Jeannie and Stefanie scored a 7,3 and became 5th in the dressage class A - super news!
Congratulations to Jeannie, Stefanie and the entire Jeannie-Family!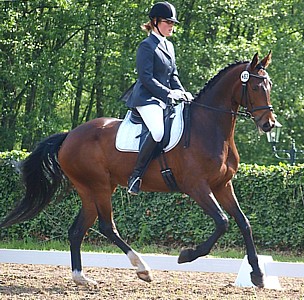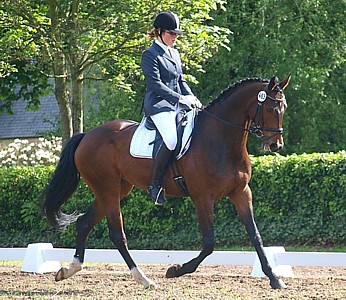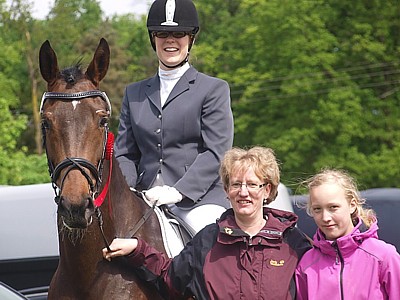 Happy Jeannie-Family celebrating the first ribbon won!