www.hippologi.com


Landgestüt Warendorf, stallion presentation - the "F"-line - March 2006 (scroll further down this page beyond update on "Fidelio", added in July 2009)

Sometimes it is amazing what you find in your archives from ancient history when only you search hard (and deep...) enough...
Flipping through some old magazines I found an old stallion magazine from 1987 covering the "hot" stallions back then.
Back then?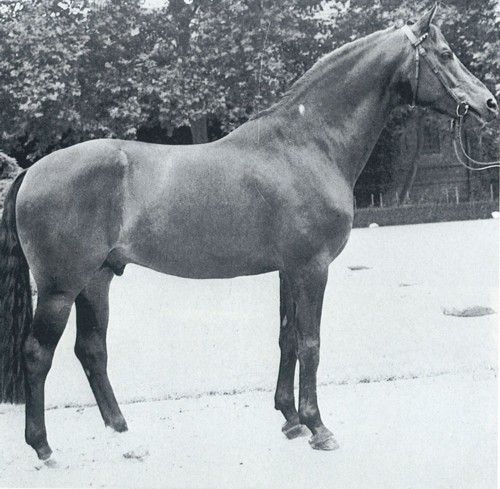 I came across this black and white picture and immediately paused for a moment, staggered:
"Fidermark?
how come there is a black and white picture of Fidermark in a magazine long before he was born?"
I checked out the headline and was amazed, to say the least, when I realized WHOSE picture this was and all my former theories and assumptions about the Fidermark heritage being mainly influenced by his damsire Werther (mainly referring to type and shape, that is) were messed up immediately:
All of a sudden I realized that Fidermark, much more than his own sire Florestan (who this page is about), was an alive reincarnation of his grandsire Fidelio by Furioso II. Type and shape of the two are so much alike, it truly is amazing. Evenmoreso since I often hear breeders all over the place commenting on many of the nowadays kids or grandkids of Florestan as "this horse is truely stamped by Florestan - it has the typical Florestan'look'!" and it always made me ponder. As I did and do agree about many many of the Florestan kids and Grandkids to be recognizably made of the same shape and look - you can tell they are Florestans... just that i never thought it was the shape and look of Florestan himself at all that his kids are stamped by .... Now I know where it really comes from and yes, it is being carried and passed on by Florestan but nevertheless, it is not the Florestan phenotype - it is his sire's Fidelio's genotype that even today can be found obviously manifested in the phenotype of many many of his grand grandkids throughout further generations...
Fidelio*1978 by Furioso II x Lockruf (Lugano I) x Wohlan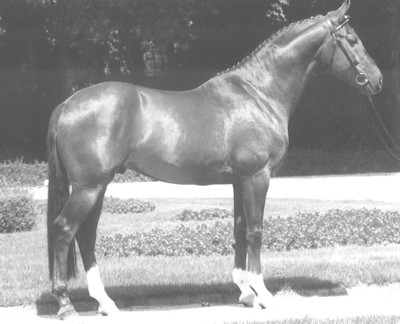 I find this perception even more impressive since the genetic capabiltiy to "stamp" one's progeny recognizably and so obvious even throughout further generations usually makes a stallion being referred to as a "stamp stallion" - however: Fidelio never was. Even though he is praised in this magazine as "one of the best sons of Furioso II" (the magazin was published while Fidelio was still young enough to leave hopes and expectations high) he really didn't leave any major lasting impression on the Rhineland breed. With one exception, that is:
Florestan.
So in retrospective it is fair to say that Fidelio, after all, did deliver a lot of value for the breed, probably the most important key to the current and (yet) remaining piece of importance of what is left from the former glory of the Westfalian breed:
The F-Line.
As with the loss of "true" and important stamp stallions like Ehrentusch, Frühlingstraum, Pilot, Polydor, Romadour, Angelo xx and many many others, Fideleo's son Florestan is the only stamp stallion alive in Warendorf who still deserves the lable "Westfalian stamp stallion" - everything else out there is a bought-in mixture of Holstein, Oldenburg and other breeding areas' bloodlines who have today completely outnumbered and overcome the influence of the former original Westfalian breed and it's success in the 70s and 80s when Westfalia was leading the world breeding rankings in jumping and dressage.
In this context it is even more important to learn what the old magazin has to say about Fidelio's get and their double oriented talents back than:
"Fidelio has passed on his typey impression and elegance to his kids dominantly and evenmoreso his kids are equipped with roommaking gaites and a good jumping talent on top of it."
After all - a stamp stallion?
And now, before we move on to the story of Florestan and his sons and grand sons lets have a look at the second black and white picture on top - do you recognize him?
This is Fidelio's grandson Fidermark, immature age 3 - and now let's talk stamp stallions...

Florestan and his sons and grand sons.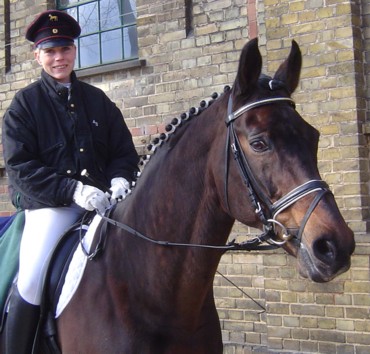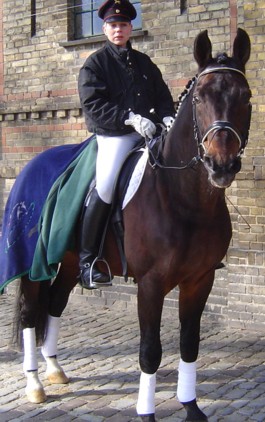 Probably the most precious heritage left these days at the Warendorf state stud is the one of Florestan by Fidelio x Rheingold. Even though The F-line, whose origin lies in Furioso II, the french stallion having been imported by Georg Vorwerk back than and initially facing heavy prejudices from breeders all over the place with respect to being french and foreign and (last but not least) being a colourful chestnut, too - he did his very best proving all those doubts wrong by the simple quality of his get leaving 800 (!) registered broodmares and more than 50 licensed sons for the breed - and what a change he made in retropersepective: gaining the best of fortune as a jumper heritage transferrer (For Pleasure, Voltaire) he also served for major double talented performance blood stallions such as famous Freiherr, Fürst Gotthard or the a.m. Voltaire and For Pleasure, to only name the few most important ones. Freiherr's son Feiner Stern still serves as a breeding stallion in the US these days. In Germany, however, it finally was the westfalian branch of Furioso's heritage founded by his son Fideleo who sired the celebrated grand old Florestan and thus that made this blood one of the most precious dressage lines in nowadays sport horse breeding. So let this page be an hommage to the grand old man himself, Florestan, age 20, and still in good shape.

More than 70 licensed sons so far, having sired Bundeschampions and Worldchampions like Fidermark, French Kiss, Fürst Heinrich and Florencio, Grand Prix horses like Floriano Deux or Hubertus Schmidt's Forrest Gump, but probably even more importantly from a breeder's point of view, provided for more than 700 registered mares and amongst those 170 carrying the title "StPrSt", Florestan clearly deserves major recognition amongst the international sport horse breeding scene.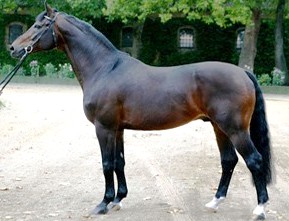 Florestan Foto: Manfred Mense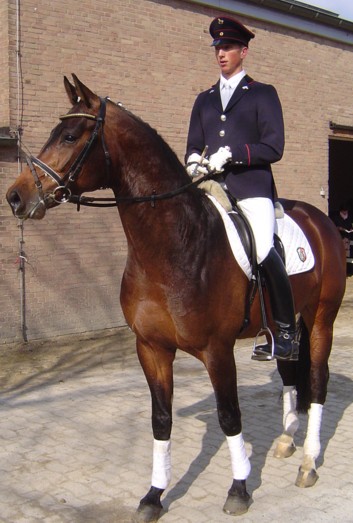 Having lost Fidermark far too early now the hope lies on Flovino to become the future succesor of Florestan's heritage at the westfalian state stud in Warendorf. As he is a "typical" Florestan in colour, shape and type, his face simply can't deny the sire's heritage, and on top of that his bloodlines promise the most as he doesn't lack the necessary t.b.blood close up in his pedigree which most Florestan sons simply can't provide. Flovino is a full brother to the former licensing winner Future who is stationed in the Netherlands. These two are out of an Apart-dam which stamps them overwhelmingly westfalian as Apart is one of the few direct sons of Angelo xx, the one and only thoroughbred stallion who ever made it to glorious fame and fortune in Westfalia. Dr.Reiner Klimke's Olympic Ahlerich was by Angelo xx, but certainly of most breeding influence was his daughter Antine who gave birth to a certain son by Rosenkavalier - a black stallion who later on became better known as "Rubinstein" and founded his own line of dressage - guess where? At Vorwerks in Oldenburg, the very same origin Florestan's grandsire Furioso II was introduced to the world ... and what a small place it is...
Given the certain input of t.b. blood by Angelo xx and his exquisite mechanics and swinging movements Flovino surely will be one of the Florestan sons to watch out for in the future as his genetics make him very special already.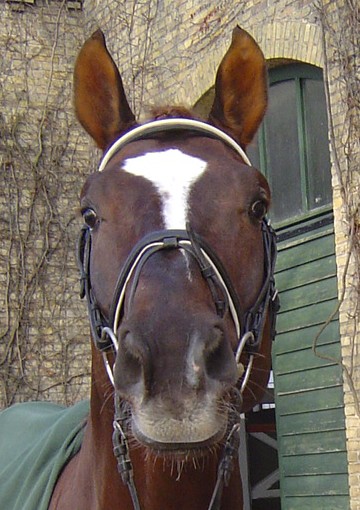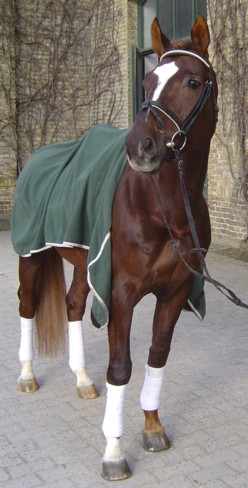 Picking up on traditional westfalian heritage the next in line was Floribot, a Florestan son out of a Weinberg x Ribot dam. Old Weinberg himself did proved to be a multi-talented stallion during all of his life, providing for Olympic Gold medal horses like Klaus Balkenohl's Goldstern (dressage) or Markus Merschformann's intl Champion Wumm (jumping). Despite having delivered a tremendous amount of succesfull sport horses and broodmares Weinberg has been facing the same problem as some of his fellow stallions on stud: he never really made it to become a real "stallion sire". Having sired many sons none of them ever left a lasting impression to the breed which finally makes his heritage extremely special being found on the damside: Floribot. A largely framed dark chestnut with big roommaking gaites and strong impression. Floribot has been succesfully introduced to the sport scene in young horses dressage classes by his permanent rider Claudia who is going to show him this year, too.
Similar in shape and type to Floribot is Florubin, another liverchestnut serving all those breeders best who look for a combination of major dressage lines in one single stallion: Florubin's dam is by Rubinstein x Donnerhall - what more can you for ask in a single pedigree?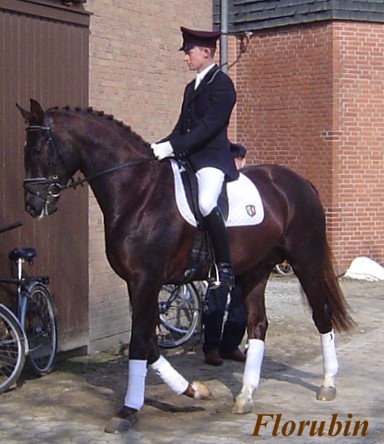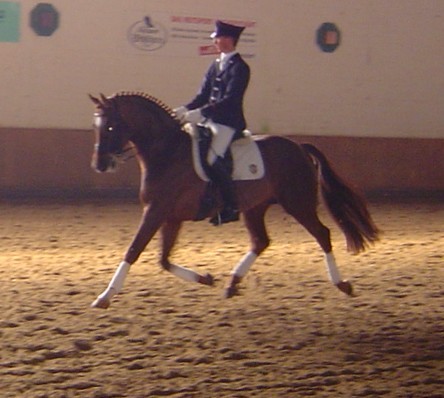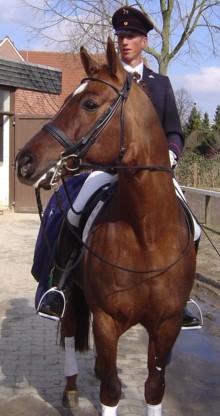 Suffering from the heavy loss of Fidermark, the most specatcular son of Florestan, the Landgestüt now is building on and hoping for one of his most valuable sons to step into Fidermark's footprints: Fürst Piccolo. Coming from a Trakehner damline (Mephistopheles) Fürst Piccolo meanwhile established a line of it's own, proving all those wrong who had blamed him for being too small in order to gain real value for the breed - a burden his own sir, Fidermark, was debited with in his first years, too - up until he became the celebrated Bundeschampion back in 1999 when he trotted right into the hearts of not only westfalian breeders. I wont go into further details about Fidermark, my very personal favourite stallion of all, as you can find anything you need to know about him right here.

Fürst Piccolo himself meanwhile sired 6 licensed sons and his first kids (the eldest are born in 2001) are starting to roam the dressage arenas in young horses dressage classes.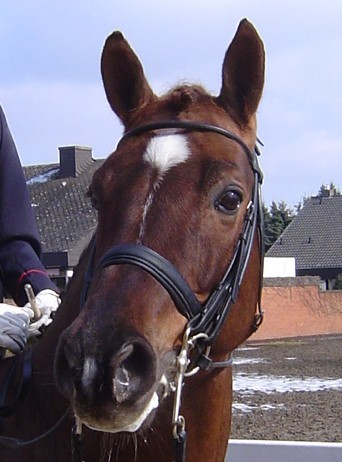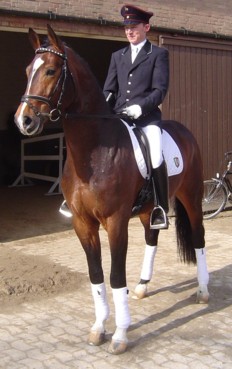 Talking about a line of it's own Fürst Piccolo has sired two sons out of an Ehrentusch dam: Friedensritter, a privately owned stallion who became well bespoken this winter during his presentation at various stallion shows, and Fürstentusch, who is owned by the Westfalian State Stud. Ehrentusch has been another celebrity at the Warendorf state stud for all his life, known to be qualitiy sport horse deliverer of both, jumping and dressage horses. Even though it has always been the dressage orientation which made his heritage valuable at Elite Auctions many times (Edelmann/SMaxTheurer, only to name the most expensive one: 400.000 DM) he also delivered a Bundeschampion in the jumping arena who found his future home at no less than Meredith Michaels Beerbaum. Ehrentusch is well known for best ridability and he always knew how to equip his get with a powerful working hindleg, again, he never really made it to become a "stallion sire" of it's own given his kids often lacked flashy appearance and sometimes came along with a somewhat unfavourable backline. However, his son Ehrentanz (succesfully competed up until GranPrix under Coby van Baalen) is the only direct Ehrentusch son still available at the state stud. Thus, the same applies for Ehrentusch as does for Weinberg and many others: he serves as a precious multiplicator when found in damlines. Other than his elder 3/4-sibling Friedensfürst, a more compact and kind of square formated horse, Fürstentusch comes along much in the shape and style of Ehrentusch, even though he does appear somewhat refined and noble in lines. His value certainly lies in his hindend as his direct sire Fürst Piccolo himself is already said to be an even better "hindleg-maker" than Fidermark, this is being backed by Ehrentusch as his dam sire even more so.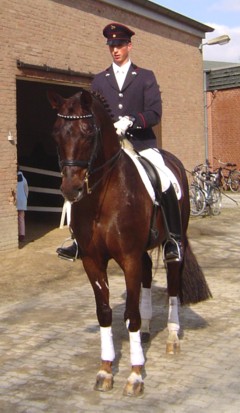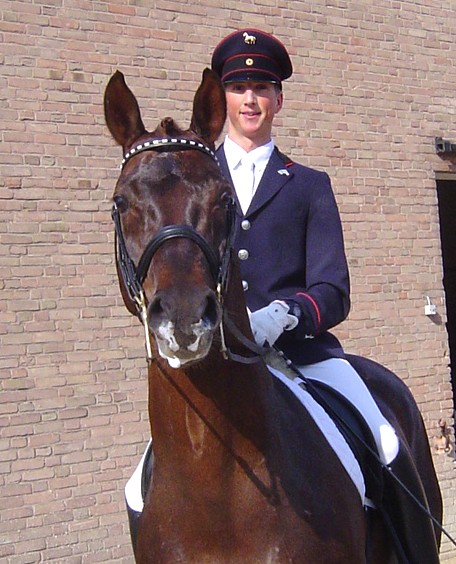 Another Fidermark son much in the style and colour of his sire, is Fiano out of a Frühlingsball dam. Given that damline Fiano is a 3/4-sibling to both my mares Fabrice and Fannie Mae. Sure enough I did watch his carreer and development closely from day one on. He was named premium stallion at his licensing and initially shown in young jumping horses classes to simply prove the fact that even Fidermark-kids could jump if they were only given a chance to do so. Nothing else but what I did when I competed Fabrice in eventing and hunter classes before she became a full-time broodmare. Meanwhile Fiano has become succesful in 6-year old dressage horses classes and will most certainly continue his carreer as a dressage stallion.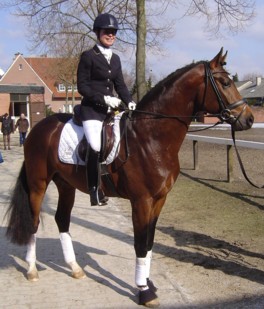 The heritage of Fürst Heinrich, another Weinberg grandson, just like Floribot, is being carried on by two of his sons, Fürst Grandios and First Final. Both are out of the same Argentinus x Barsoi xx dam, thus combining another precious multi talented blood combination of fame and fortune, and both of them probably succeed the quality of their common sire for various reasons. Their grandsire Argentinus already is a living legend of his own, having sired more than 700 registered brood mares, 36 licensed sons (amongst them A Djungle Prince) and many intl sport horses such as Amaretto (IWerth), Adlantus As (LNieberg), Asti Spumante and Autogramm (both TMühlbauer), Arko (NSkelton), Augst der Starke (record seller at the wesfalian Elite Auction/SMaxTheurer) and many more he finally was crowned by the title "Hannoverian Stallion of the Year" in 2005 which is a most remarkable honour given that he is from a private stallion station within the oldenburg breeding area and as such, most of his favourable influence (numberwise) is yet to be found within the oldenburg breed. He still enjoys his 26 years of age at his oldenburg home station at the Klatte family. His two grandsons Fürst Grandios and First Final also deserve special recognition from a breeers point of view given the close t.b. by Barsoi xx in their 3rd generation. The elder, Fürst Grandios, already gained a lot of acception amongst breeders at stallion shows in the past given his exceptional canter and roommaking, powerful trott. First Final, the smaller and finer of the two with respect to exterieur and conformation, actually didn't leave a great imprssion on me when I saw him at his licensing. However - that is up until now, after having seen him at his very first presentation under saddle which made people applaude to his loose and swinging rhythm and yes, he does share the exquistie uphill and well jumped through canter with his elder brother. Just that First Final, by all means, is a melting stallion of charme and expression that seeks for comparison of his own - I couldn't leave my eyes off him when he was presented for me after the show to take pictures - and I can't deny a certain "Fidermark"-look in his face. And I am sure - as much as he has been overwhelming me this day he will step into the hearts of many fellow breeders in the future - as a succesful carreer in sports is already been taking care of by Johann Hinnemann, who picked him to be one of his exclusive trainee-stallions in order to provide for a double-oriented carreer as the breeding and sport stallion of the future. Good luck, First Final!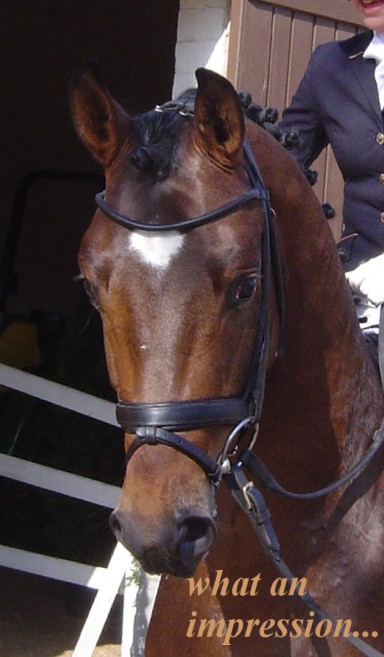 more pictures