Fidermark

The slightly different story of a legendary stallion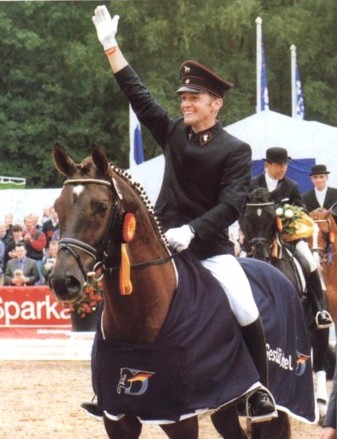 The story of Fidermark - my story of Fidermark - is highly contradictory to the common opinion and the widely accepted understanding of Fidermark, the Westfalian stallion of the 90s. Unfortunately, my story doesn't translate to the German version of it on this website. The German version consists exclusively of letters to the editors of various breeding magazines (monthly verband journals) and officials that I have written during the course of Fidermark's rise and history. Some of the letters were published - most of them weren't. Some of them appeared in German breeding forums and became the subject of the most involved discussions. However, given the cynical nature of my native German writing, I feel incapable of translating these letters into English in an appropriate manner. Most of the native understanding gets lost in translation, so I finally gave up on it even though I regret being incapable of providing you with my most instinctive feelings while composing these letters. Instead, I will try to summarize my Fidermark story for you as a whole in retrospect.
I used to live in Frankfurt (federal state of Hessen) and thus was pretty cut off from everything that took place in "horse-land" Germany, until the day a somewhat unknown Westfalian State Stud rider caused a furor on a stallion of a kind that had rarely been seen before in Warendorf - Fidermark became Bundeschampion under Michael Farwick. To be able to watch these two perform together was eye candy at its best - balm to the soul of the horseman. I had tears in my eyes every time I saw the two of them harmonize in the dressage arena together. That was exactly their common secret. They were in harmony with one another. Westfalia hadn't been able to wish for any better advertising than these two, engaging everybody's passion for them. With respect to the advertising aspect of it, I became immediately addicted. A daughter of this very Fidermark was what I aimed for, possibly resembling the type and expression of her sire.
That's how I came to buy my Fabrice shortly after and that's how it all began.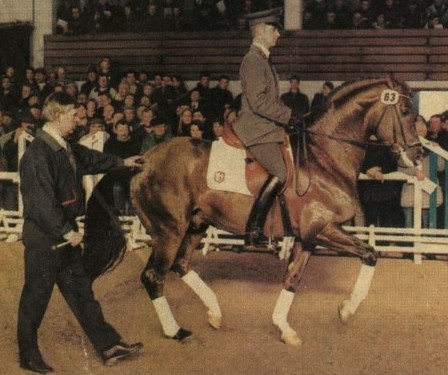 While I was still living in Hessen, Michael and Fidermark proceeded with their career. The new Westfalian State Stud CEO, Susanne Rimkus, developed a relationship with Johann Hinnemann, known to be one of the world's most prestigious dressage trainers. Susan's concept of introducing state stud owned stallions to the public sport scene was highly noticeable back then since it was quiet unusual for state stud owned stallions to compete at all. Michael and Fidermark were soon stationed for good at Hinnemann's barn in the Rhineland, a kind of revolutionary move that was unheard of in the history of the Westfalian State Stud. In order to promote the Westfalian State Stud, some of their most promising dressage stallions were also moved to Hinnemann to be trained and competed in public horse shows. Michael would successfully compete Fidermark up to Prix St.George and also had become World Champion of young dressage horses with Laurentianer by Lauries Crusador xx x Grande (Arnheim 2000). Westfalian breeders were ecstatic over Fidermark and proud to finally have a superior stallion to promote their breed again. Breeders loved it even though it meant they had to deal with lesser quality semen given the double-burden of sports and breeding that came along with Fidermark's career. Ever since the images of former world champions Fire (by Frühlingstraum II /Norbert Koof, show jumping) and Ahlerich (by Angelo xx/Dr.Reiner Klimke, dressage) had faded, the Westfalian breed had been waiting for a potential super-star – now he was here.

The obvious quality of his first crops overcame initial prejudices given his small size. Fidermark stamped his offspring, both gait-wise and type-wise, in the true meaning of the word. Westfalian licensings were immediately crowded by sons of Fidermark, so too were mare and foal inspections. Other verbands shortly came with their own Fidermark sons: Hannoverian branded Falsterbo and Oldenburg branded Farwell I and his full siblings II, III & IV in the following years. At that point in time I had never been faced with a stallion celebrity to such an extent. In retrospect I would say today [the text was written in 2005] that only Florencio, his appearance and charm and of course marketing, comes close to what Fidermark did for Westfalia.
However, what flies high falls deep. The stud management decided to switch riders and suddenly Fidermark was ridden by Marlies van Baalen, a Dutch girl whose mother also happened to be a constant trainee of Jo Hinnemann. I am not commenting on any of the background that led up to the making of this decision. I can only tell you about what it did to me: I was horrified, disappointed and hurt. And my feelings were shared by the majority of local breeders and horse people in the country. Whenever you attended a horse or stallion show where Fidermark was shown, you would hear people talk about the deplorable decision of having a Dutch rider show a German state stud stallion for no obvious reason. If there had been doubts of Michael's abilities to further appropriately compete the stallion, the matter would have been widely understood. Still, you would have expected him to be replaced by another German, meaning Westfalian rider. But, no one doubted his abilities, especially given the fact that he had turned Laurentianer into the second super-performing representative of the Westfalian State Stud in national and international young horses championships.
I remember the Nürnberg-Burgpokal final taking place in Frankfurt where Fidermark was ridden by Marlies van Baalen. The audience was somewhat international given the international format of the show. It didn't take long and you would hear people talk about the fact that a German state stud stallion was carrying the NRW logo on his saddlecloth being ridden by a foreigner. People wondered if Westfalia suffered from a lack of qualified riders. The word spread that NRW (North Rhine Westfalia) stood for "Netherlanders Riding Westfalians". The entire appearance of the horse and rider pair (regardless of the specific performance quality) was looked at with amusement, completely the opposite of what the initial idea of the Westfalian sport concept was supposed to be reaching for. That was the last time I ever went to see Fidermark at a public horse show.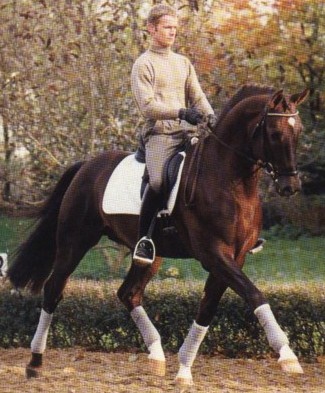 Thus, the Fidermark story became a bittersweet story. No one doubted the quality of the sire, but local national pride (mine included) and traditional horse breeding culture were hurt and torn apart. There are no-no's that need to be obeyed when dealing with state stud affairs. Placing a foreign rider on a domestic stallion was one of them, especially when this stallion turns out to be an idol of the public. The entire affair was highly discussed and questioned by many people. The argument of tax moneys (the State Stud is subsidized) being used to support foreign riders was often heard. Also, breeders would criticize the poor semen quality of the stallion. The logic behind it was simple: if lost to a foreign rider he would now mostly be shown outside the country, in the Netherlands. So what was the benefit to Westfalian breeders, anyway? They would rather see the stallion not being competed at all but safely being stationed at home at the Warendorf State Stud in order to serve what he was there for: produce prime offspring for the wealth and glory of Westfalian breeders.
Finally in August 2003, Fidermark died at the young age of 11 years - and all those discussions were brought up again. Prior to his death, many public appearances of the stallion had to be cancelled on short notice given the fact he was not in the best physical shape. Whenever these official statements were given at various events (I remember a few stallion shows and some national horse shows), people of course picked up on them and questioned why such an exquisite stallion who had proven to be a super heritage transferor needed to be competed at all, especially under foreign flags. And, I also remember a very special announcement made by Susanne Rimkus at one of the first stallion shows when Fidermark was shown under Marlies: "We (the Westfalian breeders) need to be grateful having found such a talented rider to present this stallion to us!"
To me this explained the ultimate cause of his exit completely: he must have laughed himself to death.

Thank you, Steve Ellowit, for your precious time and effort translating my slightly different story!

home