Laudabilis by Lauries Crusador xx x Warkant x Eiger




Laudabilis belongs to those stallions who impressed me immediately having seen him in young age (barely three ...) under saddle. His personal appearance was kind of breathtaking, evenmoreso as he was still stronly developing and already big in size - usually horses that age, specially when they are already tall but still growing, barely show themselves in a balanced manner at all, by far not in SUCH a balanced manner....
First time I saw him was at the Aachen Stallion Gala in early February 2003 - and I had now idea whatsoever who he was. I was caught by his majestic appearance and the most natural uphill move, no matter if in trott or canter. He was a powerful, yet loose and very natural mover, and I was most surprised when I realized that this was a half-thouroughbred stallion by Lauries Crusador xx!
His swing and push in trott and his incredible uphill jump-through in canter made him stand out in a class of it's own - and that is a big word to say given that there are about 60 stallions to be seen at the stallion gala but only very few, even amongst the more matured and balanced ones, where able to get anywhere near him... On top of that came his light but always constant rein connection, he was slightly ahead of the vertical at any time and everything looked so effortless - I remember how I thought what a joy it must be to sit in the saddle of this horse, even in such loud and impressive environment - as he didn't seem to be impressed at all....

If you have ever looked for an example of a horse that makes itself appear "big" under saddle Laudabilis sure is them most prominent example... I remember back than having thought he must be near to 1,80m already - and how puzzled I was when later on I stood aside him and realized he was only in the upper end of the high 60s... a hight, however, that he has far grown out of by now, he sure is a perfect example of some of these typical large lined and well framed Lauries Crusasdor kids well in the 70s... All this said, he is not a heavy stallion as such - everything is well proportioned, just largely framed.
Then there was his natural swing - the powerful push of move through the entire body - one of these features a horse does posses -given by nature- or lacks completely. All these (on top of his natural uphill move) are features that can bearly be "ridden" on a horse - and by no means being adjusted for in genetics through riding or any kind of training ...
The entire picture was rounded by his appealing front leg mechanics, well off the ground, and the convincing stepp-off in hindlegs - again: they have it or they'll never get it at all...
The very good walk was selfunderstood.

So the major remaining question was:
are these features somewhat genetically consolidated or is this a product of coincidence -?
... and here comes the pedigree:
via Warkant and Eiger he is bred blood-identically to Londonderry, another son of Lauries Crusador xx who already achieved the status quo of a "stamp-stallion" in Hannover. Londonderry created a sensation; he won his stallion licensing as well as the Bundeschampionat of four-year-old stallions in Warendorf. Apart from that, he also underlined his excellent prepotency. Two of his sons entered the scene this year: Locksley II won the Federal Championships of four-year-old stallions, just like his sire, and at the 115th Verden Elite Auction, Londontime was sold at the incredible, sensational price of Euro 510.000,00, a sum never achieved at a riding horse auction so far.
LC x Warkant x Eiger: a blood-combination that has already been proven against all odds. As there are many succesful crosses of LC to the hannoverian W (Warkant is by World Cup and as such a half brother to Weltmeyer) and the "E" as in Escudo and Embassy (and by the way: my all time favourite Fidermark descends form a Werther x Einblick damline - same E!) is just about to celebrate it's well deserved renaissance in hannover as most precious double talented performance blood - just think of Elvis (by Esprit/Nadine Capellmann, dressage), E.T. (by Esprit/Hugo Simon, jumping), Esprit FRH (by Eiger/Lars Nieberg, jumping) just to name the few most well known olympic sport horses - but furthermore:
the last remaining stamp-stallion in Westfalia, Ehrentusch and with him all of his sons and latest auction record sellers (Eichendorff/Sissi Max Theurer/DM 400.000,- - Estobar/licensing winner 2006/ € 500.000,- - Excalibur of Avalon/Elite Auction 2006/ € 300.000,-- - and many many more....) descend from exactly that "E"!
Most charming, however, is the dircet descend by Lauries Crusador xx, probably THE living thouroughbred legend of the present warmblood breed of all. I can't think of any other t.b. stallion who ever left such an influence through his wide spread and highly demanded get in the entire w.b. breed as LC did - and still does... a living legend, no doubt, and the title "Hannoverian Stallion of the Year" surely suits him mostly deserved - as he is the first ever non-hannoverian stallion to gain this lable - and people cheered at him with tears in their eyes (me too.....) when he was announced to be the "Stallion of the Year" back last year at the Hannoverian licensing 2006...

So where do you find a half-t.b. stallion who resambles the above mentioned features of under-saddle appearance in a way Laudabilis does?
I dare to say: nowhere... as even Londonderry didn't leave such an impression on me when I saw him at the Warendorf Bundeschampionat.

So the last remaining question was:
how about heritage transfer?
as genotype is nothing like phenotype, and we all are aware of this...
so it was a question of honour for me to go see his first crop on the ground at his respective foal inspections back in 2004 and 2005. Specially the first season with more than 60 foals shown delivered the most convincing perception on his get.

As there was a certain thread amongst his get with respect to upper line, uphill move and "push" - specially to be seen at the younger foals as those are much better to be judged while lesser "grown" than the elder ones. Not necessarily the most beautiful ones with respect to head and faces (remember: this is a combination of eldest traditional bloodlines and "puppy-faces" was not one of the breeding goals back then...) but everything else was there ...

the comment of the CEO of the Westfalian Studbook, Dr. Marharens, was:
"so everybody has been looking and cheering at the black and beautiful licensing winner [His Highness, that was] at Laudabilis' hannoverian licensing last year - but people obviously have overlooked that the much better heritage transferrer has been ranged right behind him..."
oh well.
I am usually not one of those to back what Dr. M has to say but in this case he gained my deepest agreement...

So my "cross of dreams" would always have been to breed Laudabilis to a mare of eldest hannoverian origin - those Kehinger lines of G and B and F (Grande, Bolero, Ferdinand) regardless to what the "Zeitgeist" of stellar horse breeding culture might otherwise consider "hip"...
You can't do any better than crossing proven to proven - as black and beautiful simply isn't the state of the art.
Thus, when I learned that one of the daughters of our St.Pr.Mare Wallery K was in foal to Laudabilis I was more than happy - and very excited to get to see this foal!
This filly has turned two by now and she carries the most obvious stamp of her sire, Laudabilis.
Incredibly tall and lanky, extremely long leggish and when she starts to move her roommaking trott and widely jumped through canter is unbeatable. yet, she looks like a too big puppy dog, still having to grow into her jacket, but that's just the way it is supposed to be and exactly how I would have expected it.
She made me cheer...
This is her age ONE - all the others are two years old, believe it or not....
and the old fashiond chestnut type you see in her - that is Bolero through and through...
Meanwhile Laudabilis' value as a sire had become widely known and his first foals sold for record prices at the Westfalian Elite Foal Auctions:
specially those out of dams by Fidermark or Florestan made up for those prices like 25.000, 32.000 and 32.000 Euros in the first two years... - simple coincidence or did the Westfalian silverware made by "F" happen to be THE nick of all when meeting on Laudabilis?

And of course that made me think, big times.
Here I was, owning a mare like Fabrice by Fidermark... should i dare... ?
I did.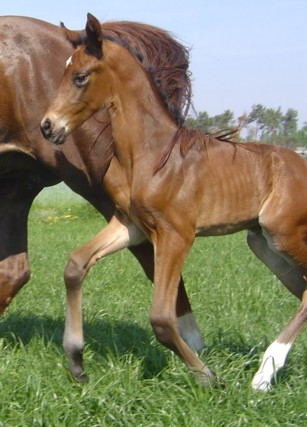 And trust me, it was not an easy decision as Fabrice's three foals by Quattro (QRage II and QRage III) where of best quality and left nothing to wish for and I had people ask me many times how I could dare to switch stallions at all after having had such foals by Quattro B - ?
And I do know, three full siblings of such quality are not a coincidence, thus, breeding Fabrice to Laudabilis was a major challenge to me as i had a lot to loose and poor Laudabilis had a strong burden to bare from the first day on when Fabrice was confirmed positively in foal to him.
But I did want to kow what part of the Q-foals was contributed by Fabrice and how she would do as a broodmare when meeting on another stallion. Plus, I did want to include the precious t.b. genes of Lauries Crusador xx to my breeding program, anyway - so here was a way of doing so in a most promising -yet challenging- manner...

And while I am writing this feature about Laudabilis La Jeanne has long been born - Fabrice's filly by Laudabilis. And had I planned to sell her as I did not intend to keep any further filly by any means at all - she convinced me from the contrary within her first two weeks of existance - and yes, there were bids out there for her and even the stallion owner of Laudabilis asked to buy her (the greatest pleasure of all and the most wonderful prove for any breeder, I guess) but I finally made up my mind to keep La Jeanne as my future broodmare hopefully taking over Fabrice's meaningful place in my little herd one day - as only the best are supposed to stay for fruther breeding...
And thus, I guess it is not a surprise that Fabrice is in foal to Laudabilis again and this time I am looing forward to my little Laudabilis-foal without any grain if doubt in there....
As the stallion has really proven to be a real heritage transferer, a stamp-stallion, as they say. And I consider myself
lucky to have been amongst the first to have recognized its value back than in early February 2003. La Jeanne


home