QRage III *28.4.2006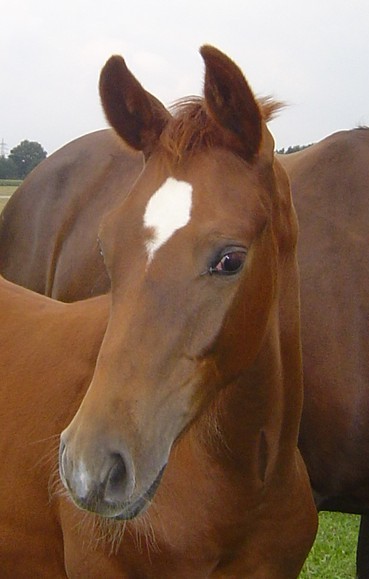 Galoubet SF*1972
Qredo de Paulstra SF *1981
Celia de Paulstra Ss *1968
Quattro B SF *1990
Pandore du Thot SF *1981
Une Americaine SF *1986
Hispana SF *1973

Florestan Westf. *1986
Fidermark Westf. *1970
Watonga Westf. *1985
Fabrice Rheinl. *1991
Frühlingsball Westf. *1970
Feodora Rheinl. *1980
Rebecca Rheinl. *1980






Damline:
Fabrice was nominated "Premium Foal" at the foal inspection Heinsberg, July 1998 - Silver Medal
MPT Telgte, June 13th, 2001 - ranked 1st out of 21 mares scoring 8,39
single scores: trott 8,5 canter 8,5 walk 8,0 ridability/judges 9,0 ridability/testrider 8,5 freejumping 8,0
Summer 2003: various show class successes in all disciplines (dressage, jumping, eventing), amongst them ranking first at the Telgte young horse combined dressage/jumping class scoring 8,2
full sister Fannie Mae is the 5th out of 5 full siblings by Fidermark, all of them were nominated "Pemium Foals" , amongst them auction foals.
single scores: trott 8,0 canter 8,5 walk 7,5 ridability/judges 8,0 ridability/testrider 8,5 freejumping 7,5
full brother Fair Play*2002 Champion of the Rhineland Ridinghorses 2005

QRage's track record in sport:
2011 (age 5) winning young dressage horse class A, several high rankings in L
5. Februar 2012 (turning 6) winning young dressage horse class L and M at the EUREGIO Dressage Show in Susteren/Netherlands



stallion choice - some thoughtful considerations: why Quattro B?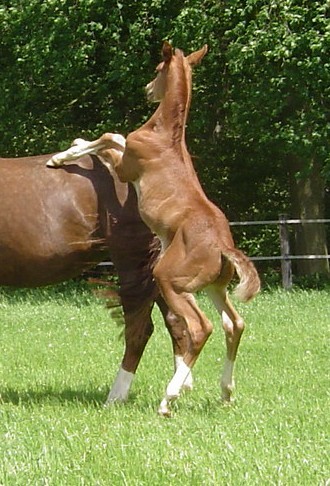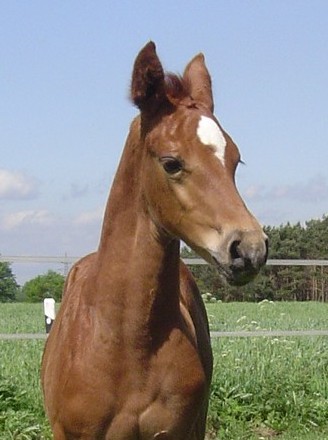 ... sometimes you just don't know if you should believe in fortune as things go up and down in the wierdest manner. As I had just written the sorrow off my soal having to deal with the tragic loss of my beloved Shannon when the phone rang - Fabrice was going to give birth to her foal! Long awaited for more than a week - she had waited until today to finally turn this day into a good one, I guess.

When i arrived at the stable they had already gotten him out of her, a big and long leggish little colt - going to turn in to a liver chestnut, just like Happy the year before!
I had the pleasure of rubbing him dry as Fabrice was still suffering from some after birth cramps, but she did manage well. Later on it took a common work effort to make the little big man stand up and start drinking - how heavy he is! I could bearly hold him up!
and of course - once in an upright position all those long legs got screwed up again an he fell back into the straw - heavily breathing as life is so exhausting...



We were on videowatch for the next couple of hours and I went out to the stall at least 3 times to somehow manage to get him under her - when I finally heard him suckle and swollow clearly proving there was milk running through his little mouth it was the most delightful noise in the world to me - as it was his way of telling me: everything is o.k.! I am fine! I am a big boy, now!!!

What a day.
Thank you Fabrice for picking the most precious timing you ever could have by giving birth to your foal...
You did great!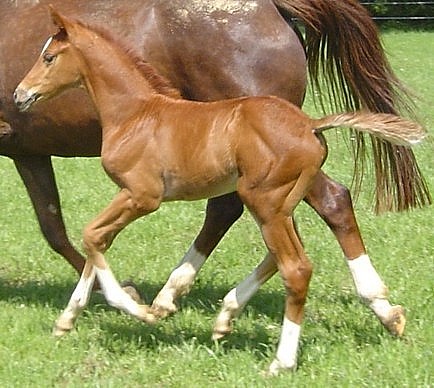 2 weeks later: meanwhile he has developed into a real young stallion - dynamic in his movements and trotting on hard ground with elasticity and rhythm. quite obviously he got the best of both his parents. a rythmic trott moving through the enitre body and Quattros amazing uphill canter. melting charme, and -as a dear friend put it- "you can't paint them any more beautiful..."



In November 2006 QRage left for his new home at the Rytherhof with Birgit Reipen - he will be raised as a stallion prospect aside his new friend Danny Black and I am thrilled to see him growing up in experienced hands to provide for both, a stallion- and a sport horse career according to his talents. Just the way every other stallion at the Rytherhof is being raised and trained as well with great success! a good luck Birgit Reipen and QRage!



18.10.2008 QRage III appears at the Westfalian licensing preselection - what a stunning colt!
unfortunately, in all his excitement and tension he doesn't show his qualities at all - chasing from one side of the barn to the other simply isn't what the committee is looking for... it still made me very proud and happy seeing this beautiful youngster again after two years and knowing:
this is the kind of horse i truly wanted to breed!
the good news is that his owner will keep him intact and train him as a sport stallion in whatever discipline he will do best. so he will appear at 3-year old riding horse classes next year and we see how it goes from there - i am more than thrilled and look forward to a promising sport horse future of this great horse!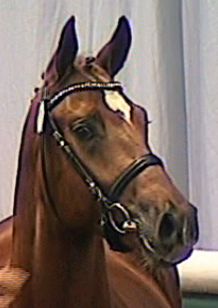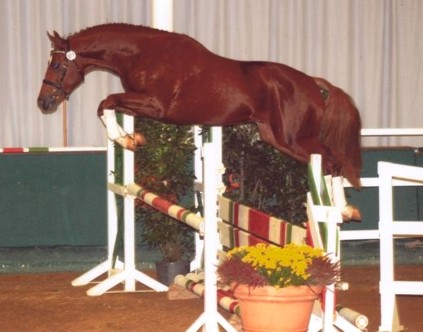 9.5.2009 Today QRage moved on to his new home in New Zealand, Awakino Estate, a most beautiful estate overlooking the Tasman Sea!
He will be further trained as a dressage stallion to hopefully become part of an already prominent group of former german auction horses and
dressage stallions at Awakino Estate. Awakino Estate sponsors top New Zealand Dressage Riders with top German Stallions.
Good luck on the beautiful green island and hopefully we will hear from you again, QRage!

4.1.2010 New pictures arriving from New Zealand! QRage III in his new home under saddle - I am so excited to see this beautiful youngster develop the
way he does - sparkling... thank you, Birgit Reipen for these wonderful pictures and keeping me updated!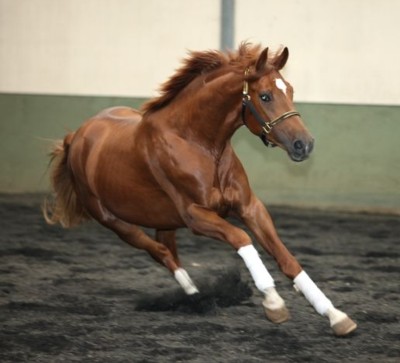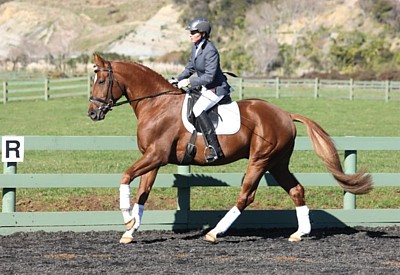 1.7.2011

QRage III is back in Germany and has won his first Dressage show today scoring 7,5!

During his last winter in New Zealand QRage has already competed sucessfully in dressage classes scoring well above the 70% mark (75,38% 75% 71,11%).
The picture shows him with Alex Matheson, his rider in New Zealand and the stud manager of Awakino Estate. It is linked to a series of photos taken at one of the shows he competed in while he was there. (click on picture)
This spring, QRage along with another few dressage stallions owned by Awakino Estate, has returned to Germany in order for them to be further trained and competed at dressage shows here in Germany, taking advantage of the better infrastructure to develop sport horses.
With his german rider Anke Unger QRage won his first 5-year old dressage horse class in Viersen in the Rhineland today scoring 7,5!
Congratulations to the Awakino Team and Rytherhof!
It is my greatest pleasure to finally see the second son of my mare Fabrice having arrived in sports sucessfully - as breeding is a very longwinded tedious business - succesfull sport horse breeding evenmore so. Meanwhile the eldest kids of Fabrice (QRage II "Happy" ; QRage III and La Jeanne) have developed under saddle and proven their talents. The long time waiting for the first breeding successes has been worth while and slowly starts to pay off - thank you, Fabrice!

9.October 2011

There is just no better way to start a sunny sunday morning with fotos like these surprisingly popping up in your email box: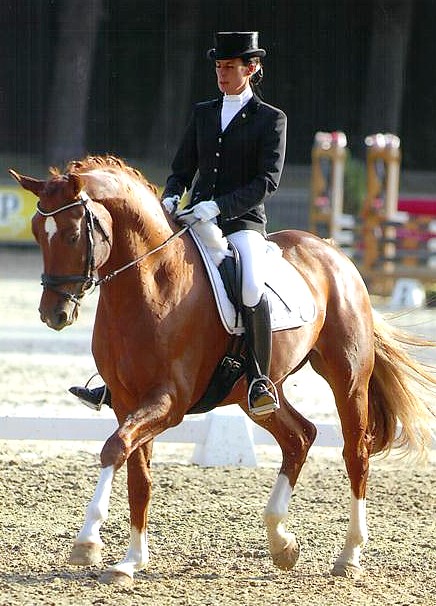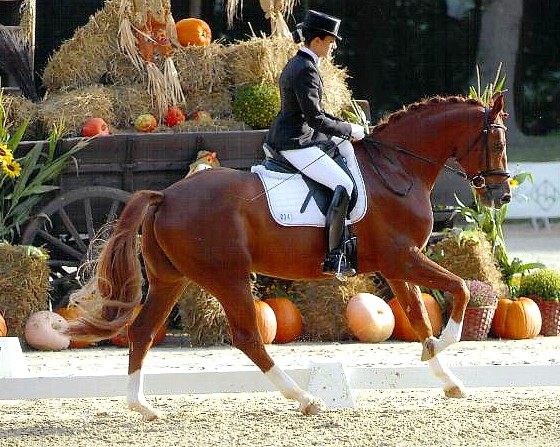 The 5 year old QRage III has been building up continously on his show career in dressage all summer, having won and placed high in young horse dressage classes in A and L level, scoring even in the 80s! His latest success was another third place with is permanent trainer and rider Anke Unger in September in Aachen scoring a 7,8 in L-class.
Thank you so much, Birgit Reipen, for these wonderful pictures! You couldn't have made a breeder any happier and proud!


5. February 2012

First win in "M" for QRage, Fabrice's son by Quattro B at bearly six years age!
The new horse show season couldn't start any better than this:
QRage celebrated a double-win at the EUREGIO Dressage Show held in Susteren, Netherlands, this weekend.
The EUREGIO Dressage Show is the traditional start-off event in the new horse show season organised by the "Kreisverband Heinsberg" and a truly multi-cultural mixture of belgium, dutch and german riders take part, competing up to S-class.
It was supposed to be the first start in M class for QRage, who only turns six years old by the end of April this year. However, it couldn't have been any better start!
After having won the young dressage horse class "L" scoring a 7,8 with his rider Anke Unger, the two also won the young dressage horse class "M" scoring a 7,6!
Of course I was overly happy when I learned the news this morning from Birgit Reipen, who bought QRage as a weanling. Sheer breeder's pride and pleasure!
My grateful respect is owed to Anke Unger, QRage's all-time rider and trainer, acknowledging that the two of them quite obviously are on the "right way" proceeding their common dressage carreer. As I do know that such consistant success is anything but selfunderstood in a young horse development, specially given the challenge of flying changes so early in the year having to be accomplished well in "M".
Congratulations to Anke Unger and the Awakino Team!


8. March 2012
Fabrice's six year old son QRage III by Quattro B and his fabulous rider Anke Unger remain a team of striking success:
At the Sonsbeck Dressage Event in the Rhineland the pair scored high again in both classes they competed in!
They ranked sixth in the young horse dressage class L, but even better, they ranked fifth in the young horse dressage class M later that day in a strong field of competitors!
This placement in class M so early in the year for a six year old young dressage horse is of highest value given the challenge of flying canter changes having to be accomplished well in "M". Of course I am all proud of Fabrice's son QRage and hopes are high that the two of them will make it to the Bundeschampionship qualifiers later this season ... Well done, Anke and QRage and sincerest congratulations to the Awakino Team!


more pictures of QRage III

home