why Quattro ?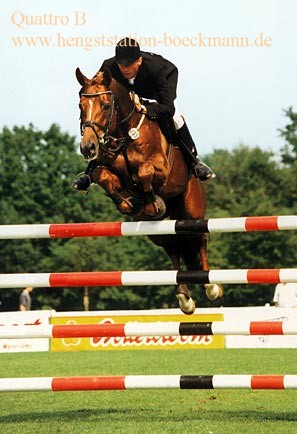 Quattro B by Qredo de Paulstra x Galoubet





Quattro has been a revelation for me from the very beginning...
and how did I get there?
as I was actually looking at Wolkentanz II when I went to the Böckmann stallion show in early 1999 since it was Wolkentanz II who had made me shiver with his appearance at the Bundeschampionship age 3... So I was actually considering breeding my Fabrice to Wolkentanz II. But then Quattro appeared crossing my plans and making me think...

In retrospective I have to admit that Quattro's appearances under the dressage saddle were of such impression to me simply because the stallion was lucky to have been a jumper rather than a dressage horse in the first place. As most talented dressage stallions are often being squeezed out and fade to shade of themselves when being presented with stellar gaites and performances in their young years again and again. Their natural shine and quality is being used up very quickly and only a very few preserve their flashy expression in later years in a way it had made them shine once they were young... As a matter of fact, I have never seen Wolkentanz II impress me in later years in a way he did when he was three, either. Quattro however was introduced as a jumper to the sport and breeding scene and despite his already obvious gaite qualities noone really cared to turn out the ultimate dressage talent in him. He had his time to physically mature to becoming the handy compact round stallion he still his, equipped with the best of natural elasticity in trott and canter one can think of. He won jumping suitability classes in series and later on became a succesful Grand Prix jumper. At the end of his jumping career he had full breeding lists and it was a reasonable question of economics more than anything else to retire him from sports early. That way he was introduced to higher dressage levels at fairly matured age and he was able to cope with collective work in a manner that alwas reminded me of "playing" with collection.... Quattro amazed me with his natural appearance every time I saw him: his natural uphill tendency makes him shine in piaffe and passage, he steps deep down under and carries himself in the most desired way, at the same time pushing forward and proving the most balanced and rhythmically carried trott extension some horses can only dream of. His elasticity and dynamics made people cheer up at him at every stallion show he appeared - even more so since his ridability seemed to reduce the "hard work" it takes to perform lessons of highest class to cheerful play... everything looks effortless.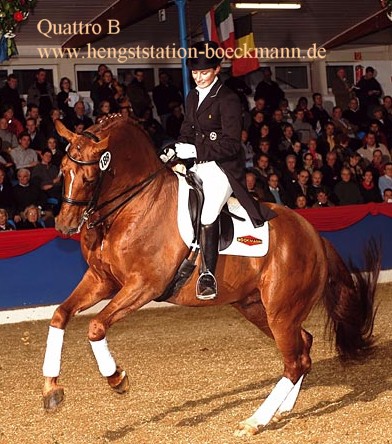 I have seen Quattro life for the first time at the Frankfurt Grand Prix (jumping), that must have been sometimes in the mid of the 90's. I liked him immediatley and was all turned on by his wonderful scopy jump. What a bascule!
Fabrice wasn't born yet and I most certainly wasn't aware of him becoming the future sire of my foals at that point in time. But after having seen him again at the stallion show years later it became clear to me immediately:
I had to see some of his get in order to find out myself if he does produce as impressively as he appeared himself!
So I went to the foal inspection at the Böckmann stud in summer 1999 to watch both their get, Wolkentanz II and Quattro.
Quattro's foals spoke for themselves: Rhythm (Takt), mechanics, canter - all this framed by a pleasant upperline and profile - that was exactly the kind of contribution I was looking for to breed Fabrice to. Evenmoreso as both are of the same handy compact and round type including the impressive neckset and super walk adding to each other. My philosophie was breeding the same alikes to each other rather than looking for features in one of them to make up for in the other. Only than I could expect the foal to be of highest similarity matching both it's parents' strengthes... And with respect to Quattro he would add his outrageous canter on top of all which was an aspect that really got to thrill me only years later:

coincidentally I was getting hold of a stallion video that showed Quattro in his younger years when he was competing at jumper suitability classes simply playing with the jumps - but it wasn't the jumps over fences that thrilled me - it was the jumping inbetween fences I couldn't get my eyes off: his natural given canter jump was kind of breathtaking to me as I had never seen such extremely uphill and well jumped through, yet selfunderstood, canter jumps before.
I was pretty unexperienced and stallions like Florencio, Real Diamond, Fürst Grandios or any other comparable stallion deserving a "10" for their canter weren't present yet. But I dare to claim that Quattro would easily make up for the same "10" in canter even today if he was to be compared to any of these a.m. stallions. Aa "10" out of "10" truly for the canter.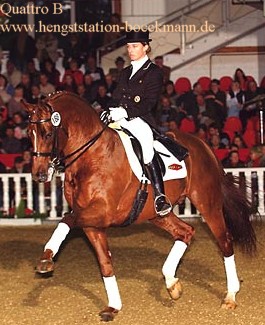 It then was my greatest pleasure to finally see Fabrice's first daughter QRage really resambling everything I had wished for with respect to my very personal "breeding goal". she was a refined double of both her parents and obviously had gotten the best of the two of them including Quattro's wonderful canter-jump... So it was only reasonable to breed Fabrice to Quattro again - and again, QRage II ("Happy") and QRage III speak for themselves:
foals made all of a piece and all of them with the sire's canter - you can't paint them any more beautiful or make them any better.
And speaking of breeding theories in general:
Quattro has never been an "outcross" to Fabrice for me, rather the contrary is the case:
the "blood"connection via the french t.b. sire Furioso (via his son Furioso II) is given in both parents:
Furioso II can be found in Quattro's 3rd generation while within Fabrice, via Fidermark/Florestan, it can be found in 4th generation - and quiet obviously within their common foals some common gens met for an accomplishment that simply belongs together....

Quite obviously my gutt feeling to choose Quattro for Fabrice was the right thing to do. However, meanwhile as years have gone by, there are many reasonable evidents to be found to lable Quattro not only a meaningful heritage transferer ("Stempelhengst"/stamp stallion) but also to qualify him as one of the most succesful multitalented heritage transferes of his time:
Up until today Quattro sired 14 licensed sons. But even more important is the sport career of his get:
at the Sidney Olympic Games 2000 Quattro provided for two sons at the show jumping and he was to repeat this piece of art in Athens 2004. On top of that some of his get matures in the dressage arena to reach out for international merits of success:
with QuandoQuando (Kristie OutleyNist), Quantum Tyme and Quality Time (Evi Strausser) and Much Ado (Caroll Lavell) already four of his kids have been showing succesfully in Grand Prix so far (QuandoQuando and Quantum Tyme succesfully showing at the World Equestrian Games in Aachen 2006, too) and it will be more than interesting to see how many of his kids will be presented at the Olympic Games in Asia 2008.
At the same time Quattro has been delivering jumping horses of international format:
Olivier Q (Athens 2004/Japan), Quanta Costa and Don Diego (Rolf Göran Bengtson/Sweden), Suzie Quattro (Luciana Diniz/Brasil) while his son Quicksilber became World Champion of the 5-year old jumping horses in Lanaken (Belgium) in 2005.
Quattro's kids have won more than € 340.000 so far and he has about 200 registered kids in sport - all three disciplines of sport, that is!
His breeding index underlines what i have said before:
his true double talent is being shown by the official breeding index where he scores 144 in jumping (95% security) and 125 in dressage (96% security).
I compared that to the breeding index of Argentinus, another living legend stallion that i truely admire and i was surprised to see that Argentinus only scores 109 (dressage) and 118 (jumping).

Quattro's pedigree is being made up by some of the major jumping horse legends of our time:
Galoubet (son of legendary Alme Z), Furioso, Uriel - his pedigree leaves nothing else to wish for. but still:
I would want to add that looking at Quattro as a pure jumper stallion simply doesn't do him justice.
Why?
Because amongst all those celebrated dressage stamp stallions of our time (Donnerhall, Rubinstein, Florestan and many more) only a very very few are able to provide for such elementary trott rhythm and canter jump in a way Quattro quiet obviousely does. As both these features are attributes -and I guess we all agree about that- a horse is either given by nature or they are not there at all.


21. October 2007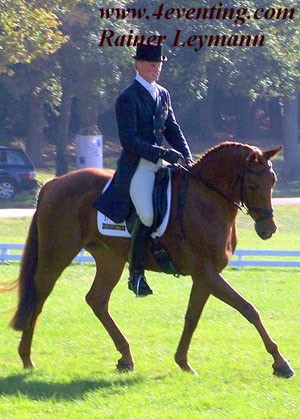 A stallion surely can't do any better than this to prove his mutlitalented heritage...

Having had kids in both classic disciplines (jumping and dressage) at Olympic Games and World Equestrian Games Quattro B now also sires the World Champion of young eventers:
his daughter Quite Easy has just become World Champion of the 6-year old eventing horses in Lion d'Angers/France!
Olympic team rider Frank Ostholt bred her himself out of his mare by Akitos xx, another t.b. sire.
Being able to produce a horse of such value out of a half t.b. dam surely takes more than simply providing for a good jump and canter ability. As Quite Easy has come up with dressage results of 30,7 (CIC* Kreuth) or 45,0 (Lion) which are compareable to those of Bettina Hoy or Ingrid Klimke, a league of it's own when it comes to scoring high in the dressage arena. On top of that comes the necessary caution at the show jumping when back in the stadion having to come up with a clear round at the last day of such three-day-event - that surely separates the multitalented jumping specialist from the pure eventer who often tends to be a little cold at the show jumping. Quite obviously Quattro contributed greatly to the atheletic genes provided for by the t.b.sire Akitos via the damline. A specialist in any case - with highlights in each and every discipline - no doubt!

I am more than excited about this success and it does make me consider what i have been thinking of many times before:
should I breed Quattro to my t.b. mare Ionia xx?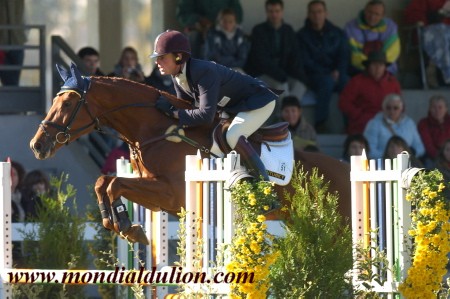 As I know it is not selfunderstood to gain the same results from breeding to a dressage oriented mare with powerful gaites like Fabrice and comparing such foal to a half-t.b. no matter how good the respective t.b. mare moves herself (and Ionia did get her "8" for trott for a reason...).
I am absolutely aware of the risks I run into when breeding Quattro to Ionia as I do ask a lot of him:
first of all, I do expect more than simply duplicating his jumping ability when breeding him to my t.b. mare - producing a good jumper foal of t.b. origin is not good enough.
I would be asking for the same kind of rhythm in trott, room-making trott and well jumped through uphill canter - the latter probably being the major hazard when crossing any given t.b. to the warmblood breed: as thoroughbreds by definiton do not "canter" (gallop) - and they most certainly don't do so in an uphill tendency... - they simply run...
... and last but not least:
would Quattro be able to make up for certain t.b. biased deficits in exterieur in a way he contributed to the perfect exterieur of the foals he sired with Fabrice?
I know it is a real challenge but it will be, anyway, no matter what stallion I choose for Ionia xx as crossing t.b. to the w.b.breed does move breeding as such in a completely different league, challenge, that is. And the more I come to think of it the more it does inspire me...
But there still is time up until next spring to consider what to do and up until then I will be enjoying the fact that Quattro really "did it all" by now - congratulations to Frank Ostholt and Quite Easy!

Fotos: Rainer Leymann www.4eventing.com and www.mondialdulion.com

home