Ionia xx *12.4.2000
Breeder: Dr. H. Mitze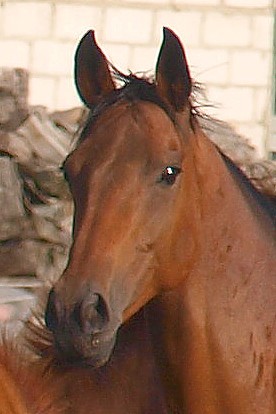 Literat xx *1965
Surumu xx *1974
Surama xx *1970
Acatenango xx *1982
Aggressor xx *1955
Aggravate xx *1966
Raven Locks xx *1945

Ennis xx *1954
Pentathlon xx *1964
Palmural xx *1957
Ipenta xx *1986
Dschingis Khan xx *1961
Immer Toller xx*1980
Istanbul xx *1964




complete pedigree of Ionia up until the 9. generation



Self performance:
Ionia xx was a race horse from 2003 - 2005, took part in 17 flat races, scored 4 times, won once.
10. May 2006 - hannoverian mare inspection in Ankum; Main Studbook registration:
scores amongst others: elasticity and swing in trott 8, backline 8, frame 8, frontlegs 8.

Damline:
Iwanowitsch xx *1978, licensed stallion Hannover/ Ldb Celle, by Illix xx/Orsini xx o/o Istanbul.
Intervall xx *1974, licensed stallion Rhld./Trak., by Perseus xx o/o Inka (via Immenkönigin o/o Immertreu)

Progeny:
27.March 2007 filly by Brentano II - Balahé
3. April 2008 filly by Brentano II - Brooklyn
31. March 2009 colt by Benetton Dream - Bogart - sold as stallion prospect
17. March 2010 colt by Lissaro - Lorbaß - sold to the UK as an eventing prospect
4. April 2011 colt by Lissaro - Legolas - sold as a stallion prospect
in foal to Conen since 24. June 2011

Sireline Acatenango:
please visit the following links from the Fährhof Stud to learn about the most prestigeous Sireline of Ionia. Fame and glory of Fährhof Stud descend from these very roots of Acatenango, Surumu and Literat:
Fährhof







Ionia in the leading position - photo taken by Maria Junge www.Dresdens-Galopper.de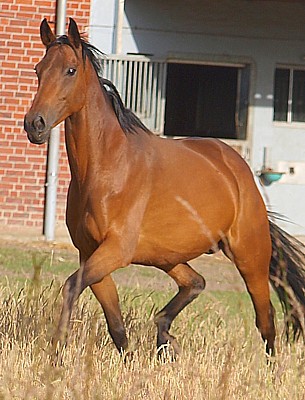 Ionia, my "Igelchen" (diminutive for hedgehog), stands for idealism, hope, creativity and last but not least for a lot of risk and levity on my side, too. the more I got involved in sports-horse breeding the more it became my dream to breed with a thoroughbreed mare. the dream became an obsession and I invested a lot of time and work and research to finally travel the country during the last weeks and months to see various t.b. mares all over the place. Ionia is the result of all these efforts and embodies all my hopes in a future Grand Dam, the basis of a well considered t.b.-stamped and well consolidated damline that hopefully one day provides for the modern sportshorses of tomorrow.
Ionia spent three years of active racing herself up until last June and thus proves that she delivers all the necessarry premises with respect to health and soundness that we expect from a t.b. when introduced to warmblood breeding as a refiner. and even though I don't consider the individual race record of a thoroughbreed of any importance when used as a refiner in warmblood breeding Ionia's pedigree consists of everything that once made the German thoroughbreed mostly exquisit.

Her sire Acatenango belongs to the German top race horse stallions who gained highest recognition and influence even beyond German borders. Acatenango, aside Mondrian and Temporal, is one of three Surumu-sons who were able to win the German Derby in Hamburg. Acatenango also sires the German Derbywinners Lando and Borgia and with Blue Canari currently even provides for the winner of this year's Prix du Jockey-Club (the French equivalent of the Derby). and as luck would have it : at this very weekend the German Derby in Hamburg is won again by a son of Acatenango, Nicaron, second place is also taken by another son of Acatenango, Night Tango. both were considered outsiders at the bookies....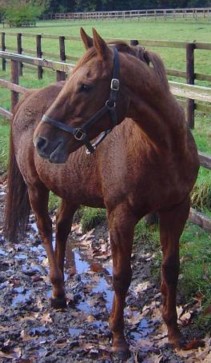 I don't want to believe in fortune, so I guess it was a coincidence of large extend that I was lucky to get to visit Acatenango in person at his home in Fährhof last winter. he presented himself as a horse whose age was well visible but was greatly enjoying his well deserved retirement, vitality and spirit still sparkling in his eyes. I just couldn't take my eyes off him back then. those two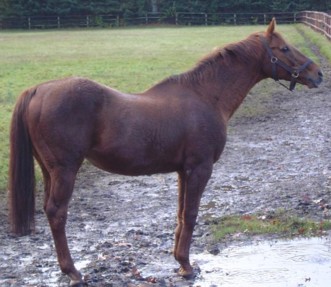 fotos were taken at our visit last winter and only short after that the sad message of his death in the age of 23 was spread around the world. the German press honoured this sire with various obituaries. Acatenango won about DM 2 million for the Fährhof stud within his four years of racing career. up until today (excluding this year's various moneys) his entire offspring won around € 14 millions. that certainly sounds most impressive, however, what I consider much more important is the fact that the average race distance where these moneys were won lies beyond 2000 meters - he seems to be providing his offspring with real long distance abilities. and that to me is the only race horse specific feature that I consider of any value for the use of warmblood breeding. long term distances and the fact that the individual horses racing career lasts for several years - these are the features that should provide for the attributes of soundness and endurance that make thoroughbreed influence so irreplacably precious in warmblood breeding.

Grandsire Surumu carries all the titles the German turf can award to his most meaningful sires (heritage transferers):
winner of the Derby himself he became championsire, multiple "championsire to the dams" and finally in 1992 was awarded champion "heritage transferer" (Championvererber).
via Literat Birkhahn Alchimist and Herold he descends straight from legendary performance bloodlines before WW I and II whose influence specially within the Trakehner breed even today dominates the pedigrees of all of the modern German warmblood breeds. who ever wants to learn more about these origins of the German sport horse heroes should read Köhler's "Morjen, Herr Landstallmeister!" or - for the english readers - might study the "history of the Trakehner breed" on Trakehners-International.com. I truly enjoyed these studies myself and learned a lot from it.

What I personally like most about Ionia's pedigree is the inbreed to Birkhahn. the history of German t.b. breed has been significantly stamped by two legendary sires: Dark Ronald and Birkhahn. four sons of Acatenango still ensure for the maintanance of Dark Ronald's heritage within the stallionlines of nowadays t.b. breeding: Aeskulap, Diamante, Hamond and Protektor.
Birkhahn *1945 was a child of war and it was most definetly more than just a twist of fate that he was allowed to move over to the Schlenderhahn Stud at the decisive moment before Germany became departed in two. out of Schlenderhahn he took highest influence over the national as well as over the international t.b. breed in the most positive way. Birkhahn himself won 16 out of 22 races, the first twelve of those in a row. the glamorous victory of the Derby in Hamburg gained him the nickname "lion of the east". still, during his entire lifetime he kind of remained to be the prophet of little recognition within his own homeland. after he had moved from the Graditz Stud in the east to Schlenderhahn in the west in 1959 it was a heart failure that set an end to his stud career in 1965. purposive inbreeds to Birkhahn delivered a lot of top horses, most famous of all certainly Lando who is inbred to the two full siblings Liberty and Literat. today the youngest link of this chain is Paolini, starting to write a new chapter of his line of ancestors at the Ittlingen Stud. Paolini is known to be the most succesfull racehorse in German history having won more than € 3 million within his six years of racing.(see! anotherone whose success is based on many years of active racing himself!) his brother Platini (Harzburg Stud) is already ahead of him in a few sucessful years of breeding. and with the WorldChampion Epalo a third most succesfull son of Lando has qualified himself for a future breeding career.

Dark Ronald Herold Alchimist Birkhahn Literat Surumu Acatenango Lando Paolini - a neverending story.

The icing on the cake in Ionia's pedigree is delivered by the damline: her third granddam Immer Toller is a direct daughter of legendary Dschingis Khan. Dschingis Khan is one of the four most meaningful sons of Tamerlane who even were of large impact to the German warmblood breed. besides Alpenkönig and Marlon, who really added value to the holsteiner breed back than, it is probably Shogun, who used to be stationed at the Hannoverian State Stud in Celle, who should be well known to some of you. Dschingis Khan's own masterpiece however is most certainly his son Königsstuhl.
Königsstuhl, out of Königskrönung, is up until today the only horse in Germany that won the Triple Crown. his most succesful and best known son is Monsun who still serves as a breeding stallion at the Schlenderhahn Stud today. the influence of the old and traditional Zoppenbroicher K-family is imminent and meaningful to both, nowadays t.b.and w.b. breed. next to the damline of Schwarzgold it is the K-line that is considered one of the most important -if not THE most important- damlines in german t.b.breed. the origin of this line is found in Kaiserwürde who was born in 1945 and gave birth to six foals, amongst those the two later on most meaningful heritage tranferers Kaiseradler and Kaiserstuhl. Kaiseradlers full sister Kaiserkrone again delivered seven foals, amongst those the two most well known are Kronzeuge and Orsini. today this damline is being represented by the two stallions Kartago and KönigTurf on German race tracks - both of them sons of Big Shuffle.and even here it is fair to say: Kaiserwürde - a neverending story.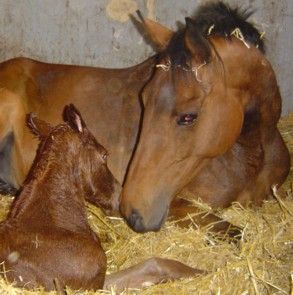 March 27, 2007: Ionia gives birth to a filly by Brentano II - Balahé!

May 19, 2007:
the phone just rang and a child's voice said:
"here is Amelie Altepost!
I am supposed to say that there is a new foal in Ionia!"
soooo sweet - that was my mare-barns Ingrid little daughter trying to tell me that the vet had checked Ionia positively in foal today ...
thus, Ionia is the first of all my mares this year to be positively confirmed in foal - I hope she will stay that way and go for another delightful second pregancy...
April 3rd 2008: Ionia gives birth to her second foal, another chestnut filly by Brentano II: Brooklyn!
I am more than delighted as I had never thought Ionia would give me two fillies in a row as my greatest wish in the beginning when I bougth her was to finally get one Brentano-filly out of her to proceed further breeding....
thanks for spoiling me, Ionia!

4. Mai 2008: Ionia is in foal to Bundeschampion Benetton Dream - I am more than delighted and value it a true positive having taken the burden of a 500 kilometer trip twice in order to pick up the semen as fresh as can be - it seems to have been worth it!
Dear Ionia: please make the best of it!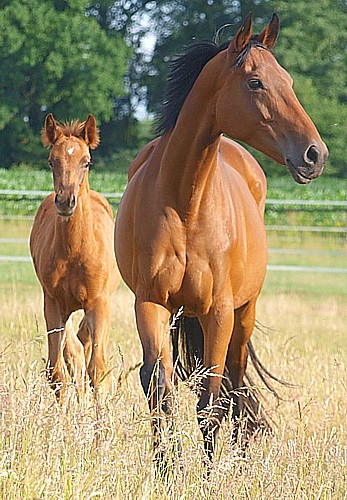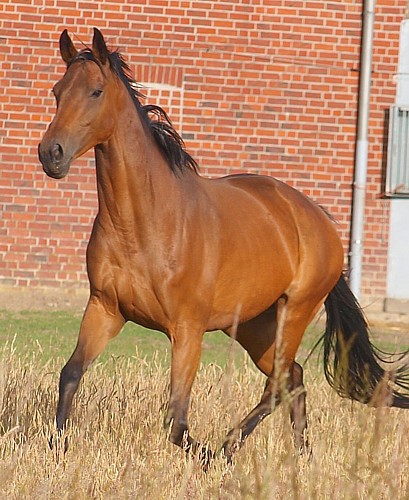 photo-album of Ionia

home