Lissaro - why?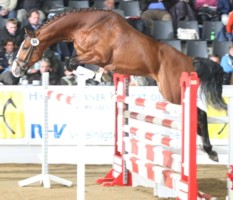 Lissaro van der Helle by Lissabon x Matcho x Garibaldi II

Following his success in winning the 2008 Bundeschampionship for 3 year-old Dressage Stallions, Lissaro had become the most talked about horse in the months that followed. However, the colourful bay had become my favourite jumper stallion at his Hanoverian licensing in Verden in October 2007 where he was awarded "premium jumper stallion".
But my very personal story of Lissaro actually begins with the story of his sire, Lissabon.

In autumn of 2001, the Oldenburg-branded Lissabon appeared at the Westfalian licensing – a light-framed bay stallion, not too big, but greatly colourful and likeable(picture link "the early years of Lissabon"). Hind legs moving correctly under his body, light-footed, naturally uphill and loose, easy-going, eye catching bascule and technique at the jump. On top of all that he was equipped with a pedigree that simply spoke for itself:
Lordanos x Sion x Contender x Grannus – performance genes, flavored by a breeze of outcross.
Lissabon was a horse you wanted to see under saddle – dressage saddle, that is. A horse that shined in the dark. A horse I would have loved to call my own - a multi-talented sport horse promising fun in the saddle in all disciplines, every day...
Even though licensed, Lissabon was not necessarily blessed with the greatest benevolence by the Westfalian Verband ("not the kind of stallion we need over here…"). He was initially stationed in the Rheinland area, out of sight, having left a positive impression in my head, a "colourful and desirable Lordanos son" … .
In the following years I heard people talk about the good rideability of this colourful Lordanos son who was competed in the Rhineland and quite obviously proved worthy of all those initial positive impressions he had left at the licensing. Thus, my hopes grew higher he would even be able to pass on all his positive features to his get.
Meanwhile, other sons of Lordanos came my way in Westfalia. Amongst them the most charming Larson or the colourful chestnut Light On. They had one thing in common:
they were greatly promoting their sire, Lordanos, raising my awareness of him as something special amongst all those jumper stallions representing the Holstein "L"-line (Ladykiller xx).
And Lissabon moved on, too:
Celebrating wins in jumping classes and young horse jumping classes at M-level. Finally his first foals matured under saddle, far exceeding my expectations of them.
About a half dozen 3 year-old horses from his first crop had become successful in riding horse/dressage classes – incredible, given the fact that Lissabon was supposed to be a jumper stallion and as such bred to jumper mares in the first place. Plus, he wasn't a highly marketed stallion and he did not necessarily receive the most promising "double" talented mares, nor did he breed a lot of mares at all.
Thus, seeing a half dozen 3 year-old horses by Lissabon competing successfully in riding horse classes was not only completely unexpected, but also a very welcome surprise. It also proved to me that my initial expectations of him were justified and I finally upgraded him to the status of a double-talented sport horse breeding stallion. On top of that I added the label "proven" to his heritability, if a single first-crop of 3 year-old kids under saddle is sufficient to justify the label "proven" after all…

Little anecdote:
With his first 3 year-old crop, colourful Lissabon had greatly outperformed Cornet Obolensky by far with respect to money earned by his kids – a truly remarkable feat given that Lissabon only bred a fraction of mares that Cornet bred, the latter that was reported to have been bred to 300+ mares in his first year.
Lo and behold!

Meanwhile two sons of Lissabon were licensed:
Lissacor (dam by Lupicor x Cantus) unfortunately died shortly after his licensing in his first breeding year leaving only a few but promising kids on the ground.
Lissabonder (dam by Landadel x Palisander) was the other licensed son at the ZfdP Verband, competing successfully in young horse jumping classes.
Finally, fortune had it that Lissabon, while successfully competing in S-class jumping under Johannes Ehning, moved to Westfalia, the land of no benevolence when it comes to smaller and colourful horses. Actually, he was stationed directly in my neighbourhood and I was excited to be able to see his next full crop being bred and born here in Westfalia. Of course, it was understood that I was strongly biased and positively impressed by these foals, all of them colourful like their sire, but also stamped by Lissabon's light-footedness and hind legs that moved correctly under his body, lighter frame, typey and somewhat noble with respect to neck set and appearance, simply resembling their sire's most prominent features.
My friend, Heinz, pointed out the heritage of dam sire Sion, often considered a "light and fine-maker" of double-oriented performance heritage and "spirit", attributes considered controversial and desirable at the same time. I just loved it and I was certainly captured by the stamp Lissabon obviously passed on to his kids. However, a certain premonition took hold of me and I sensed that this stallion, being placed in a land where quality is defined by tangible dark mass in the first place, would not necessarily meet delightful demands from most of the breeders…
Also, some people considered him limited in scope and skills with respect to international sport. A restriction (should it be true) I could easily live with since only a very few talented sport horses will ever make it up to international sport, anyway. Fact is, most of what we breed ends up in medium class demands at best, rotting and shining at the same time.
What counts most is rideability, willingness to perform, values of interior, good gaits along with a faultless exterior.
And, as a matter of fact, it didn't take long before Lissabon had left Westfalia to move on to South Africa (beautiful picture link of Lissabon in South Africa). For me it was a pity to see him leave, being completely clueless at that time that he had already left another son of outspoken excellence yet to be discovered by me: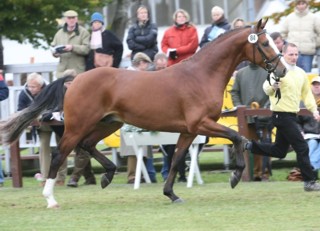 Lissaro.

At the same time that Lissabon was heading for South Africa, his colourful son Lissaro appeared at the Verden licensing in autumn 2007. I still remember well how he made me smile when I saw him for the first time at the triangle and later on free jumping:
Truly his father's son through and through!

The same lighter-framed bay stallion, not too big, but greatly colourful and likeable. Hind legs moving correctly under him, light footed, naturally uphill and loose, relaxed and easy-going, superb walk, and an eye catching bascule and technique at the jump. And yet again it reminded me of everything I had thought when I saw his sire for the first time a couple of years before at his respective licensing:
… a horse that shined in the dark. A horse I would have loved to call my own, a multitalented sport horse promising fun in the saddle in all disciplines, every day...

And he jumped so well, it was the greatest pleasure!
"By far the most elastic jumper!" was the note I made in my licensing catalogue.
My pleasure grew upon the colourful bay being awarded "premium jumper stallion" at his licensing. When they announced a chestnut son of Lordanos "premium jumper stallion", it made me even happier, since these two had been my very personal favourite jumper stallions of the 2007 licensing. Both being there proved to me that there was something about this paternal line of Lordanos and Lissabon that had originally attracted me. Obviously, it attracted the officials of the Hanoverian Verband, too. I found it quite remarkable to see not one, but two stallions descending from the same non-Hanoverian sire line being awarded "Premium" at the same licensing.
At that point in time, however, I had no clue how busy this colourful favourite son of Lissabon would keep me in due course.
Winter came and with it the big news that Lissaro would move to Westfalia to continue his father's heritage right here in my neighbourhood. I was excited, to say the least, and finally I started to research Lissaro's dam line a little closer, something I hadn't done before.
It didn't take me long to realize that I had obviously found a real diamond in Lissaro – what a dam line this was!
While I was initially taking comfort in Lissaro replacing his sire as such, my enthusiasm over Lissaro grew proportionally the further I dealt with his maternal origin. Meanwhile, I had come to the conclusion that with respect to his dam line and pedigree only, that young Lissaro had already outshone his sire by far and there were a lot of good reasons for that:
Matcho, Garibaldi II, Diskant and Servus stand for oldest Hanoverian genes with a strong focus on performance, the opposite of today's fashionable genes that have not been proven over time. The emphasis is placed on a truly double oriented dam line of jumper origin in the further out generations, a fact that tends to be overlooked and forgotten in light of Lissaro's most spectacular winning of the title "Bundeschampion" of the 3 year-old Dressage Stallions 2008.

St.Pr.St. Marquesa, his dam, is a full sister to the licensed stallion, Maurice, and it occurred to me immediately that Lissaro would never ever make his career in Westfalia as a pronounced "jumper" stallion. But I had never thought of him becoming Bundeschampion of the dressage stallions a couple of months later, either. What a development from premium jumper stallion to dressage Bundeschampion in less than a year!

However, an old Westfalian saying goes:
What the farmer doesn't know, the farmer won't eat.
Matcho AA being considered a jumper stallion within Westfalian breeder's minds ?
Never!
I had learned my very lesson on Matcho just recently when I was visiting a breeder friend up north near the river Elbe. I watched her breed a Matcho mare to the Holsteiner jumper stallion Calido, the latter being stationed only a ferryboat ride away from her.Matcho and Calido?
I was seriously questioning my friend's breeding philosophy until she told me about Matcho and the fact that there were even Matcho daughters accepted in the official Hanoverian jumper breeding program (so was her mare) – and I learned that the Anglo-Arab Matcho was indeed used as an outcross refiner even within jumper lines in Hannover...
Amazing.
To me, Matcho had always been a somewhat neutrally-valued progenitor via dam lines, whose refining influence usually takes one or two generations to bring out the positive within his get. Now I realized that Matcho was considered a valuable provider of both rideability and refinement.
[off topic: the elder full sibling of the above mentioned Calido x Matcho foal my friend was "producing" while I was there became a licensed jumper stallion at the hannoverian licensing later that year - truly a stunning noble horse of it's kind! ... and of course it made me smile big time! ... that much about Matcho in jumping pedigrees.]

Lissaro's dam, St.Pr.St. Marquesa, is registered at the performance studbook of the FN (German Equestrian Federation) and during 19 years of breeding she gave birth to 13 foals. Bred to Graf Sponeck a couple of times, four of her kids competed successfully up to S-class in jumping - amongst them her licensed son Giuliano, another licensed premium stallion (Verden 2004) by Contendro, and when bred to Wolkenstein II she delivered the Verden Auction horse "Why Not" who later competed at M-level dressage.
These direct kids and half siblings to Lissaro alone stand as proof of the exceptional value of his dam line in general, his mother specifically. It becomes clear that we not only speak of performance, but also multi-talent.
And there is so much more to come:
Lissaro's second dam, St.Pr.St. Gracia, gave birth to two licensed stallions by Matcho:
the former Landgestut Celle stallion Maurice who competed up to Prix St.George/Dressage, and the privately owned stallion, Mackintosh. And there is yet another full sibling and former Verden Auction horse that was successful in sports up to M-dressage.
Gracia, a daughter of Garibaldi II, descends from my all-time favorite Hanoverian dam line, the dam line of Dr. Max Schulz (Brentano I & II, Garibaldi I & II, Wolkenstein I-IV, Beltain, Beauvalais, Little Big Man and many many more). And if there was a single name mentioned last winter when the discussion of the newly introduced "G-line" program arose, it was the name of Garibaldi II. If there was one G-line stallion of positive-only features who had become a proven sire of highly successful and most reliable jumper and dressage horses meeting the highest demands, it was Garibaldi II. If Garibaldi II were alive today, the G-line program would probably have never needed to be introduced since he was the one and only direct G-line sire that you never heard anything negative about.
In retrospect, he obviously was the ideal carrier of the Grande-G-blood up front. Unfortunately, his male sire line via Grande was extinguished upon his death. He only left a single licensed son, privately owned Garant, who was barely bred. To identify Garibaldi II as the third dam sire in Lissaro's pedigree truly made me cheer!
Further licensed stallions arising form the direct dam line of Lissaro are the privately owned Shalimaro, a half thoroughbred jumper stallion by Sunset Boulevard xx out of Gräfin Sponeck, the latter being the maternal half sister to Lissaro's grand dam Gracia. Laszlo by Laptop is Gräfin Sponeck's second licensed son. Successfully competing in international show jumping, he even made it to the WBFSH ranking list in 2008.
Then there are Elan by Escudo I (Markus Merschformann/Spr.Kl.S) and Estrada by Escudo II (Spr.Kl.M) descending from this dam line and competing successfully in S- class jumping.
According to the website of Rüscher Konermann, Lissaro's dam line has produced 25 licensed stallions and a multitude of successful sport horses in both jumping and dressage. I haven't researched all of them, but I guess it can be accepted as true.
This dam line, having its source at the Dittmer family in Neuenkirchen, is beyond reproach, an accomplishment of sport horse breeding that can barely be topped.

So, last but not least are my personal impressions on Lissaro following his premium licensing:
The next time I saw him was at the Hanoverian Young Horse Championship in Verden in summer 2008. This competition also served as the qualifier for the Bundeschampionship later that year in September.
Not necessarily equipped with the most appealing rider in the saddle, Lissaro delivered a more then convincing performance – maybe just BECAUSE of the somewhat suboptimal riding – since it was obvious the shine that came through was generated by the horse and the horse alone. His very own talents and mind… impressive uphill movement and well jumpes through canter, loose and wide at the same time, same kind of trot, loose and wide, and an outstanding walk. The entire package was crowned by an unshakeable interior.
I was overly enthusiastic discovering this multitude of dressage talent in my very favorite jumper stallion from the licensing ten months ago – and it made me think big time:
This was a complete horse.
"Complete" being a term to describe a horse with three good gaits – something that should be self understood in sport horse breeding, however, we all know it is not.
For reasons of spectacularity a whole new generation of breeders has gotten used to the fact that celebrity trotters dominate the scene and we take it a given preposition that usually these are anything but "complete" horses. Walk usually is the first to suffer and get rid off. Then add jumping requirements (the "fourth" gait so to speak, as any complete horse should be able to jump, too). Usually here the modern sport horse breeding reaches it's limits and no one seems to bother.
How come?

I have been looking for years for a stallion of genetically proven and ideally consolidated multi talent throughout more then just his first two generations – hoping that, should I ever find one, he will than be able to pass on his heritage to his kids dominantly, too…

In this respect Lissaro to me has been the discovery of the present decade so far and I can only hope that the coming next decade proves me right with respect to his kids:
as it will take another few years for the first foals to show this prove under saddle and I can't wait to see it happen!

September came and Lissaro came, saw and conquered – Bundeschampion 2008 of the 3 year-old riding stallions, defeating the spectacular black trotters and their kind in a manner that truly made me cry.
It was obvious, Lissaro was the champion of the hearts of everyone there. The audience just loved him and cheered him on, and most importantly, even the judges agreed and acknowledged that this horse was convincing just because he was so overly natural in his appearance – loose and smooth riding, no squeezing, no stitching – ridden according to the traditional rules of classic dressage training in a way a three year old horse is supposed to be – forward downward, smoothly responding and of natural roommaking elastic footing.
At times of spectacular moves being mostly recognized it was a refreshing experience to see that quiet obviously natural appearance seems to have become a valuable gift again. And since it is "natural" rather then "spectacular" my hopes are high he will be able to pass it on to his kids – as nature replicates naturally – shouldn't genetics, too?

During the course of 2009, Lissaro competed at a few local horseshows in 4 year-old jumping and dressage horse classes. Needless to say, he won them all. September came again and with it the Bundeschampionat and Lissaro did it again: he came, he saw, he conquered.
Beating mostly bespoken stallions of greatest marketing and money in the background, it was the natural appearance of the decent colorful horse he is that made him champion again. Even though I have to admit that a lot of his shine and overwhelming appearance from the year ago had already been gone - hadn't I seen him the year before and watched his development closely from the beginning on, I doubt I had seen the champion in him again.
Probably the most spectacular moment in his performance this year was when he was performing during a rainstorm when one of the exhibition tents flew off and came to rest on top of the roof of the big indoor arena nearby. Of course, this made horses spook and freak out, so did people, with one exception:
Lissaro came to a stop in the middle of the dressage arena and just looked at the tent. He just stood still and looked.
Then he moved on with his performance as if nothing had happened.
Incredible.
I doubt there could be any better proof of interior and temperament in any given horse.
Thus far, my search has taken me looking for a genetically proven stallion of dual-talent descending from a dam line of excellence to breed to my thoroughbred mare Ionia. Initially, I had been considering breeding Ionia to Quattro B given all those good reasons I had bred Fabrice, my Fidermark mare, to him three times in the past. The Holsteiner stallion Lortino came to mind as a potential dual-talented sport horse, but breeding Lissaro to Ionia simply lent itself for two good reasons:
First of all, he stands at stud only five minutes away. I can pickup fresh semen any time I need too on my way to my mare barn - what a treat...
Second, Lissaro is Hanoverian-branded and Ionia is registered in the Hanoverian main studbook with record scores (four times "8"). It would be crazy to attempt to get her registered at any other studbook and hope for scores like that.
So I have a premium Hanoverian stallion, who in the meantime has become a two-time Bundeschampion, right at my front door - and who knows how long he is going to stay there?
Thus, I hope I have found the perfect match for my thoroughbred mare in order to minimize the risk of introducing her to jumper blood since her three foals before were solely bred to dressage-oriented stallions. However, introducing a thoroughbred mare to warmblood breeding and hoping for a filly in order to base my future breeding program on potential dual-talent most certainly can't be wrong. It simply adds an additional choice for future breeding with respect to any given specialization in due course. And, had Lissaro been out there years ago when I bred Ionia to Brentano II, I am not sure if I would have been able to withstand the attraction of breeding her to Lissaro right away...

While I am writing this, I am overcome with pleasant anticipation as Ionia has only three more months to go before giving birth to her foal by Lissaro. Whatever the outcome may be, I just can't wait for it to happen!


Thank you, Kathie and Steve Ellowit, for your precious time and effort translating my very personal story on Lissaro - may it have become "your" story on him now, too!

Fotos: Hengststation Rüscher Konermann / Werner Ernst