Sabary * 2.5.2011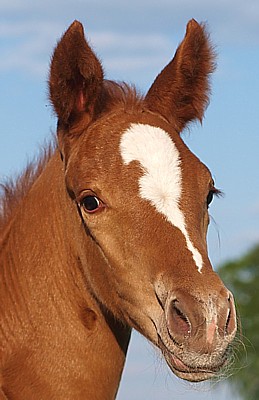 Sandro Song Oldbg. *88
Sandro Hit Oldbg. *93
Loretta Oldbg. *87
Sarkozy Hann. *1999
Weltmeyer Hann. *84
Weltfee Hann. *99
Bonna Hann. *90

Florestan Rheinl.. *86
Fidermark Westf. *92
Watonga Hann. *85
Fabrice Rheinl. *98
Frühlingsball Westf. *70
Feodora Rheinl. *92
Rebecca Rheinl.*80







Damline Information Fabrice

Self Performance:
Fabrice was nominated "Premium Foal" at the Heinsberg foal inspection in July 1998 - Silver Medal
MPT Telgte, June 13th, 2001 - ranked 1st out of 21 mares scoring 8,39 - highest score ever given that year!
single scores: trott 8,5 canter 8,5 walk 8,0 ridability/judges 9,0 ridability/testrider 8,5 freejumping 8,0
Summer 2003: various show class successes in all three disciplines (dressage, jumping, eventing), amongst them winning the Telgte young horse combined dressage&jumping class scoring 8,2

Damline:
Fabrice's full brother Fair Play*2002 was Champion of the Rhineland Riding Horses 2005,
her full sister Fannie Mae is the 5th and last out of 5 full siblings by Fidermark, all of them were nominated "Premium Foals" , amongst them auction foals.
MPT single scores: trott 8,0 canter 8,5 walk 7,5 ridability/judges 8,0 ridability/testrider 8,5 freejumping 7,5
Fannie Mae's first foal is the licensed stallion Sansibar by Sir Donnerhall (standing at stud in the Netherlands)

Sabary is half sibling to Brisant and Biscaya (both by Belissimo) , half sibling to QRage II and QRage III (both by Quattro B), La Jeanne and Lan Thao (both by Laudabilis)
Sireline Information: Why Sarkozy?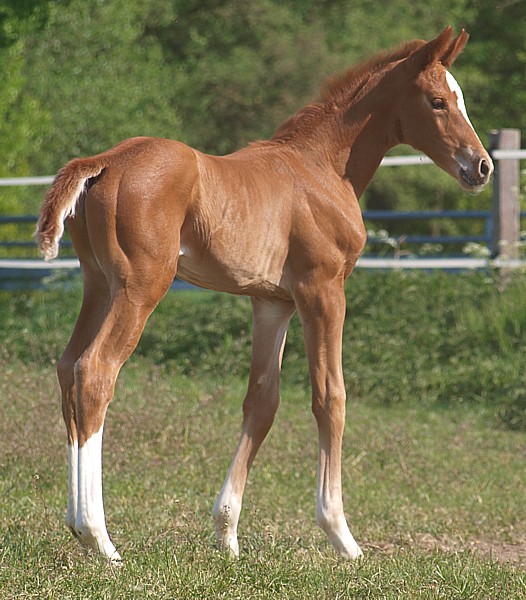 Three days ahead of time and it was obvious:
time had come for Fabrice to give birth to her foal. She had already rolled her big round belly over the pasture little motivated for the last couple of days and we had been waiting for the day she would stand at the gaite, shaking her head up and down, her unmistakable signal that she is ready to give birth.
And since Fabrice has a sixth sense for timing she usually picks chaos days to deliver her foal and as such crown any miserable day with something positive in the end: a new foal.
She did so in the past, she did so today:
We were all worried that day about an undefinable infection that had spread amongst our young mare herd and my marebarn owner Ingrid uttered:
"Watch out! ... and tonight Fabrice will give birth to her foal!" and she was right so.

At three o'clock in the morning Sabary literally slipped out of Fabrice without any complications.
And while we all were still under the impressions of Sabary's cousin Deauville, a filly that had simply blown us away from the first moment it stood up, we couldn't believe it when we saw Sabary:
She could have been Deauville's clon!
Colourful chestnut, same chrome, same noble nose and face expression, topline, look - simply amazing!
Of course I couldn't wait to get to see Sabary out in the light to really discover what kind of filly Fabrice had born - so exciting!
And Sabary truly surprised me with her behaviour and spirit, totally "un-foal"-like as she behaved like a mature little lady follwing her mum out through the stall, into the sunlight - no hectic, no excitement, no human help needed to aim her into the right direction. All very well "considered" she seemed, selfunderstood as if she had done it many times before.
She calmly followed her mum out to the big pasture and there she was:
delicate and gracile, highly noble and of the same shape and well conformed angles like her cousin Deauville.
So similar at sight, yet so different in character and mind.
My little Miss "Wellconsidered!"
Even when she started playing and bucking against the wind she would still seem to spend a moment thinking about what to do next - only to deliver an even more impressive, well considered explosion of bucking, jumping and chasing away all in one. Time out - brief moment of reflection - off she went again like a cannon ball.
Incredible!
I knew immediately, the next few days when I would take Fabrice out on the pasture so Sabary could run around and gain her first experiences playing in the grass, challenging herself, would yet again be the most enjoyable moments - everything I live for, that is. Watching the young foal explore it's whole new world. Precious.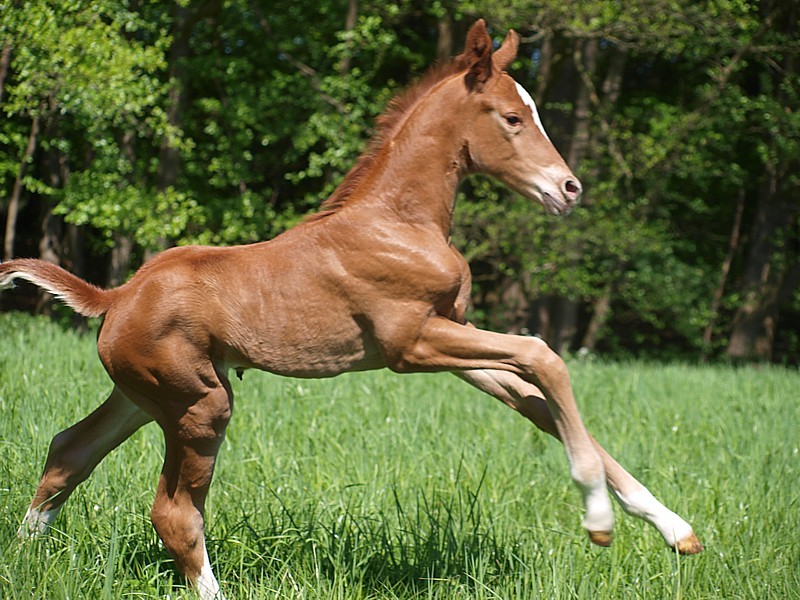 21. August 2011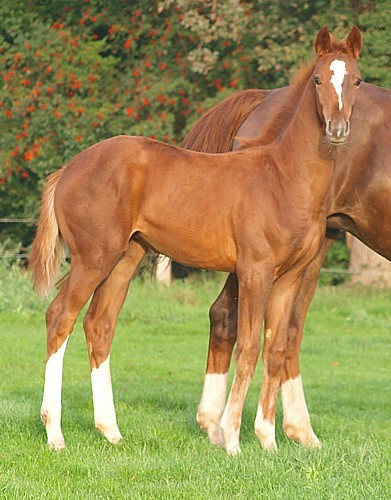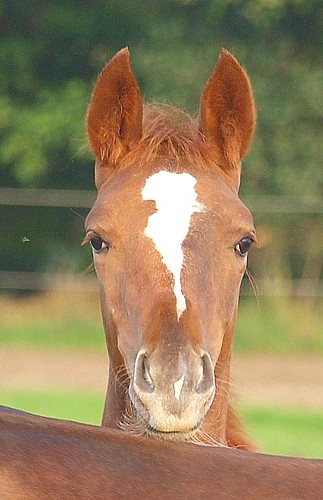 18. September 2011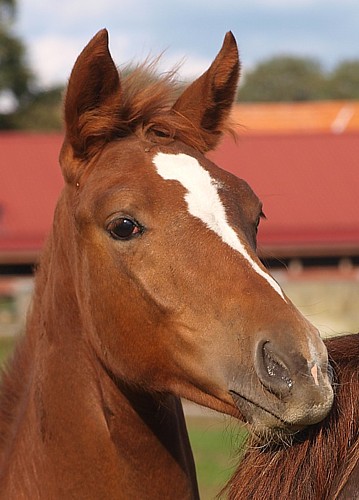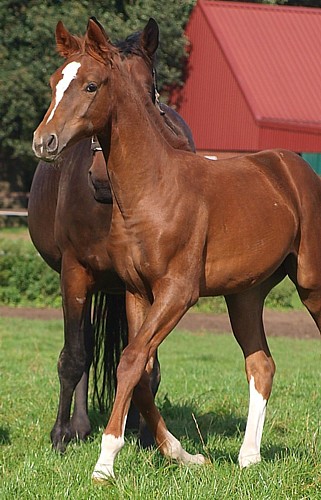 30. Oktober 2011

Sabary has left our barn and moved to her new home where she is being raised as a future dressage prospect in a group of fifteen foals near the Weser river pastures and I couldn't hope for any better hands to see her in as Dominique&Dominic surely know what it takes to succesfully develop a young dressage horse!
Good luck to all of you!


Fotoalbum Sabary