Sir Donnerhall - why?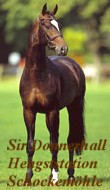 Sir Donnerhall by Sandro Hit x Donnerhall x Feldherr x Grundyman xx


Sir Donnerhall truly is the most revolutionary breeding in my very personal young and idealistic breeding program so far - why?
First of all, i have not necessarily been a loyal fan of legendary grand Donnerhall himself for the simple reason that Donnerhall descends form an old draft horse damline. Nothing wrong about draft horses as such - just that this simply doesn't reflect the breeding goal of modern sport horse breeding at all. Specially when it comes to looking for superiority in damline origin with respect to sport.
Breeding regress rather than progress in the purest of all kinds when looked at from a purely genetic point of view.
Reason why many of the Donnerhall kids and often grand (grand) kids (those that noone talks about) lack athleticism and type. One can't blame them for that - it is in their genes. And well consolidated in there, too.

However, more than 70 licensed sons and uncounted State Premium Mares plus lots and lots of well performing sport horses do provide for a solid basis to refer to Donnerhall as a true stamp stallion. And this is not only true for kids resulting from a breed to Pik Bube - probably the most popular and best known cross when talking about Donnerhall kids. The most proven cross, too. Nick breeding?
Oh well. Nick breedings are hard to come by. Usually they owe their existence to given circumstances rather than well thought of breeding philosophies. In the case of Donnerhall and Pik Bube those circumstances are obvious:
Pik Bube was the proven sire at Gröhnwohld Hof back then and Donnerhall used to be the test-stallion to check out on mares if they were in the desired heat in order to become inseminated... usually by Pik Bube. If they weren't sired by Pik Bube already. In that case Donnerhall was given a chance - simply since he was available. No more, no less. Times were different back then and it did take some time for Donnerhall to finally step out of Pik Bube's shade.

After all, Donnerhall did sire valuable progeny not only out of Pik Bube mares. And the most bespoken grandson of these today is most certainly Sir Donnerhall. I wrote down my thoughts about his sir's bloodline "mistery" year's ago:
the slightly different Sandro Hit story.
The affinity to me lies in the (hopefully...) genetically mainfested double- (if not single...) jumping orientation in the case of Sandro Hit.
And it will hopefully double up or manifest when breeding to his son Sir Donnerhall.
So here we are, speaking of damlines lacking recognition:
In the case of Sir Donnerhall it is exactly the somewhat "doubtful" damline that inspires me most - as the holsteiner history of it (even though not to be tracked down beyond certain generations and as such having caused resistance and doubt with respect to Sir Donnerhall's approval in the first place) hopefully provides for reliable sources of a certain double orientation with respect to well manifested jumping talent and canter quality as such.

Sir Donnerhall's second dam Contenance is a daughter of Fleming, a son of Farnese, a truely old-holstein performance stallion of doubtless recognition. Farnese provided for proven sport horses of excellence long before the necessary refinery influence became important in the holstein breed. Not only did he sire horses of unlimited jump but most reliably they would also show gaites far above average - dressage horses, even though they weren't bred for it. Most popular example of our current breeding history is the outstanding Landadel - performance genes at their best and the one stallion who was "let go" by the Holsteiners obviously for reasons of misconception:
had Holstein known what Landadel accomplished in Oldenburg - they had never let him go.
Nowadays Landadel is known to be the best son of Landgraf I and this is after all owed to his dam by Farnese, too. In Oldenburg Landadel not only stands for jumping horses but in many cases for dressage horses, too. Most prominent example certainly Stedinger (by Sandro Hit x Landadel x Futuro), and as coincidence has it:
yet again another son of Sandro Hit...

A staircase wit of history?
Not at all, I'ld say.
Contenance, the above mentioned granddam of Sir Donnerhall, descends from a dam by Moltke. Moltke is yet another grand old Holsteiner performance sir. The falling damline shows the thoroughbred stallion Grundyman xx in fourth generation. A stallion, whose influence and stamp simply can't be denied even in today's progeny by Sir Donnerhall. As it simply can't be a sheer coincidence that the kids of Sir Donnerhall come along even more refined than those of his fellow compagnion Samarant, a stallion who shows t.b. influence (via Andrang xx) already in third generation, yet, he doesn't stamp his kids in such a refined way Sir Donnerhall does. Quiet obviously Sir Donnerhall seems to be able to stamp his get in a rather unique and distinguishable refined way despite the somewhat heavy genes his damsir Donnerhall often provides for in different crosses.
Countless premium foals and show titles so far do speak for themselves.

After having seen some foals by Sir Donnerhall descending from diverse breedings (sometimes out of mares I would have considered "obsolete" at best) I simply have to admit:
this stallion does stamp his get and passes on his heritage a lot better and more dominant than one would have thought.
His foals are of noblesse and swing, well carried trott and push and usually doubtless canter.
Specially the latter does confirm my assumption that it might in fact be his somewhat unproven and unheard of holstein based damline that simply provides for a certain kind of genetically manifested heritage to count on when breeding to Sir Donnerhall.
And if - on top of that - his foals will also be able to jump with desirable scope and skill, well, then Sir Donnerhall might indeed be the kind of stallion nowadays sport horse breeding desires:
a stallion who provides for multitalented athletic horses - exactly what the current market is searching for!

All this is strongly backed up by the tiny negligibility that Sir Donnerhall delivered an SPT result unheard of so far:
A dressage index of 163 points has been unreached so far. Of course he won his test by a clear margin. Remarkable in this context is his visible jumping talent (114 index points) supporting his all-in-all score of 151 that finally made him the doubtless winner of the test.
Test riders gave a 9,5 for ridability .
However...
If there is light, there is shade, too.
In this case the shade is shed by the fact that statistics, specially with respect to SPTs, are doubtful in the first place unless you know how much canon food was there to make up for below average rankings in the scores. As the scores of SPTs are derived from the mean and the bigger the number of below average participants the higher the score of the shining winner...

As such, my very personal bottom line when breeding Sir Donnerhall to Fannie Mae is this:
Fannie had an outstanding MPT herself (and there are no doubts with respect to how these scores were gained as I was attending at the test and I do know my mares's qualities) and she did prove that she does compare well with her full sibling's qualities (Fabrice and Fair Play):
Fannie's quality is not owed to a coincidence but a result of proven heritage.
If any, Fannie could come along slightly more typey and a little refined...
Thus, Sir Donnerhall does not need to improve anything in her, he is simply required to only maintain what's there. If any, he is welcome to refine Fannie's foal in his very special manner. No more, no less. Requirements asked from a stallion of such format I feel realistic to deal with.

...


Three years later:

Meanwhile Fannie has had two foals by Sir Donnerhall, Sansibar and Sawadee, both of them high quality foals leaving nothing open to wish for. Evidence of that statement is obvious as I had never bred Fannie back to Sir Donnerhall again hadn't it been for the amazing quality of Sansibar in the first place and the fact that he sold to Paul Schockemöhle himself, not even three weeks old...
Sawadee and Sansibar, despite full siblings, turned out to be completely different foals for as long as I had the chance to see them grow - however, they did have their common features with respect to shape and face in youngest age, hindleg leverage and gaites as such. Both of them have a super walk but that is certainly owed to Fannie, too. Front legs and length of neck was the most obvious feature not in common and I can't wait to get to see them again once they are both matured and what they might have left in common then or how they differ...

However, I was lucky to get to see many Sir Donnerhall kids from his first two years of breeding, meanwhile the eldest ones turn four and are well to be judged under saddle:
type and shape used to be his very special trademark as a foal maker, it does maintain to be his trademark even at matured age:
You can tell a Sir Donnerhall kid from any other horse around for it's noblesse, longer shaped neck and nape, face, finer topline and longer lighter lines as such.
From all those many Sandro Hit sons and their get that I have come across in the past years I would say Sir Donnerhall is the one who clearly differs and stands out with respect to stamping his get in his very special way. Question of taste rather than a question of quality in the first place, but certainly unique.
Ridability seems to be very obvious, they look inviting to me to ride them along myself. I do value that as a certain feature owed to his grandsir, Donnerhall. And even though in the meantime I have become very critical with respect to the heritage and influence of his sir Sandro Hit, hindleg activity and stepping under is something that can be found in Sir Donnerhall's offspring as a naturally given dower, despite the long cannon bone he does pass on. But no such thing like "made" hindlegs or sheer "activity" lacking carriage. They do seem to function naturally. If they will be able to bet "set down" once collective work starts is yet to be seen.
As a matter of fact, specially in this current second winter of his crop around, I have come across some overly delightful horses of swing, naturally carried, uphill, close to being perfect - I found myself giving standing ovations to them.
Funny enough though:
many of these descend from jumping damlines, mainly the Holstein "L" (Ladykiller xx), and even more so:
most of these were grey...
It made me smile all over as this might set grounds for two things:
1. my very personal initial theorie that it is the holstein damline that makes up for Sir Donnerhall in the first place migth as well prove true:
there's got to be a reason the most favourable side of his heritage does seem to double up on furter (holstein) jumping genes...
2. I can't think of any better man but Paul Schockemöhle himself, the man who made the world breed "black" in the first place, to work on a concept convincing the world that time has come to now start breeding grey instead...
Would I breed to Sir Donnerhall again?
I certainly would.
I would even go so far and predict that from all those licensed sons by Sandro Hit (far above 100 so far) it will probably be Sir Donnerhall to step into his father's shoes and take over the leading position of the Sandro Hit line in the future. And I dare to say that future has already commenced.


home