Campion of the Rhineland Ridinghorses 2005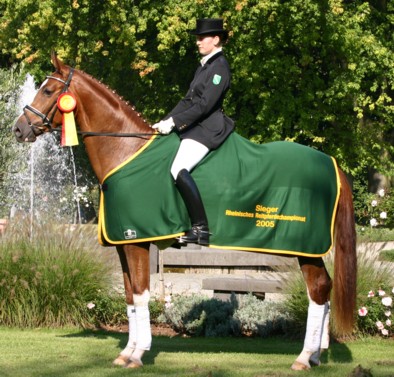 Fotos by Irene Busen, Rheinisches Pferdestammbuch (Rhineland Verband)

Fair Play * 2002

Breeder: Franz Storms, Waldfeucht Owner: Susanne Loosen, Korschenbroich

by Fidermark out of Feodora by Frühlingsball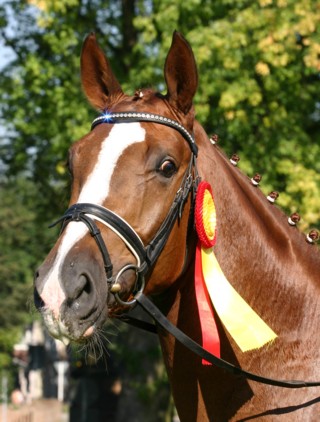 ... and yet again it was just another email I recieved from my friend Martina who keeps her eyes and ears open wherever the Fidermark relatives of my mares are present in the Rhineland. First it was this year's weanling colt by Feinsinn out of Feodora who was presented at the Wickrath foal show organized by the Rhineland Verband in September who caught her attention. (the same foal show actually were two years ago she had discovered Fannie Mae as being a colourful "rubber ball" just like Fürst Piccolo - and how that specific story went on in due course can be found here - ), and shortly after that her next mail was about Fair Play and his fulminant career upbeat when Chantal Daum introduced him to the Rhinland Ridinghorse Championship that he won in stunning manner.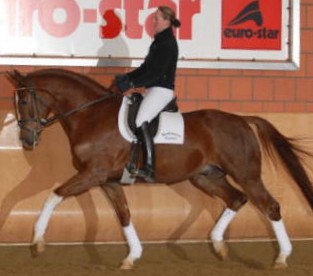 Fair Play by Fidermark, 3year old full brother to Fabrice and Fannie Mae, is the fourth of five foals by Fidermark, who were all bred by the Storms family in Waldfeucht. I guess it is fair to say that this really was a "nick" breeding combination of Fidermark and the Frühlingsball-daughter Feodora... as I did have my reasons, too, when I bought Fannie Mae knowing she was the last Fidermark foal Feodora was ever going to have.
Fair Play is one year older then Fannie Mae and was still running with Feodora when Storms brought her to Voerden in 2002 to breed her to Fidermark again - for the last time, that was. And I can still remember well when Storms told me how the Loosen family was sold on Fair Play immediately when they saw him trott right next to his dam back than at the Voerden stallion station. And it still makes me smile thinking of it since if any I can share such enthusiasm for colourful "rubber balls" from the bottom of my heart - and I most certainly share it with them.

Thus it was my greatest pleasure when I learned about Fair Play being entitled the Champion of the Rhineland as I can't think of any better prove of ridability and future potential for a young dressage horse than this. What a wonderful full sibling contribution to my own two mares this is!
When I called Karl Heinz Loosen he told me that this year's qualification for the Bundeschampionship simply came too early for Fair Play who was a late summer-born foal. But we will all be thrilled to see him go there in 2006 as the qualification rounds next summer sure won't be taking place without him in the four year old class!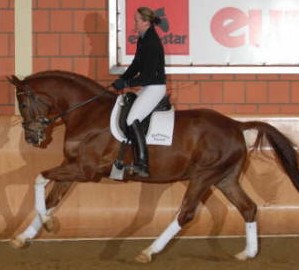 My very best wishes go to the Loosen family and their "Fair Play" to hopefully see him proceed in his career following the famous footprints of his sire, Fidermark. And i will most certainly be the one mostly excited to see him enter the Warendorf scene in the next year!

So presently the Fidermark heritage is being taken on by Feinsinn (Fidermark x Bolero x Grande) at the Storms family. Pretty successful, one could say, since this year's Feinsinn colt out of Feodora presented himself in such convincing manner at the Wickrath foal show that he was sold as a stallion prospectus immediatley. All the best for the future to the Storms family and good luck with the further Fidermark-heritage in your breed! (May Martina be able to send me many more emails about Feodora's various offspring ruling the Rhineland scene in the coming years!)

My sincerest thanks go to Irene Busen at the Rheinische Pferdestammbuch (Rhineland Verband), who let me have her wonderful fotos of Fair Play to show them at this site. Dear Mrs. Busen, this really was the greatest favour you could have done for me!

home