Real Diamond - why?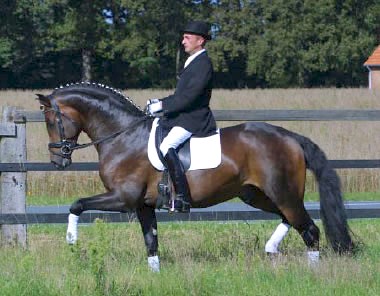 Real Diamond by Rohdiamant x Weltmeyer


Having bred Fannie Mae to Rohdiamant last year was a late recognition of the "R" line for me after all those years in sport horse breeding. Having come a long way from sheer neglection of the "R" line as such (due to lack of dynamics in the first place) it only occured late to me that this line bares so many values, ridability being the most important of all, that it was sure worth manifesting this line in my very personal breeding program for good. With the birth of Riva* this year all my dreams have come true and my hopes are high that this beautiful precious filly will become one of my future broodmares one day.
All the reasons to choose Rohdiamant have been widely explained here.
Long before Riva was born I knew for sure that I would hold on to the concept to breed Fannie further to the R-Line. However, Rohdiamant himself was not an option anymore since the six heat cycles it took to finally get Fannie into foal to the grand old sire were more than enough to strech my patience - succesful breeding is a challenge already, you surely don't need to add further risks with respect to fertility of one of the partners involved.
*click on the engl flag symbol in the top right corner of her page for engl infomation

Thus, I spent a lot of thinking about a potential son of Rohdiamant, ideally one who already embodies a certain breeding progress over his sire with respect to dynamics and impulsion. Basically what I was looking for was the ideal cross between Rohdiamant, his melting charme, type and shape and ridability, and what I meanwhile refer to as "the Weltmeyer power". Amongst all those better known sons of Rohdiamant the "Weltmeyer power" was kind of lacking, at least as a relyable resource within their further individual heritage. None of them really appealed to me due to lack of convincing progeny in deeper densitiy being able to prove a certain naturally given, genetically manifested "power" from behind and swing through the entire body.
Thunderstruck I realized one day that such son was already existing and I knew him well - just that I hadn't been aware of it for all those years.
His son Real Diamond had already fascinated me five years ago and thus long before I had even considered such stallion as a potential sire for any of my mares - long before my very prsonal learning curve in sport horse breeding has gotten me where I am today.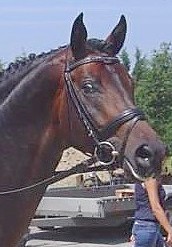 All of a sudden it was there, the picture and impression Real Diamond left on me when I saw him for the very first time age three (barely three, as it was a stallion show in winter, usually before the newly licensed stallions really turn three) and he was ridden by his owner Fiete Heimann. I had no idea who this stallion was or how he was bred, what caught me was the incredibly natural way this barely three year old stallion was shown by his rider, reins nearly loose, and he seemed to nearly jump the roof of the arena with his amazing uphill canter - selfunderstood, easy, happy - a horse that caught your attention given his natural appearance, no squeeze, no stress, you could tell both of them enjoyed their common performance.
Usually half the way through the performance Fiete would stop the stallion in the middle of the arena, raise his finger to his lips to ask for complete silence, climb up onto the saddle and step on to the stallion's back. There he stood on top of his stallion, free in front of a full house (and I mean FULL HOUSE... if you have ever attended a german stallion show in winter you can tell the athmosphere), and the barely three year old Real Diamond wouldn't even jerk with an ear...
Goose skin feeling.
Finally Fiete would slip back into the saddle with a wide smile on his face and Real Diamond would proceed with his amazing canter all through the arena as if "stand on me" was just another selfunderstood dressage disciplin to be delivered by a stallion this age...

Usually I had tears in my eyes at that point in time given the selfunderstanding and somewhat special connection between the two of them.
However, it was not only the demonstration of harmony and discipline that left an ever lasting impression on me back than - it was the fact that this stallion simply had it all... The striking walk suited him well and simply added to the entire picture of a calmness and relaxation.
So did the trott: expressive, yet soft, hard to describe as at that point in time wild action and mechanics hadn't occured to me as being "normal" to be shown by a young horse.
What about the trott, though?
Now that I had rediscovered Real Diamond for me I wanted to ensure that I was right when I used to think "he has it all"... The old videos from those stallion shows couple of years ago were of best help:
as a matter of fact, I watched them with a friend of mine and first thing she said was: "That trott is even better than his canter! - look at the impulsion of the hindlegs even at long reins!" She was right. Real Diamond age three was a stallion who had it all - no spectacular star kicking but dynamics in place were they belong - in the butt, that is. And truly, the trott ridden in a manner suiting his immature age well was powered by a naturally given impulsion, a far quicker and stronger hindleg reaction and footing, the horse simply carried itself.

In retrospective i find it hard to believe that Real Diamond didn't gain more recognition in his first breeding years. He wasn't greatly promoted, though, and due to personal circumstances of his owner disappeared from the scene completely age four. By then he had been bred to some 30 or 40 mares, most of these in his first year age three. He was completely forgotten up until last year, when his eldest kids appeared at the scene age three. Out of roughly twenty existing foals from that first season five immediately gained a quasi "Elite" status as there were two licensed stallions amongst them and three State Premium mares at the Westfalian Elite Mare Show in summer 2008. Five out of twenty makes up for a quota of 25% of "Elite" horses, a quota unheard of in my opinion, as I can't think of any popular stallion having had 100 foals in any given year and 25 of them becoming licensed or entitled StPrMare to begin with... Not even Sir Donnerhall or Cornet Obolensky (both of them certainly amongst the most popular stallions over the last few years) reach anywhere near this with their enitre crop today, barely with their first grown up three year old ones.
Just for reference purposes:
The current FN yearbook shows 10 StPrMares and 17 licensed sons for Cornet Obolensky who is said to have been bred to more than 300 mares in his first year only, while Sir Donnerhall is quoted with 15 licensed sons and 26 StPrMares and his breeding numbers were said to be even higher than those of Cornet.

So no surprise that last summer people started enquiring about Real Diamond again, evenmoreso since the annual FN Zuchtwertschätzung (breeding value index) being published along with the yearbook in December each year all of a sudden stated Real Diamond amongst the Top Ten dressage stallions in 2008! That probably made him the shooting star of the breeding season and the most amusing aspect about this is the fact that most breeders in the country have never even heard of him before...

Based on the obvious quality and success of his first kids Real Diamond's approval was reactivated by the Westfalian Verband for good and the stallion has been reintroduced for breeding at a different station not far from his owner's barn where I went to see him this spring. I simply had to renew my alive impression on him, specially since I had meanwhile undergone my very personal Rohdiamant and "R"-line learning curve ever since I have seen him first. I looked at him with different eyes this time and specially the amazing similarity to his sire Rohdiamant, who I had stood next to when picking up semen last year, blew my off.

So what is it that makes Real Diamond so precious, genetically speaking?
My major focus on improved hindleg and impulsion needs to be more than just a phenotypical feature in any given horse - it needs to be somewhat genetically manifested and reliably transferable to the next generation. Obviously, the stallion himself does carry his grandsire Weltmeyer's heritage and having researched his damline I am confident that his own qualities are more than just a phenotypical coincidence but suggest to be genotypically manifested.

I do remember his two licensed sons at the respective licensing one year ago and while one of them has been sold to Australia immediately the other one; Red Diamond Fox o/o a dam by Davignon, has become a common appearance at this year's stallion shows as he is owned by the Westfalian State Stud in Warendorf and has gained a lot of positive recognition this year.

Another licensed stallion and direct sibling to Real Diamond is Brenner by Brentano II o/o full sister to Real Diamond's dam. When Brenner was introduced to the licensing committe a couple of years ago I loved him at first sight even though it did take some phantasie to view the quality horse in him he has meanwhile proven to be. He was the most lanky and immature horse you could imagine, a typical son of Brentano typewise, equipped with all those same quality features his closely related sibling Real Diamond is equipped with, too:
Looseness, dynamics, impulsion, ridability.
Today Brenner competes successfully in young dressage horse classes at L level.
A full sibling to Real Diamond competing succesfully at St.George level is Rossano, owned by the Kasselmann Stables.
Another half sibling to Real Diamond, Lovely Princess by Londonderry x Weltmeyer, is trained and shown by Alexandra Bimschas and has won young horse dressage classes at L level age five last year, too.
Two further kids out of Hillery by Hill Hawk, second dam of Real Diamond in the falling damline, are registered as successful sport horses with the FN yearbook, amongst them a ten year old son of Wolkentanz having scored high at St.George and Intermediare classes and a three year old daughter by Dimaggio who has won 3 year old riding horse classes a couple of times last year.

Real Diamond's fourth damsire is Hill Hawk and the combination of Hill Hawk and Weltmeyer has proven to be one of the most succesfull crosses in dressage horse breeding, having produced six licensed stallions and full siblings in a row, Welt Hit I-VI.
With the thoroughbred stallion Hill Hawk in fourth generation of his damline further t.b. blood is added to the t.b. influence already existing in Real Diamond's pedigree via Angelo xx, Inschallah AA and Condor AA, all of them introduced to the pedigree via his sire Rohdiamant.
Fifth damsire is Futuro, son of Furioso xx, and a pedigree ingredient that is making me smile. Since ever since my very first breeding, Fabrice to Quattro, that was, I have never considered the breeding of my Fidermark mare to Quattro an "outcross" but always highlighted the inbreeding effect of breeding back to Furioso (via Fidermark/Florestan/Fidelio/Furioso) a positive influence - an aspect that is true for breeding Fannie Mae to Real Diamond, too. I take it as positive sign and it might add to a perfomance oriented foal in some way.

So the damline of Real Diamond truly suggests that Real Diamond is more than just an end product and quiet obviously, the westfalian breeders have meanwhile recognized his value, too. The stallion is said to have been bred to some 50 mares this summer, amongst them some handpicked quality mares who have already produced succesful sport horses, licensed stallions and high selling auction horses. Hopes are high that next year there will be enough of quality foals on the ground sired by Real Diamond and if only a handful of these will be highly bespoken I am confident the stallion himself will finally be talked about loudly. As he could be the "one" son of Rohdiamant everybody is still searching an waiting for - specially with the Weltmeyer dam behind. As the tiny grain of "W" is exactly what most of the others are lacking after all.

And while I am translating these lines I have already become overrun by time and occurances as this week's Westfalian Elite Mare Show and the Westfalian qualifiers for the Bundeschampionat once again proved Real Diamond as a top producer: Two exquisit three year old daughters represented their sire's heritage mostly impressive with one of them having made it into the final ring of the Elite Show ranking amongst the Top Ten westfalian mares of this season and the other one, even more importantly and certainly as a big surprise to most of the audience, won the 3 year old riding horse class under saddle and as such most likely will represent the Westfalian verband at the Bundeschampionat in September this year.
And yet again:
These two daughters descend from the second and numberwise meager crop of Real Diamond.
Imagine what might happen when fifty foals per year finally hit the ground...

home
.