Rohdiamant - why?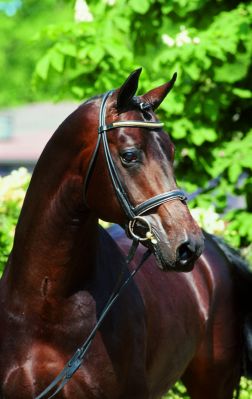 Rohdiamant by Rubinstein x Inschallah x Chronist


Rohdiamant is the one name on this page who deserves the lable "bewährter Vererber" ("proven heritage transferrer") more than any other stallion – next to Brentano II and Quattro, maybe. And it sure took me a long time to finally honor this charming boy and learn to hold him in highest esteem.
And again I have come a long way round to finally decide to breed him to my colourful Fannie Mae… But once I had taken the decision it was purest gutt feeling and intuition that made it feel just "right". And just for the records: it was the only breeding decision this year [2008] that occured to me all by myself (rather than having friends telling me right from wrong, that is...)
So what is it about Rohdiamant?
Grand sire Rosenkavalier has never been a stallion to turn me on – rather the contrary. It also took a long time for me to accept that his son Rubinstein, who was neglected by the Westfalian Verband back then and thus had to move to Oldenburg first in order to change the world and become a stamp stallion of his time, that this very Rubinstein actually provides for qualities of inherent ridability hard to find anywhere else.
In retrospective it makes me smile benignly, didn't I choose to take the same way with both my Fidermark mares, leaving Westfalia and heading for Oldenburg instead? And it sure was a good way so far. So maybe this is "Nomen est Omen" for Fannie and Rohdiamant?
So what is it that makes Rubinstein so special and with him the quality of heritage transfer of many of his sons?
Most certainly dam sire Angelo xx, the thoroughbred stallion, needs to be named as a key to Rubinstein in the first place. And my focus on Rubinstein's damline rather than his sire, Rosenkavalier, is well reasoned since up until today there's barely anything left to hold the paternal heritage of Rosenkavalier himself despite the fact that he used to be a very busy breeding stallion at his time. After all, there's got to be a reason for the deletion of his paternal heritage in Westfalian breeding.
Damsir Angelo xx however, and with him the most prestigeous damline of Herbert de Baey, are history in the making. While the precious blood of Angelo xx, one of the very few thorougbred stallions of positive direct impact to warmblood breeding, delivering potent jumpers and creating one of the world's most famous dressage families at the same time, is about to be getting completely lost within the Westfalian breed, it is for the heritage of Rubinstein to keep it alive.
Rubinstein's dam Antine by Angelo xx is full sister to both the legendary Olympic dressage horses Ahlerich (Dr. Reiner Klimke) and Ammon. Antine gave birth to Adone, who was bred to Romadour II and delivered yet another legendary Olympic dressage horse, Nicole Uphoff's Rembrandt.
It might be a fair assumption to make that it is the precious combination of his damline by Angelo xx with the influence of Romadour II, a well respected stallion and sir of a huge number of double oriented perfomance horses back in the 70s and 80s, rather than his son Rosenkavalier (yes, I am strongly biased here), to provide for the paternal genetic basis of success for his grandson Rubinstein.

Within Rohdiamant the desired thoroughbred blood of Angelo xx meets on further noble blood of the Anglo Arabian Inschallah who once was imported from France by Georg Vorwerk. The same Georg Vorwerk who also discovered and imported famous Furioso II from France.
Rubinstein couldn't have done any better than meeting on such somewhat refined mare base like the one in Oldenburg back then. The long lasting benefit of such consolidation of noble blood is still apparent today specially when looking at many of the "typical" Rohdiamant kids. No surprise, since with Angelo xx and Inschallah AA meeting on each other within the damline of Rohdiamant (the "Elektia" line) a well manifested consolidation of noble bloodlines was created.
Inschallah himself was said to be a mare"maker" – even though there were enough sons licensed, after all, he wasn't meant to be a "stallion-maker". After all, the specific Inschallah heritage is yet to be found in some of those Rohdiamant kids:
those who come along with a less optimal croup formation, sometimes accompanied by a slightly longer and lesser swung back formation, often count for Inschallah's heritage. Same is said about Chronist, so it might as well be the combinaton of both his maternal gandsires to shine out in these specific fatures of shape.
And it was only last winter when I spent my usual couple of days off at the International Horseshow here at the Münsterland Arena when I noticed even a few "Rohdiamants", all of them delivering best performances at the Grand Prix:
Helen Langehanenberg's Responsible (longlisted for the Hong Kong Olympic Games 2008) , Rosselini (Isabell Wendorff) or Ray of Light (Theresa Wahler) – all of them predestinated for the "big" 60-meter dressage arena and even in young years delivering impressive performances already. These horses can be challenged once necessary and this is exactly the attitude that makes the difference:
"Good-Will" and ridability – and it always makes up by far for the last bit of missing move and kick.
So I sat at the Münster dressage barn watching all these Rohdiamants like pearls in a row and only then it occured to me:
"they simply w o r k ...!"
No more. No less.
Yet it had taken me years to finally discover this simple truth. And in order to understand you need to realize that GoodWill and ridability as such simply aren't selfunderstood at all. But if it is being manifested for granted you better take it as something very precious..

Damline:
Royal Rubina, fullsister to Rohdiamant and Royal Diamond, was bred to Jazzmann and gave birth to a beautiful liverchestnut colt of fine and noble finish who finally became licensed and known to be the Warendorf State Stud stallion Jazz Rubin. And as coincidence has it, he showed up in our barn for good one day for further dressage training, so I finally had a chance to really "study" a close relative to the Rubinstein-family under saddle in day to day's work ethic and development. Interesting and useful study, to say the least, as you could tell what was owed to his Rubinstein damline and what was certainly owed to the influence of his more spectacular father's line.
Beyond successful sporthorses the damline of Elektia also delivered further licensed stallions like Manitoba by Manstein (Mv Zeus x Furioso II), Mozart by More Magic xx (Mv Chronist x Ludo), Don Angelo by Don Larino (Mv Rubinstein x Insider) or Cres Cando by Corlando (Mv WeltAs x Inschallah).

Amongst the various sons of Rohdiamant there have always been some remarkable stallions in the past I couldn't get out of my head anymore:
One of them, and certainly one of my very "early" and most formative impressions, was the incredibly charming Oldenburg premium stallion Reve d'Amour out of a dam by Bolero. Smaller in size and as such much in the shape and format of his sir – I couldn't get my eyes off him whenever I saw him in training with Michael Farwick, who I trained with back then. To be fair, it needs to be admitted that Reve d'Amour displayed absolutely nothing at all from the old Bolero"look" or any of his further hannoverian heritage via Sendbote. That influence seemed to be manifested in him via genotype, only. Much to the positive, however.
Meanwhile, the charming bay stallion is successfully competing in international sport with his owner Vicky Max Theurer and if you ever get a chance to see him: go catch a glimpse!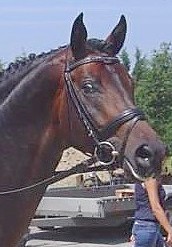 Then there was Real Diamond (dam by Weltmeyer x Hill Hawk and fullsister to the dam of Brenner by Brentano II, licensed in Westfalia 2007), with respect to type yet another typical son of Rohdiamant who left an ever lasting impression on me age three… His most remarkable canter was exceptional and the way it was presented made it even more special:
his owner Fiete Heimann used to ride Real Diamond himself at those first stallion shows and I had tears in my eyes everytime I saw the two of them challenging the roof of the barn:
Fiete loved his stallion and you could tell, he had as much fun showing him – their most favourable gaite being canter, a quality of it's own - the stallion literally jumped the moon by simply extending his uphill canter and Fiete would sit and smile and let those reins hang loose…
I would range Real Diamond's canter in line with horses like Florencio, Fürst Grandios, Quaterback or Quattro – except that I haven't seen any of the latter perform such canter at loose reins…

Unfortunately, Real Diamond never really had a chance to prove his breeding qualities in depth since he disappeared after two breeding seasons and remains in private ownership so far, away from the public scene, including breeding.
After all, having had only 30 breedings or so in total within those two years Read Diamond's first crop, looking promising as foals already, truly attracted attention age three:
I can't think of any other stallion of only a few breedings in his first two years to have come up with 3 StatePremiumMares and 2 licensed sons from this first crop. Most prominent example out of these probably Red Diamond Fox out of a mare by Davignon, premium stallion at his licensing and stationed at the Westfalian State Stud in Warendorf – completely different from his father, dominated by either Weltmeyer- or Davignon heritage phenotypically, a real moving machine of it's own with exactly the swing and push and power specially the R-line leaves to wish for at times.

Spectacular movers like Rubin Royal by Rohdiamant rather belong to the exception to the rule when breeding to Rohdiamant to my understanding. However, the exceptional damline Rubin Royal descends from does prove for evident values of inbreeding within this specific cross. Other than Harli Seifert, who bred 5 (!) licensed full siblings by Rohdiamant out of her mare Rumirell by Grundstein x Akzent II, there is only Weltmeyer to be named who comes up with 6 licensed full siblings (Welt Hit I-VI) but it is the very damline of Rubin Royal that provides for those interesting features of inbreeding when meeting on Rohdiamant worth to be looked at:
the falling damline of Rubin Royal shows close inbreeding in itself to the anglo arab Condor via Chronos and Rudilore, the so called foundation mare of this line.
The anglo arab Condor was of positive refinery and performance influence to the oldenburg breed in the 60s. Via Chronist Condor also shows up in the damline of Rohdiamant in fourth generation. My very personal assumption is that it is owed to the multiple and well manifested consolidation of "noble" blood (t.b. influence) that still stamps the first and further generations of Rohdiamant progeny. Typey beauty and the often reoccuring type as such simply stamp those kids and grand kids in their unique manner even today.

After all, quiet a number of very personal impressions I gathered in recent years - surprisingly so, as he never appeared "on top of my list" at all...
Quiet obviously, his heritage does speak for himself and I consider myself happy to have finally understood. So how come it only appeared recently that I figured Rohdiamant cold be the perfect match to my mare Fannie Mae?

Vechta, Oldenburg preselection and licensing in autumn 2007:
I am looking at the catalogue and simply freeze by the outrageous majority of nearly 30(!)% of S-blood. I am shocked.
A further view at the pedigrees of damsires and I find myself somewhat relieved:
damlines are dominated by old and proven bloodlines in the majority. Lots of D and R and by far not the healthy genetic diversity you need, but proven perfomance blood. Ridability that penetrates in the log run rather than star kicking effects of shortly lived quality.
And I can feel how it starts to work in me:
lots of S-blood crossed to R - I had specifically come here to see the first crop of Sir Donnerhall, some thirty young stallions after all sired by him, as these were a valuable indicator for me to judge the future development of Sansibar, my own colt by Sir Donnerhall bred out of Fannie Mae.
And with each of these sparkling S-colts in general - those out of mares by Rohdiamant usually slightly typyer than those out of mares by Rubinstein directly - my very personal awareness grew:
the ultimate answer to the oh so dominant black&beauty cross of S x R was standing in my very own stall:
the idea to cross colourful Fannie to Rohdiamant all of a sudden imposed itself - since if anything was lacking in this homogenous bulk of black&beautiful horses it was colour and power...
a beacon of colourful swing and push from behind, well carried through and deeply set - Fannie Mae, the opposite of everything that paraded here in front of my eyes and yet so destinated...
In my very personal world of thoughts Fannie has already made it to a synonym of Weltmeyer long ago:
colourful chestnut, the opposite of long legged and modern (not an obstacle in my eyes, rather the contrary) and an unbeatable engine on top of it - Fidermark.
And where does the idea of Rohdiamant and "quasi" Weltmeyer take us ultimately?
Real Diamond...
It was an immediate obsession more than anything else.
My phantasie pursued and I couldn't get rid of it anymore all the way home from Vechta to Münster - some 90 minutes of possesive thought and intuition and the more I thought of it the more I knew "it was right"!

That's how it came that shortly after I simply cheered when I saw all these Rohdiamant kids perform greatly and mostly relyable at the international horse show in Münster that following January and it was clear:
I was addicted!
... and I desperatly needed to live it out.
... since then, there would actually an Angelo xx and an Inschallah AA show up in my very personal breeding pedigrees - what a pleasure!
... and most of all my old friend Tony's dictum would be served justice, too:

"Ramzes!
you need to inbreed to Ramzes!
You can never have 'enough' of Ramzes in your pedigree!"
... and he migth actually be right on this one, not only with respect to type and beauty – the double up on Romadour II when breeding Fannie to Rohdiamant really appeals to me.
And last but not least, I have come a long way personally with respect to my breeding philosophie over the last years, a very dynamic and continuesly changing process. The major change of attitude has taken place when considering any stallion for my mares:
It used to be that I had asked myself if I could sell a COLT resulting from a certain cross. Today however the most important question is if I would want to keep a FILLY from a stallion that drives me. A change of attitude that speaks for itself.
And a filly by Rohdiamant out of Fannie Mae - well, I would consider that the most wonderful and certainly unique gift for my very personal future breeding program...

And so it comes that I find myself sitting here, looking forward and being more than happy about the grand idea of having bred Fannie to Rodiamant (and it was hardest work, for sure, as his semen quality sure made it a tough goal to fight for) and I just can't wait to see this foal being born in summer - let's pray for a filly!


home