www.hippologi.com





welcome to hippologi.com! enjoy this site and if you like what you read -or if you may wish to add any comments, changes, etc., please feel free to drop a note in my Guestbook as any feedback is greatly appreciated!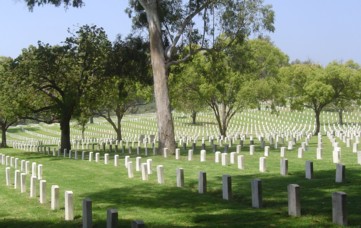 Well, I guess it is fair to say that my friend Maren sure did a great job picking a quiet and peaceful neighbourhood finding her new home in sunny California, LA :-)
Visiting Maren and getting to travel parts of the west coast with her to finally learn about equestrian breeding and getting to see some of the barns and places I had already heard so much about sure was the highlight of this summer to me.
Having had my all "german equestrian hat" on all those years I greatly appreciated to finally have a chance to learn about how a "horse-life" is practized in a foreign country and I enjoyed having had the chance to get to see wonderful horses and - of course - the people who belong to them. Making new friends while sharing the same passion suddenly makes the world a much smaller place and oceans in between all of the sudden loose their meaning.
I came home with my head and heart full of new impressions and figured it might be a nice idea to share them with whoever might be interested to hear about it. So here it goes: the peaceful neighbourhood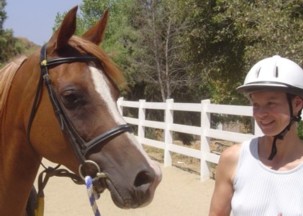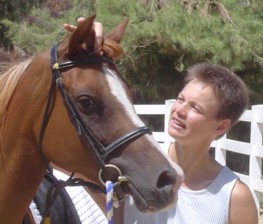 Our very first trip was to Auffinger Farms, home of Mary and Steve Jensen and their finest breed of arabian and trakehner horses. Maren had arranged for a breeders meeting at Auffinger Farms earlier this year and I had heard so much about that meeting, Mary's and Steve's hospitality and how much fun everybody had back in spring, I really couldn't wait to get there, meeting them myself and getting to see their wonderful horses. And Mary and Steve sure did a wondeful job -again- now making me feel "home" at their farm immediately. At some point I told them that before I had gotten into warmblood breeding I was severly "infected" by "arabitis", a desease that can barely be cured once caught, but never actually had had love at first sight - meeting Windsong a chance to ever get to ride an arabian horse... You should have seen that smile rising up on Steve's face, and sure enough, the plan was set, I was to get to ride an arabian horse...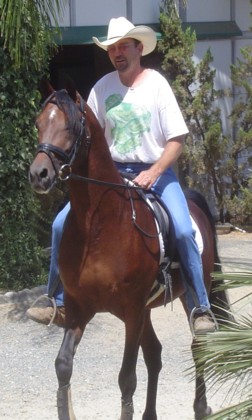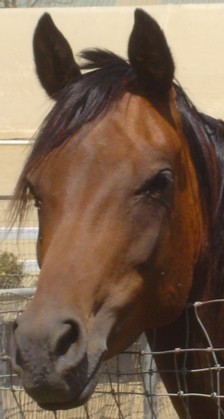 He introduced me to Windsong, the most beautiful arabian mare, and I guess it was love at first sight when I met her so I was all excited about having the pleasure to ride her! Even in retroperspective it is not too much said that those trailrides along with Steve on "Jag", his bay arabian breeding stallion, still are one of the most precious rememberances I keep alive about my visit to the States that summer. Trailriding the southern californian canyons and climbing up and down through vineyards and grape plants was a completely new experience to me and Steve had a hard job to do preventing me from picking some of those grapefruits and grapes growing all along our trails oh so invitingly to me. Most unsual thing for a typical german who gets to know these fruits from the supermarket only :-)
I still can't tell what made me feel more happy: The fact that Steve asked for another trailride together prior to our departure the very next morning or Windsong who would already whinney at me when I came to the stall the next day. so when we finally had to leave it was with a tear in my eye - thank you Mary and Steve for making my stay at your place such a wonderful time worth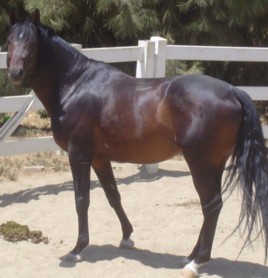 remembering!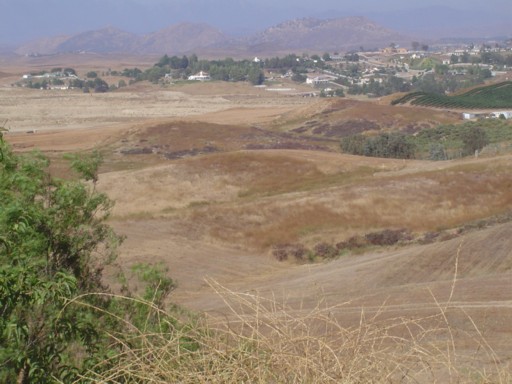 Steve and "Jag" Auffinger Farms' inviting landscape beautiful "Peanut" (up) and
the trakehner stallion "Pavi" (below)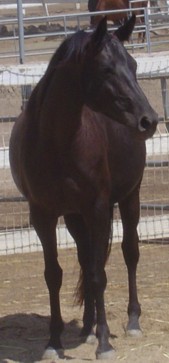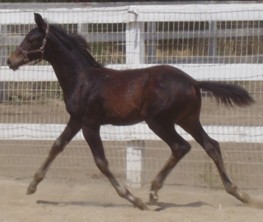 Our next stop was only half an hour away at Pam Duffy's farm Sunsprite Warmbloods. If it hadn't been for the hot californian sun and the sprinklers on the sand paddocks I would have thought I stood in the middle of my home area, the Münsterland... as at Pam's farm you meet the most prestigeous warmblood lines of nowadays northern german breeding areas: horses of hannoverian, oldenburg and trakehner breed dominate the scene and most prominent names like Weltmeyer, Esprit, Rubinstein, Hohenstein, Feiner Stern or Balout de Rouet describe their descent best. I was already impressed when I got to learn about some thorough bred mares who were also part of the family, providing for the necessary t.b.-influence at Sunsprite Warmbloods and this really got me excited! Wasn't this exactly what I am aiming for myself within my own modest breeding concept when adding a t.b.-mare to my little herd in order to set base for some well considered future damelines consisting of the ideal mix of prestigeous w.b. held up by strong refinery genes -?
Danica by Donnerprinz x Rubinstein ("mum" on the left) I could have walked around the paddocks and stalls for hours and hours, learning more about Pam's horses, but our schedule was kind of tight and Pam and Don did their very best holding us back at the dinner table enjoying wonderful food and talk, and of course we left way behind our planned departure but I wouldn't want to miss a single moment of it!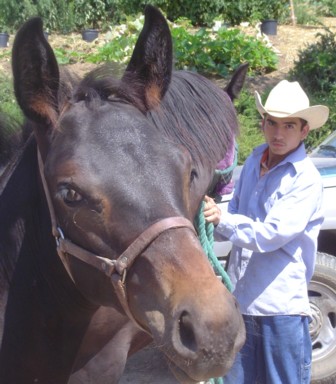 A couple of days later I was given the chance to go see Leonidas, the grey Trakehner stallion who had just been approved by the german verband for breeding "overseas", too. I was so curious to get to see this horse since he had alraedy made it to a somewhat "prominent" status given that he is the only Trakehner stallion the german verband ever approved while "abroad". Also, his bloodlines (Condus x Ramzes) make him very special even in my eyes, the eyes of a "non" Trakehner breeder since this is also the only direct Ramzes grandson still out there and available for breeding. That alone would make him a personality amongst horse-celebrities already, but Leonidas also comes up with a prestigous track-record as a dressage horse, having been long listed for the Athens Olympics in 2004.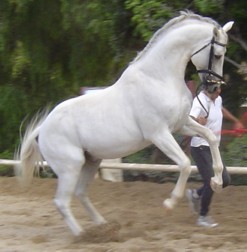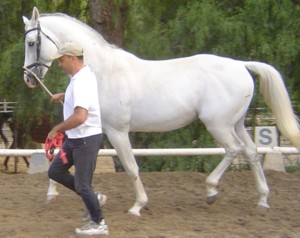 So I owe it entirely to my friend Karim who would take me to Keenridge Farm, home of Hilda Gurney, and yet another place and person I had respectfully learned so much about before as Keenridge Farm was also part of the breeders tour which Maren had arranged for back in spring and I can only recommend reading Maren's story, too, to fully sum up and describe the value of the bloodlines and succesful sport horses that can be found at Hilda's farm. To me, it was an experience of lasting impressions and I gratefully appreciate the time Hilda took to show me around the farm and learn about the sport horses and brood mares. The highlight, of course, was the presentation of Leonidas and one could tell the spirit and power driving this stallion to what he had become: founder of one of the most succesful sport horse families in the US as Hilda along with her partner Mary Conankos have just made it on top of the USDF breeders championships 2005 and this is entirely owed to Leonidas offspring and following generations. Congratulations, Hilda and Leonidas!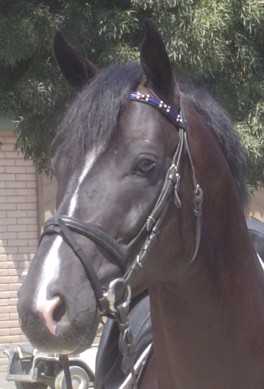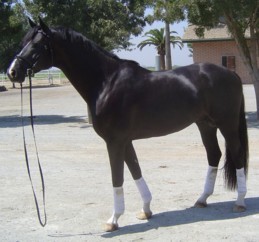 My next trip took me up north, to Hollister CA, visiting my long-time email-friend Terry Esteban at her farm Cadenced Sporthorses. Having heard so much about Devon Heir and Terry's broodmares I was keen on finally geeting to see them all in person. Devon is barend at Willy Art's DG Barn for professional training and showing him in the public. Willy took the time to give us a wonderful presentation of Devon in hand and under saddle. When he noticed that I had my camera with me he would simply let him stand in front of us -completely free as you can see in one of those pictures- and Devon did his "magic": He would simply let his charme melt into the camera - i still can't get my eyes off those fotos of him... what a cool horse, what a stunning impression he made! Than Willy rode him and this was a convincing prove that this stallion sure is in the right hands at Willy's place. It was just how you want a young four year old horse being ridden, softly but constant rein connection at any time, not asking too much of such potent but young horse, still developing those three super gaites under saddle with the horse being comfortable at any time. I loved it! And I was delighted to hear that short after my visit Devon, who had already been licensed by the hannoverian verband in the US, was also accepted by the oldenburg verband. I now keep my fingers crossed for Terry and Devon that this stallion recieves the mares he deserves in order to prove his quality as an exquisit breeding stallion in the US.

Devon Heir by De Niro x Rubinstein, doing his "magic"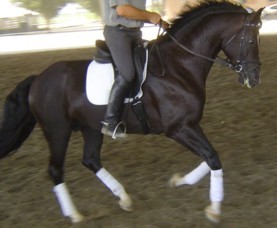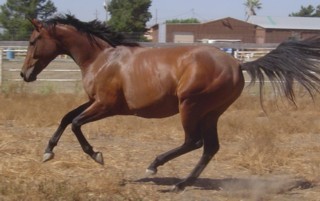 Home at Terry's place I got the full "barn tour" visiting each horse and learning about it's descent and bloodlines. Terry keeps an impressive collection of mainly hannoverian and oldenburg brood mares and most interesting to me was having the chance to also see some of those mare's offspring, that way you can really value the quality of a broodmare best. Sure enough, I lost my heart immediately to Lina, a 2 year old bay Landkoenig-daughter out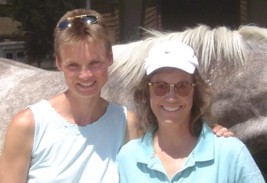 of Terry's Wesley-dam. Hadn't I known better I had never thought Lina was only two, she looks like the perfect, ready-to-go sport horse to me and I was about to take a saddle on her and ride her off and away immediatley... Just the way I want a mutlitalented athletic horse look and move - plus, her super character immediately blew me off - she would trustingly follow me around wherever I went and it did take some efforts to convince her from Lina by Landkönig trotting and cantering around, but what she showed there, specially when trotting through the high dry bushes having to lift up her feet and move like a show horse was of excellent balance, push and swing. All the way back down south, along Highway One, I found myself caluclating costs having her and Windsong share a container and ship them over Terry and I to germany... just another way of californian dreamin' I guess.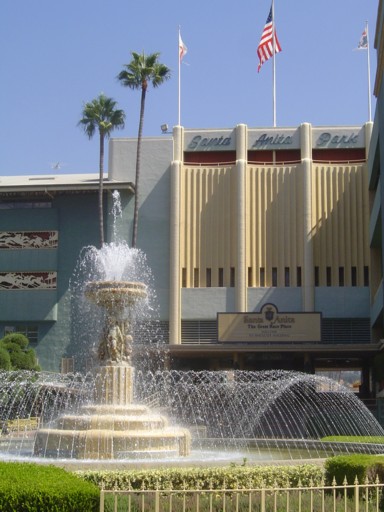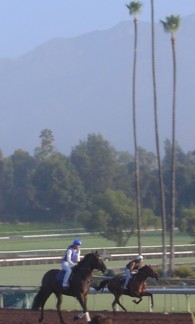 Ever since the movie "Seabiscuit" was released Terry had urged me to go get the video and watch it - since it was all about the spirit of american race culture and race horses - thoroughbred horses, just the way we love them best. I had told Maren all about it and she found out that "earlybirds" are welcome at the Santa Anita race track to watch the training from the terrasse while breakfast is served. What a magic morning! - if getting up at 6 in order to be there at 7 is what you aim to be doing at your weekends... And of course, America wouldn't be America if there hadn't even been a Seabiscuit-train-trolley tour taking visitors through the entire area including a stop at the Seabiscuit stall and monument... However, we preferred to do it our way and went straight to the sunny terrasse, terribly eager to get some large hot coffe and pancakes in order to get our body systems work at that time in the morning - still chilly out there but to the convenience of the "eralybird" visitors the terrasse tables were warmed by gas-heaters and we found ourselves completely spoiled by one of the most magnificant views you could ever imagine: beautiful race horses being trained right in front of you at one of the most famous race tracks in the world and the entire scenario being overwhelmingly topped by the sun softly rising up over the californian mountains in the background, thus tipping the entire scenario into the smoothest shining sunlight - and Maren and I sitting there at our warmed terrasse tables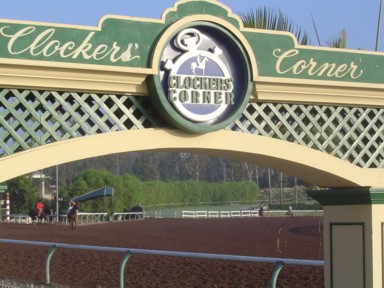 enjoying a most welcome pancake and orange juice breakfast while letting our eyes go - what a way to start a day! It was purest magic at its best and we truly enjoyed watching lots and lots of ambitious young horses being shown at what nature has created them for: straight forward canter!
We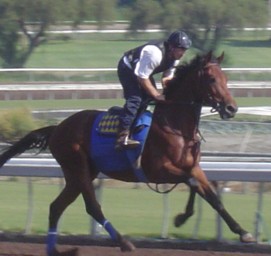 crowned that day meeting Karim for dinner at night at the Derby Restaurant in Arcadia, a place a friend had strongly recommanded going to when really wanting to absorb the "spirit of Seabiscuit" - and I bet Karim must have been at least a little envy when we told him all about our magic morning at the race track while enjoing a wonderful dinner at the "Derby". The place was initially bought by George Wolff, the jockey who rode Seabiscuit in the "Race of the Century" when meeting on War Admiral - the catchy athmosphere is still there and I couldn't have wished for a better place for my farewell dinner (and no, I am not sponsored by the Derby Restaurant :-)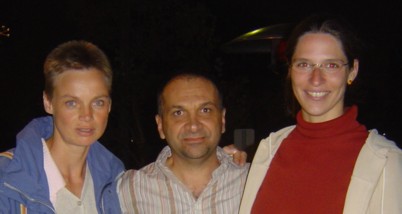 the three of us, Maren, Karim and myself

Well, as everything in real life even the perfect vacation has to come to an end. So Maren and I resumed my visit to southern california stopping by at the L.A. Equestrian center, yet another place I had heard of so much before and I really wanted to see how a sport horse rider in california would barn and train his horse, whatever discipline. I was pretty impressed by the simple size of it and the mutlitude of horses and disciplines that are being trained and shown there. And while I was sitting in my plane taking me back home to germany (having to leave Windsong and Lina where they were, after all :-) I decided to take off my all german hat of equestrian attitudes and experiences as there sure is a different world out there where sport horse breeding and riding are being lived for, maybe slightly different in certain aspects compared to what one is used to when having grown up in a differnet country of different climate and different prepostitions - but surely a place and an entire horse life worth living for!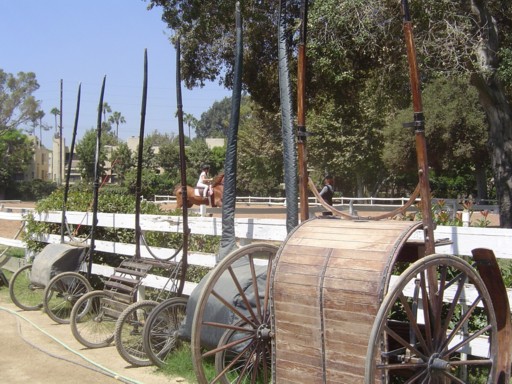 I took so much from this trip, and it is not just about horses but also the people who are with them and new friends I have made, I want to take the chance and gratitude this page to all the wonderful humans I have met on my trip, all of them welcoming me, the stranger who was just visiting, sharing their homes and horses with me, and I want to say thank you to all of you for having made this vacation so special to me - a time worth remembering at any time when back home in old germany. It will be a different Sabine from now on.


home