Duisenberg - why?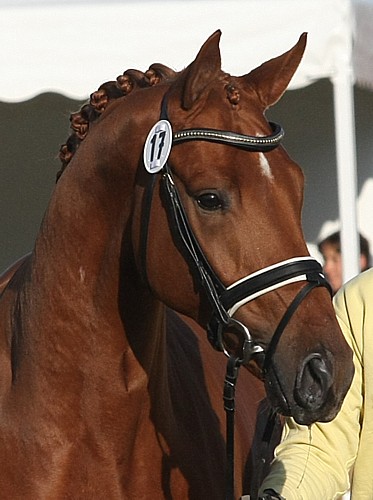 photo: Dr. Christina Beuke who I owe a million thanks for letting me use her most charming portrait of Duisenberg!

Duisenberg by Desperados x Weltmeyer x Lungau (Der Löwe xx)
Subtitled:

The Weltmeyer Reincarnation


Prologue:

Duisenberg to me is the visible Reincarnation of Weltmeyer and I have been waiting for a stallion like this to breed to for all these years. Being a son of Desperados, Duisenberg's damsire is Wolkenstein II by Weltmeyer, so Duisenberg is closely inbred to Weltmeyer. The good thing, however, is that Duisenberg not only states this inbreeding on paper - he totally embodies the Weltmeyer heritage in a way that he also splits the public opinion about him (quite like his grand old grandsire did, himself) since the first moment he appeared on the public scene late last year at the Hannoverian licensing in Verden 2011.
Obviously, I belonged to those who loved him at first sight.
How come?

First of all, I hadn't always been a fan of Weltmeyer and it took a few years moving forward along my very personal learning curve to really appreciate and value the print this stallion leaves on his get, often to be identified even in further generations. Stamp stallion, that is.
And while I came from total neglect and disbelief years ago, my opinion of Weltmeyer has changed so dramatically today that I would even go so far as to state that the Hannoverian dressage horse breed would have never become the number one dressage breed of the world if it hadn't been for the mighty influence of Weltmeyer and his wide spread sons and grandsons.
So what is it about this stamp Stallion that has turned me into a big fan of the Weltmeyer heritage today?

My change of view to pro Weltmeyer certainly has a lot to do with the current use and necessity to breed "modern" horses, whith "modern" being defined by terms like "long-legged", "knee action" and "puppy heads", and all of this ideally wrapped in a black coat.
The definition of modern usually lacks the terms "performance" and "functionality".
Many claim the german breeds (mainly Hannover) have missed the boat, still breeding old fashioned horses.
Old fashioned?
If functionality and performance are considered old fashioned, my claim is to be an old fashioned breeder.
My understanding of a useful (functional) dressage horse is based on very simple physical evidence:

The higher you build something, the less stable it becomes. This principle is true for bridges as much as it is true for horses.
Now add dynamics to the formula since other than bridges, horses are designed to move and desireably we want them do so with a lot of power, swing and impulsion. Imagine a bridge being all fired up by powerful swing and impulsion – you would want it to be built as stable (low, that is) and deeply set as can be in order to carry you safe and durable.

Thus far my reflections had taken me and all of a sudden Weltmeyer and his specific features blended in:
Weltmeyer has become my synonym for the most dominant impulsion and swing, power from behind that is. There's got to be a reason inheriting these features seems somewhat linked to the old fashioned Weltmeyer type in many horses. One reason might be that dynamic heredity succeeds better in accordingly favourable exterieur - a functional frame, that is.
Deep set.
Deep angled.
Function suits type.
Type suits function.
As you wouldn't expect a graceful Arab to have a Hummer engine either, would you?

Weltmeyer stamped the Hanoverian breed through his sons and grandsons, mainly via damlines.
People love him or hate him for all his pronounced strengths or weaknesses, depending on how you look at it:
In order for these features to be manifested in a horse and population, these horses come along rather short legged with deep angles and ideally low set hind pastern.
The complete opposite of a "modern" horse.
And they swing and move…
Exactly what I aim for.

End of prologue.


Verden, sunny thursday morning in autumn 2011:
All wrapped up in warm clothes and blankets, I am watching the triangle inspection at the Hannoverian licensing.
A heavy chestnut enters the green and you can feel his beat, see him swing and virtually float alongside the yellow-sweatered guy who shows him.
I am alerted:
Who is this?
I immediately thought of a son of Weltmeyer but we were in the middle of the D-section and far from the letter W… My catalogue taught me better:
Desperados x Weltmeyer and it was so obvious – this horse was the most powerful reincarnation of Weltmeyer and I couldn't keep my eyes off of him since dynamic impulsion was being pushed through him at its best. No disturbing effects like kicking or affectation of any kind, just a very reasonable, yet so powerful movement. It was breathtaking since it looked so natural.
The horse clearly stood out from the rest for two reasons:
no other stallion showed so much power from behind, swinging all through the horse, and no other stallion came along so ideally short-hind "pasterned", shortly angled an deeply set – exactly how it should be.
Invitingly safe.
The functionality of this compact chestnut stood out and suggested easily that this horse should be able to keep under saddle what it promised in hand or at liberty.
This could become a real contributor under saddle. A horse worth developing.
Most precious label of all a young horse can gain these days:
A "development" horse.

I followed my newly found "Weltmeyer" eagerly through all three days of the licensing and was overly happy with what I saw when he was shown at liberty, too. Powerful slow motion in trott with the entire horse being engaged (visible dynamics, that is!) and a well jumped through canter of healthy self-carriage plus a rock solid walk.
The major impression printed all over this chestnut was:
REALISTIC!

Of course his appearance was not a coincidence.
Even his sireline sounds promising, even though I don't care so much about the upper part of any given pedigree. In this case however, his sire, Desperados, means a lot to me since I remember his very licensing and the scandal he created. For reasons of obvious "preparation" Desperados was not licensed at the main Hannoverian licensing in 2003. As a matter of fact, his hindleg activity was so overly expressive that indeed it raised doubts if these mechanics were naturally given or artificially "supported"…
Desperados was the first dressage stallion ever that I recall, who was not licensed for reasons of "unrealistic" mechanics. Some spoke of ataxia, some spoke of too much human "preparation". I was impressed. By the stallion himself and by the licensing committee who stated an example.
Nevertheless, Desperados became the most expensive amongst the not-licensed stallions at the following stallion auction. His final approval by the Hannoverian Verband later on became a simple formality following his expensive sale to the Sprehe Stud that day. Ever since, I eagerly followed Desperado's development. His successful sport career came not as a surprise and I couldn't wait for his first crop of sons to be seen at the Hanoverian pre-selection trials in due course. To me, Desperados became a clear positive-factor with every crop I got to see by him.
The fact that Desperados today is short listed for the German Olympic Dressage Team in London comes as a welcome surprise. And it is a well deserved honour, too, as the stallion has proven his incredible performance under saddle in the most desirable way, being ridden by the Sprehe daughter, still a young girl. An aesthetic couple of beautiful harmony and balance that makes dressage look easy and self-understood – just like it should be.
Desperados himself is stamped all over by his sire De Niro, in shape and frame and, of course, with respect to powerful gaites and swing. Desperados' damsire, Wolkenstein II, and with him the W-influence, supports the powerful movement and suggests a somewhat genetically secured heredity, passing on this power to his kids. Furthermore, Desperados descends from a precious Hannoverian damline with lots of sport horses to be found within the first generations of his pedigree. Performance, that is, not in-hand show horses.

So all of these impressive names were spinning round my head, adding to the picture of my very personal chestnut reincarnation of Weltmeyer and it all seemed to make sense. De Niro, Weltmeyer, Wolkenstein and his falling damline added even more music with Lungau by Lugano, the most (if not only…) desireable way to deal with the mighty heritage of the infamous thoroughbred stallion Der Löwe xx …

On my way home that Sunday night I couldn't get the heavy chestnut (he was named Duisenberg later that winter, thus I kept refering to him as my "double-up" on Weltmeyer) out of my head. I started researching his damline that very night.
It didn't take long and I was caught by welcome surprise:
Summer 2011 was the summer of the first three year old kids by Biasini, a son of Belissimo x Argentinus. I had already been to the foal inspection of Biasini's first crop three years before and of course I went to see his three year-old matured daughters at the mare inspection this summer, too. And I remembered a big chestnut mare of compact exterieur, very plain and nothing special about her until she started to move. Rocksolid mover and yet again, REALISTIC all over her – those were my notes on her that I wrote in my catalogue and these were the impressions that she delivered yet again later that summer at the Westfalian Elite Mare Inspection in Münster Handorf. No surprise she had earned a top-rank amongst the best mares of her year. A true Elite Mare. No surprise it was exactly the same attribute I placed on my newly found double-up on Weltmeyer with which also marked my notes on this mare in my catalogue:
REALISTIC.
Something to breed for, that is.
As you cannot breed spectacularity.
Meanwhile this daughter of Biasini, named Bella Bionda, won 3-year old dressage horse classes under saddle with highest scores. And of course Bella Bionda has a mother, too.
Her mother, named Weltluna, is by Weltmeyer, and since the world is a small place it didn't come as a surprise to me that Bella Bionda and Duisenberg, my newly found Hannoverian hero, were siblings out of the same dam …
I was overly pleased to find out about this close blood relationship of these two horses, each who had left exactly the same impression on me at completely independent venues without even being aware these horses might be related to each other. It couldn't be a coincidence. Thus, I searched for more. The more siblings and relatives found who share the same features, the higher the probability these features are somewhat genetically manifested in any given damline and as such bear a high chance of being passed on to any given next generation.
And sure enough, there was more to find.
There is a full brother to Weltluna who was born in 1992. This son of Weltmeyer is a black stallion who became licensed in Hanover and moved on to his stallion performance test in due course. The stallion was named Weltklasse and sold to the US.
Out of sight is out of mind.
The early ninetees were nowhere near the density of internet information we are used to today, so maybe finding some pictures was the most I hoped for. You can imagine my surprise when I found a brief video sequence of this black son of Weltmeyer, showing him trotting under saddle while he was attending his 300-day stallion performance test in Adelheidsdorf in 1995:
video Weltklasse
Go watch this video!
It blew me away as these few steps had it all and I didn't need to see more – this was exactly the same hindleg, mechanics, activity and thorough dynamics I had seen in Duisenberg and Bella Bionda. Yet another functional package of a horse and my little trio of same descendants and bloodlines simply made me cheer!
I have no idea if and what Weltklasse produced in the US, but given the value of the damline genetics I was still about to find out, I am sure this stallion could have been a positive contributor to the US sporthorse breed if only he was given the chances and appropriate mares.

Weltluna, Weltklasse's sister and Duisenberg's dam, competed in sport herself at age 3 and 4 before she was turned into a broodmare.
As a 3- and 4-year old, she won dressage horse classes one after another, and even though I haven't seen her, I gain a lot of confidence from this track record. You can win a single class by chance - but in order to win many classes in a row, the underlying quality must be substantial.

In 1999 Weltluna gave birth to her first foal by Rosentau, a colt called Roman Nature. Up until today Roman Nature is still active in sport and has won a total amount of 5,156 Euros competing sucessfully in dressage classes up to M level with an amateur rider. Five thousand Euros is a lot of money for an amateur horse to win. In fact, this tells more about the mind and ridability of any given horse than Olympic wins with a professional rider. Roman Nature won these moneys competing continuosly over a series of nine years (2003 - 2011) and this tells you something about solidness and soundness, too.
Weltluna gave birth to many foals, six of these are registered as sport horses and the most succesful of them so far is Beaufort, born in 2004. Beaufort is a son of Brentano II and surely lives up to a classic pedigree to die for:
Brentano II x Weltmeyer x Lungau - what a melodical breeding!.
Beaufort has already won M dressage classes with his owner and moved on to Heiner Schiergen last year, a true master in the saddle of any given horse. Sure enough, Heiner immediately turned Beaufort's first two starts in S-class early last year into a second and third place. Beaufort only "lost" his first win in S-level to Isabell Werth's coming youngster, Flatley (by Fürst Piccolo x Ehrensold), that day. And yet again, it does speak for the horse to deliver such a convincing performance at S-class age 7!
In 2005 Weltluna gave birth to another son called Luciano (by Laudabilis). Luciano was a well reckoned auction horse at the Westfalian Elite Auction 2009. Luciano has won 4 and 5-year old dressage horse classes and at present is sucessfully competing in basic dressage classes under an amateur rider as well.

There is much about the convincing success of the direct offspring of Weltluna, Duisenberg's dam. Such a track record of any given mare's direct progeny in sport is already an outstanding hint about performance in the close damline. Even more so, all these kids were by different stallions. Such damline contingency is not a coincidence but strongly suggests a somewhat genetic manifest.

But this damline still has a lot more to offer. Weltluna's dam, Duisenberg's grandmother, is Laika (by Lungau), born in 1986. The FN yearbook states 9 kids out of Laika were registered in sport, having won a total of more than 2,000 Euros. Her daughter Escada (by Ehrenwort) is the only one still competing at L-level.
Laika's full sister Leda (by Lungau) had a daughter by Argentan, her name is Akita. Akita's son by Don Primero is the most succesful horse descending from this direct damline with respect to both, money won and grade. Delorenzo has won everything up to Grand Prix, showing a total of 13 wins in S-class alone earning him more than 17,000 Euros so far. Yet again, he did so in 12 years in a row, a track record that speaks for itself with respect to soundness.
There is a further half-sibling to Laika and Leda, named Wendy (by Weingau). Wendy is mother to the licensed sire Golden Cup (by Gambler's Cup xx).
Duisenberg's third dam, Pretty (by Presto), also shows 9 kids registered in sport with total winnings of nearly 8,000 Euros.
Looking at the entire damline of Duisenberg, here one further licensed stallion blends in amongst others. That is Ehrgeiz (by Ehrentusch x Lauries Crusador xx x Weltmeyer). I know Ehrgeiz from his first public appearance at the Westfalian licensing age two and have always loved this stallion. Ehrgeiz has already won M-class dressage at only six years of age. However, what I love most about Ehrgeiz is his still unkown sibling Bocaccio (by Bestseller, another son of Belissimo). Bocaccio is a young stallion turning four this year and has just been akquired by the sponsor of my own trainer, Martin, who I consider God's own talent in the dressage saddle (student of master rider and trainer Jo Hinnemann, former trainer of the German dressage equipe). There are only a very few horses I know Martin tends to buy for himself or has sponsors buy for him. Usually he rides what he is being given in order to train and sell, as that's what most professionals live on. Bocaccio however is different and I could tell at first sight. Bocaccio is the most charming and elastic rubberball you can imagine and when he moved into Martin's barn this winter I understood immediately why Martin had choosen him for himself to develop carefully over time and hopefully turn him into a Grand Prix horse one day. Bocaccio is the kind of horse professionals buy for themselves in order to spend their lifetime effort turning such horse into a Grand Prix horse. No sales, as these kind of horses are priceless.
"Development" horses, as stated before, is the most precious lable of all a young horse can gain these days:

So the more I learned about Duisenberg's damline the more I truly appreciated it.
There's got to be a valid reason to violate one's own strict principles of breeding NOT to use an unproven stallion. The only valid reason is damline performance.
Duisenberg's damline has it all. Of course, I went to see Duisenberg under saddle at various stallion shows this winter. I greatly appreciated the fact that he was shown in a rather unprofessional manner by his rider, Jamie, who did his very best to demonstrate that Duisenberg doesn't need to be shown in a manner we are used to be seeing bearly 3-year old stallions by professional riders elsewhere:
these young stallions are usually shown beyond the principles of the classic scale of training for a young horse.
Jamie however allowed Duisenberg to strech his neck and lift his head every once in a while throughout the show, behaving just like an immature horse would do. Duisenberg would still display his powerful hind engine, any move was thoroughly transfered via his back engaging the complete horse - I had expected nothing else.
The public echo to this kind of presentation however was not necessarily appreciative. The public however should learn to judge a horse by its naturally given talents rather than what a professional rider makes them do at age three at a stallion show. One is genetically manifested quality to breed for, the other is desceptive shine and barly to be found in later foals.
The major verdict in the public discussion was blaming Duisenberg's old fashioned type and exterieur. And it made me smile. As this is exactly what convinced me at first sight when I saw Duisenberg in Verden - the most rock solid exterieur, deeply set and deeply angled low pasterns underneath a mighty hindend, exactly what's needed to turn this massive impulsion and power from back to front. All it takes is the matching mare to breed such stallion to.
And I can't think of any better match to Duisenberg than Fabrice, my precious broodmare, who tends to provide all her foals with a distinct nobless, no matter what stallion I breed her to. Both their common weakness might be canter as this is Fabrice's weak point and I don't know if Duisenberg will provide for a more lofty canter in his progeny. However, a reasonable canter is easy to be set when it comes to collected work and I can live well with such provision as my goal is to breed sport horses, not foals. As a matter of fact, Fabrice's canter was a lot easier to deal with when I started riding her at L-level than the outspoken lavish canter of Shannon or Silas today. Thus, having lived up to the theorie myself, an economic canter in a dressage horse is nothing to worry about. And while I am writing these lines I can't wait for Fabrice to be ready to be bred again in a few weeks. I can't think of any more exciting challenge but a red foal by Duisenberg, my very personal "double-up" of Weltmeyer, and Fabrice next spring ...

I want to thank Steve Elowitt for his time and effort editing and correcting my english text - Steve, I greatly appreciate your help!